The Women in STEM club serves to help women gain a better scope of what their futures may look like in a supportive environment.
Founder and president Audrey Guyler founded the Women in STEM club in order to provide a supportive community with other women in science, technology, engineering and math-related fields. 
The club's secretary, Annabelle Mills, said Guyler reached out to her to see if she was interested in being an officer and Mills said she was excited to be a part of such a club. Mills said she wanted to get the chance to meet other women in STEM-related majors and help a small community get the support it "needs and deserves."
"It is such a joy to be a part of Women in STEM and to be able to support women who want to be a part of that. Helping to cultivate that community," Mills said. "It is really encouraging having these other smarties and women in the club." 
Guyler is a junior majoring in molecular biology major, while Mills is a junior communication sciences and disorders major. 
Mills said the club's main purpose is to establish a community of women that help one another throughout their college education. Guyler said it will help students gain more clarity and understanding of how to approach STEM majors in college and prepare them for potential careers.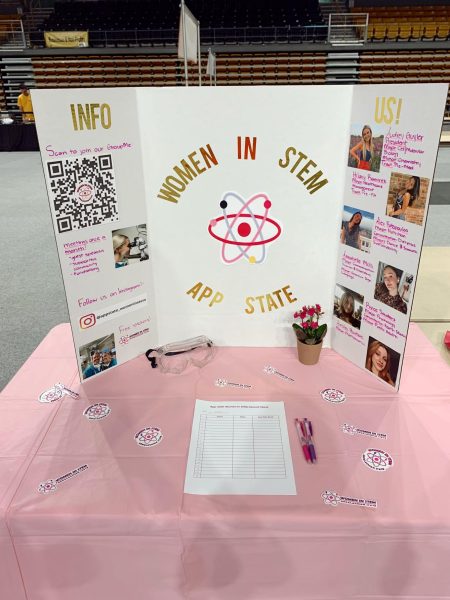 "The purpose of Women in STEM is to empower those who are going through the same 'path.' Being a woman in STEM is not an easy track so having a big support system there is definitely an uplifting experience," said Hilary Ramirez, a sophomore health care management major.
Guyler said she is currently working to provide resources so women can understand how to work their way into career fields where the majority of the population is male.
"I am most excited to see the club grow and our president, Audrey Guyler, took so much into consideration and thought when forming this club, it is very exciting where it will lead to," Ramirez said. "I cannot wait to see the impact it makes on others."
Guyler said the purpose of the meetings are to further educate women on their future careers in STEM as well as furthering their education by hosting guest speakers. These meetings will also serve as community building opportunities.
Mills said guest speakers will be able to answer questions but also provide advice about what to expect in their careers and what it is like being a woman in STEM. The club is also working alongside the Malala Fund in order to raise money to send women to school.
Meetings for the club will be held on a monthly basis in the Plemmons Student Union. Anyone interested in joining may join the Engage, Appalachian State Women in STEM. 
Club officers may also be reached through Instagram at @appstate_womeninstem.