Election season is approaching, and educating voters is top of the agenda for Democratic candidates Josh Stein and Chuck Hubbard who visited App State on Sept. 6 and Friday respectively.
On Wednesday afternoon, Attorney General Stein spoke to onlookers at Plemmons Student Union, emphasizing the importance of the upcoming election in which he's running for governor. 
App State was one of Stein's first stops as he prepares for the 2024 gubernatorial election. 
Stein discussed points that affect younger voters of North Carolina, such as the opioid crisis and the reduction of carbon emissions.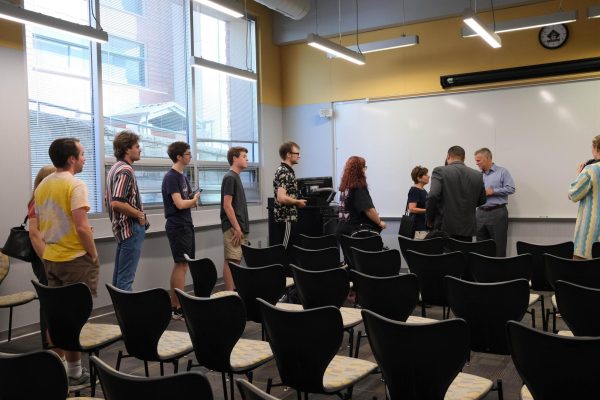 "Issues I care about are not about helping Democrats or hurting Republicans; the issues I care about are about helping people," Stein said.
Stein gave examples of such work in the past citing numerous non-partisan bills and laws passed under his administration. 
Stein also said he would get students involved in his campaign specifically by tackling issues affecting the demographic. 
He and his campaign assisted registering voters by providing services to make the registration process easier. He said he urges young voters to elect candidates like himself to fight for the issues they care about and give them the representation they deserve. 
It is the hope of organizations such as App State College Democrats that this cooperation will help students educate themselves on candidates and learn about their personal stances on issues. 
Among the many issues discussed were gun safety and security on campuses around the country. Stein said numerous smaller changes could be made to improve the process of buying guns such as background checks and keeping guns out of the hands of dangerous individuals. 
He said he promises to fight for voters' rights and against gerrymandering in North Carolina. 
"Gerrymandering has targeted Black voters with surgical precision," Stein said.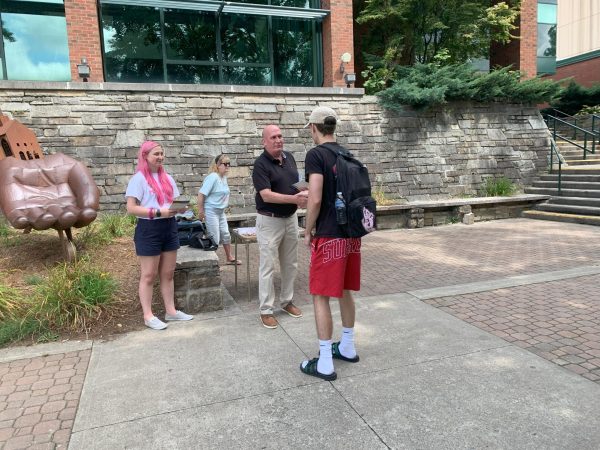 On Friday, Congressional hopeful Chuck Hubbard could be found registering voters in the student union from 11:30 a.m.-1:30 p.m. Hubbard said his motives for getting involved in the congressional race in the first place were rooted in the Supreme Court's decision to strike down Roe v. Wade.
"When Roe v. Wade was struck down, it was a repulsive act," Hubbard said. "It was an assault on women and their reproductive rights."
The candidate said he hopes to codify Roe v. Wade into law and that he plans to fight laws that restrict women's reproductive rights. 
Hubbard said his daughter felt attacked after the election of Donald Trump in 2016, as she is a member of the LGBTQ+ community. Hubbard said she called him in tears fearing for her safety and rights, citing the hateful rhetoric that Trump had displayed during his campaign. 
One of the biggest points both Stein and Hubbard emphasized on campus was voter registration and protecting voter rights, with Hubbard specifically saying how important it is for young people to get involved in politics. 
Hubbard worked alongside College Democrats to help register voters of any political affiliation and said if students have an opinion on an issue they should vote and educate themselves about candidates and their stances on issues.
With both candidates being Democrats, similarities can be found between their overall messages to students and potential voters. 
To vote in Watauga County, one must make sure they are registered voters for Watauga County.
The North Carolina State Board of Elections website has a tool in which voters can see what counties they can vote in along with any past elections they have participated in. This website can also help with changing voters' county of residence and scheduling an appointment to do so.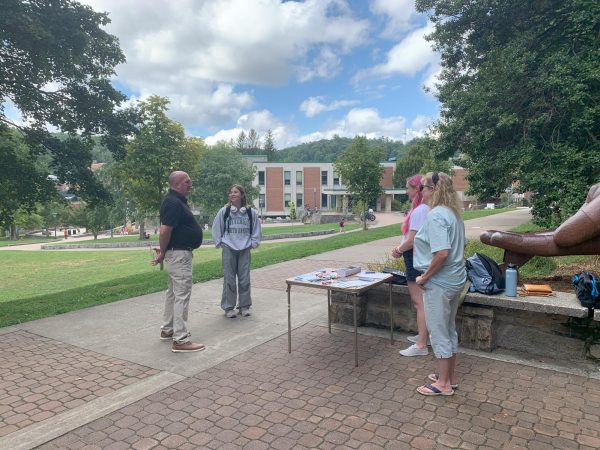 Oftentimes voters can register to vote right here on campus as there are often members of the Watauga County Board of Elections stationed on campus willing to help. It is also possible to register via mail if you're unable to go to the North Carolina Department of Motor Vehicles. 
This specific website is affiliated with the North Carolina government and is up to date with election dates, candidates for each election and information on their platforms. 
This also provides dates when voter registration is cut off for certain elections along with any requirements it would take to be registered for a specific county or election.