Enharmonix sings to semifinals
In October 2016, coed a capella group Enharmonix submitted an online audition video to the International Championship of Collegiate A Capella and were invited to compete in two more rounds.
Enharmonix is composed of 20 members. They sing everything from pop and hip hop to throwback songs.
"One of my favorites right now is one we did a couple of weeks ago in competition," senior social work major Joe Wrenn said. "It's 'Ultralight Beam' by Kanye West. It is a really moving piece and the way we've been able to interpret it has been cool."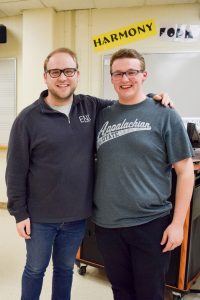 In the quarterfinal and semifinal rounds, Enharmonix sang "Barton Hollows," "Parting Glass" and "Ain't No Sunshine." They also sang a '90s medley arranged by an Enharmonix alumni for quarterfinals, which was changed to Ultralight Beam for semifinals.
Wrenn believes the group's bond and energy set them apart from other a capella groups at Appalachian State.
"We have performances on campus and around the state so we are constantly with each other," Wrenn said. "I think our strong relationships and our energy when we are on stage sets us apart."
Quarterfinals were hosted in Knoxville, Tennessee. Enharmonix competed against nine groups in the southern region from the University of Tennessee, Vanderbilt University, Lees McRae College, Belmont University and Roanoke College. They placed in second there and advanced to semifinals in Athens, Georgia. In semifinals, they competed against nine groups from North Carolina State University, Georgia Tech, The University of Florida and College of William and Mary. They did not place and advance at semifinals.
To prepare for quarterfinals, the group came back from winter break several days early for a boot camp. At the boot camp, members practiced the songs and choreography for several hours at a time.
"Repeating everything and getting all the movement was different for our group too because choreography is not something that comes that easy to people who are just singers," sophomore public relations major Lauren Small said.
They also practiced at their triweekly rehearsals for two hours at a time. As the competition got closer, members felt stressed and frustrated while repeating their arrangement.
"I think we also had to remember how far we've come already and how we got there," Small said. "We deserve to be here so keep your eye on the prize. Just be here and be present in the moment and live it up while we're here."
Freshman electronic media broadcasting major Kierra Massi thought preparing for the ICCAs was the most difficult thing the group did this year, but that it was an enjoyable process.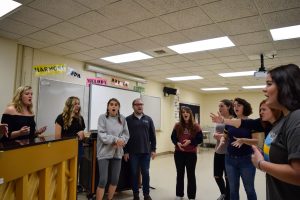 "It definitely did cause a lot of stress in our group wanting to make sure we were the best we could be," Massi said. "But through the process it was a lot of fun. We got to compete with groups all around the country rather than just locally."
Small and Wrenn said they enjoyed watching the different dynamics of the groups performing at quarterfinals and semifinals.
"If you've ever seen 'Pitch Perfect,' it's pretty much just like that," Wrenn said. "All the groups have their own unique dynamic and energy and it's just really fun to watch because we see our groups at Appalachian all the time, but we don't really get to see groups from other schools."
Small was surprised by how supportive everyone was, even though it was a competitive atmosphere.
"It was interesting to see in such a competition atmosphere that everyone still wants to see everyone succeed," Small said. "I think that's a lot of the a capella community in general too that I've noticed."
Massi and Wrenn's favorite part of the competition was being in Knoxville and Athens with the rest of the group.
"Being there in a different place with people I love was very cool," Wrenn said.
Although Enharmonix did not advance past semifinals, Small thought it was a good learning experience and helped their group become better performers.
"ICCAs was a lot of fun to compete in and even though we didn't make it past semifinals I feel like it was a huge accomplishment for our group," Massi said.
In the past, two all male a capella groups from Appalachian State have competed in the ICCAs. Enharmonix is the first coed group to compete.
"I would love to get to semifinal round again," Small said. "I think it's totally attainable and that we totally can do it. I'm excited to see what next year brings to our group, but I would love to make it to semifinals again at least and possibly further than that."
Enharmonix is performing at Acapocalypse April 8 at 7 p.m. in the Schaefer Center and will be holding their final performance of the semester  April 28 at 7:30 p.m. in Parkway Ballroom. They will also be holding auditions for next semester August 28 and 29 at 7 p.m.
Story by: Celia Calhoun, A&E Reporter
Photos by: Lindsay Vaughn, Staff Photographer