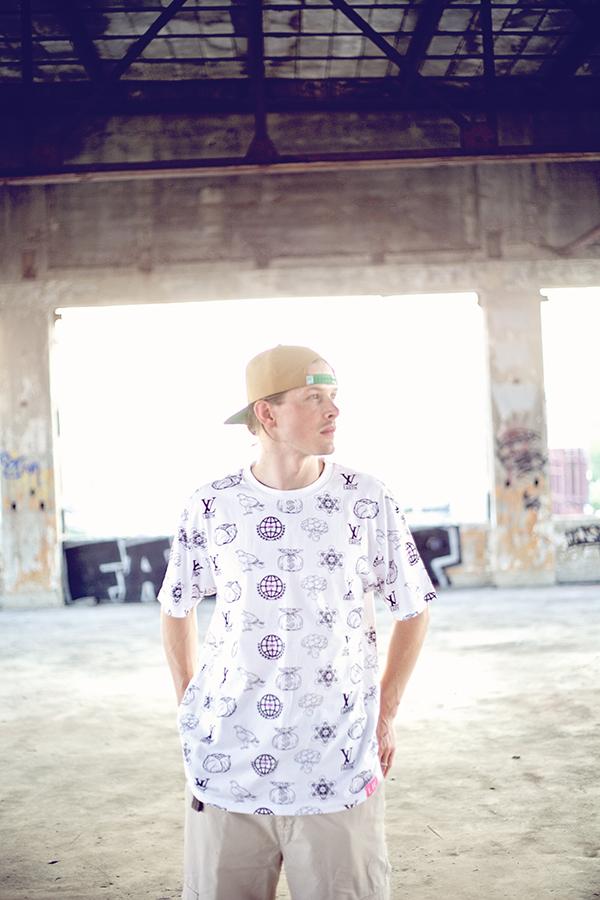 Rapper C. Shreve the Professor's alias is meant to be taken literally.
A full-time member of the Department of Health, Leisure and Exercise Science faculty at Appalachian State University, Chris Shreve is the mastermind behind local hip-hop collective Free the Optimus, or FTO.
Founded in 2007, the collective now has a considerable presence in Boone and larger cities not too far from home, such as Asheville, Atlanta and Nashville. Like many hip-hop collectives, FTO consists of multiple rappers, producers and graphic designers who release music in various configurations or as solo artists.
"It really just began as a conceptual framework that we wanted to run with – basically a branding tool within which we could release music, artwork, videos, etc. and book shows," Shreve said.
Just this summer, FTO played a number of shows in collaboration with rappers from across North Carolina at Murphy's and Galileo's. These shows are part of a larger wave of momentum FTO has been riding this year as they build up a student fan base.
Although Boone supports many spoken-word communities like the High Country Poetry Society and the campus-based group Lyric, there's been little in the way of local hip-hop, save for a group called BPL who have been *inactive for about a year.
FTO, then, is filling a local niche with their positive, open-minded hip-hop, and Appalachian students have been catching on. Shreve referred to a growing legion of "new super fans" who've been picking up on the uniqueness of a hip-hop act in the High Country.
"It really defines what Boone is: Laid back, forward-thinking, positive and educated," said Brett Zimmerman, FTO producer and live drummer known as Tha Last Boss. "Chris raps about things that have spiritual sustenance and hope for all of the people that need an uplifting. We don't want to play music that is driven by material needs and flashy desires."
Zimmerman further cements FTO's connection to Boone as an alumnus of the music recording and production program at the Hayes School of Music. *Zimmerman briefly managed BPL, as well.
"A lot of the music is about free expression, which ties in well with the free-spirited nature of the mountains," said FTO producer Shep Bryan, known as The Good Shepard. "Our hip-hop is important to college students because it's an example of open-mindedness, of free thought."
Many of the members of FTO feel that the lack of local hip-hop may have something to do with the misrepresentation of the culture in mainstream media.
"It's known for its cockiness and cut throat demeanor," Zimmerman said. "We don't bring violence or an ego to the stage. It's all about the higher power of consciousness and what the listener can take from it."
FTO's forward-thinking take on rap, while not exactly unprecedented in more socially conscious spheres of hip-hop culture, has resonated with the Boone community and with local rappers and collaborators such as the High Point-based Phlo Deli and Asheville duo Martin Snoddy and Alpha Lee.
"Many of the artists I work with really have used this as fuel to bring back the authenticity of really moving a crowd and of bringing light to the issues of our generation," Shreve said.
Although FTO is now around six years old, it seems the collective is really just getting started. They opened for highly acclaimed underground rap legends Cannibal Ox in July, are planning upcoming shows in the surrounding states and are looking to book shows in New York and in the western United States.
FTO has also been performing in Asheville throughout September. Their website ftolife.com has regular updates of their upcoming shows and free downloads and full-length albums from Shreve and Mind Ninjas – an FTO collaboration between Shreve and Good Shepard.
"Free The Optimus is always evolving and welcoming new members who can bring something to the table," Zimmerman said. "The music will not stop, nor will the shows."
*Correction: This article incorrectly states that the hip-hop-oriented group BPL has been inactive. The group has remained active for the past year performing throughout the southeast U.S., and have an upcoming show at Boone Saloon on Nov. 2. The article also states that Brett Zimmerman served briefly as the group's manager. Zimmerman has never served as manager for BPL, but is close friends with the group and has recorded them in the past.
STORY: COLIN MOORE, Senior A&E Reporter
Photo courtesy of Chris Shreve