Faculty Senate votes 'no confidence' regarding provost and vice provost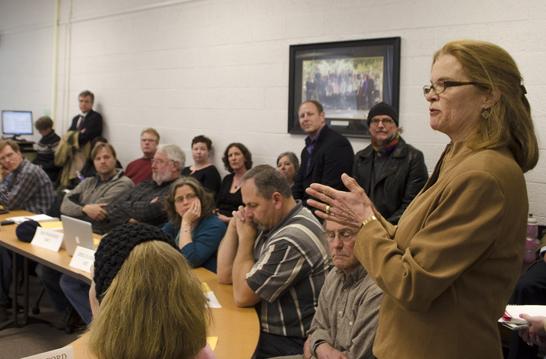 The faculty senate voted "no confidence" Monday in the leadership of Provost Lori Gonzalez and Vice Provost Tony Carey.
Voting by paper ballot, the senate sided against Gonzalez and Carey 22 to 21 and 26 to 17, respectively.
With Gonzalez and Carey "there has been a pattern of disregard for academic freedom" as well as "the due process rights of faculty members have been ignored by these same administrators," according to the petition "Tenured Faculty Call for Accountability for Administrative Failures."
Gonzalez and Carey have also denied faculty governance and have been "non responsive to and dismissive of questions and concerns of faculty members," according to the same petition.
The motions were brought about by a petition received by the Faculty Senate Executive Board March 4, according to the agenda summary of the March 25 Faculty Senate meeting.
Eighty-eight tenured faculty members at the university signed the petition about Gonzalez and Carey, said Andrew Koch, the chair of faculty senate.
"No one really knows for sure what happens next," said Donna Lillian, the director of women's studies. "The faculty senate has expressed an opinion but no one is bound by that opinion, we aren't the boss of the provost or the vice provost."
The chancellor and Board of Trustees will be the next to decide if they take any action regarding the provost, Lillian said.
Lillian said with no other motions before the senate she hopes that "the faculty administration will meet with the administration and try to find some way of having a dialogue."
The close vote on confidence in Gonzalez shows that there are a lot of people on campus who are concerned, Lillian said.
"I think it sends a bad message to the whole community about where we are at as a university," Lillian said. "I think especially in tough times we need to stick together."
Chair of the communications department Janice Pope addressed the faculty senate at the start of the meeting and said, "no matter what you do, if you vote 'confidence' or 'no confidence,' we're in trouble and we're in trouble as an institution."
Story: STEPHANIE SANSOUCY, Senior News Reporter
Photo: BOWEN JONES, Intern Photographer