The tone of a football game can be determined early if the defensive line can get to the quarterback, and Appalachian State has a lot of big bodies to throw at the opposing quarterback.
"We pride ourselves over the last couple years having great depth," defensive line coach Mark Ivey said. "I think this year our depth could be as good as it's ever been because those second and third team guys have been proving to us there is not a big drop off from the first team."
It has been nothing but high praise from Ivey and he is excited to see what the defensive line can do during a regular season game.
"I am very pleased with the group of guys, they have bought into outworking the opponent," Ivey said. "We certainly have some talented guys but talent only gets you so far if you are not willing to outwork the other side."
Bringing back key guys from the defensive line last year such as senior lineman Antonius Sims and junior nose tackle Myquon Stout, the Mountaineer defense will continue to be a force to be reckoned with.
Last year, Sims had a breakout out year logging 33 tackles and leading the Mountaineers with seven sacks. Sims knows that for this line to be successful he must improve his game.
"I worked on every aspect of my game," Sims said. "I want to be great, so that means I had to improve my work ethic and go hard constantly."
Sims has been impressed on how well the defensive line has been able to gel over the offseason and during training camp.
"The way we came together, and we are getting better everyday will translate onto the field on Saturdays," Sims said. "Everybody has to work on certain techniques and we are doing those certain techniques right, [we are] just trying to get better as a team."
Being a senior, Sims knows that this year is the year to get things done, so he is trying to help his teammates any way he knows how.
"I try and help the young players the best I can," Sims said. "We will be practicing and I keep stressing to them, 'Use your hands, it's the little things like that, that can eventually lead to a sack."
Another key returning starter for the Mountaineers is Stout, who was named to a preseason All-Sun Belt team. Stout was a dominant force in the middle last year logging 20 tackles.
"I think we have the right pieces to go undefeated in our conference," Stout said. "It all starts up front. If you get to the quarterback early, they have to change their whole game plan. It is pretty cool that the defensive line can dictate the whole game."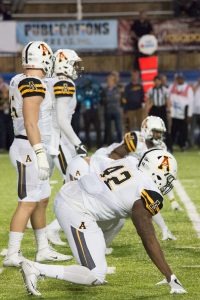 Being a junior, Stout knows that not only does his play on the field impact the team, but his leadership to the younger guys will have just as big impact. 
"I was just recently named a captain for the team," Stout said. "I want to help these younger guys get better and maybe help them see things on the field that can help them get better results."
Stout gives a lot of credit to Sims for the type of leader he is and it paves the way on what type of leader he was wants to become.
"Sims is a great leader and he is always willing to take time out to help us with anything," Stout said. "He will text me and be like, 'Did you see that on film?' It always helps me to pick his brain to see what he is seeing."
Going against the same offensive line every day in practice can be repetitive, but for the Mountaineers defensive line it could be a blessing in disguise.
"Going against that group over there makes us a lot better," Stout said. "They are probably one of the best offensive lines we are going to see all year, so seeing us against them can be a good measurement of where we are at."    
The Mountaineers are returning three starters on the defensive line, but Ivey is excited to see how freshman defensive lineman Markell Clark performs.
"He is running with the No. 2s at nose guard," Ivey said. "He really shows some bright spots and the ability to make big plays."
Ivey's goals for this year were simple: be great against the run and the pass.
"What you do against the pass and what you do against the run are very different," Ivey said. "If we can differentiate the two and be compete at both, it would be huge for us."
App State only allowed 17 points a game last year but with the main core of the defensive line and with incoming impact players on the roster, fans should look for that average to go down this year.
Stouts' challenge to the team was loud and simple, "We want to break the sack record."
Story By: Michael Pigg, Sports Reporter
Photos By: Halle Keighton and App State Athletics