Fiddlers and square dancers show off their moves for ASA conference attendees at Legends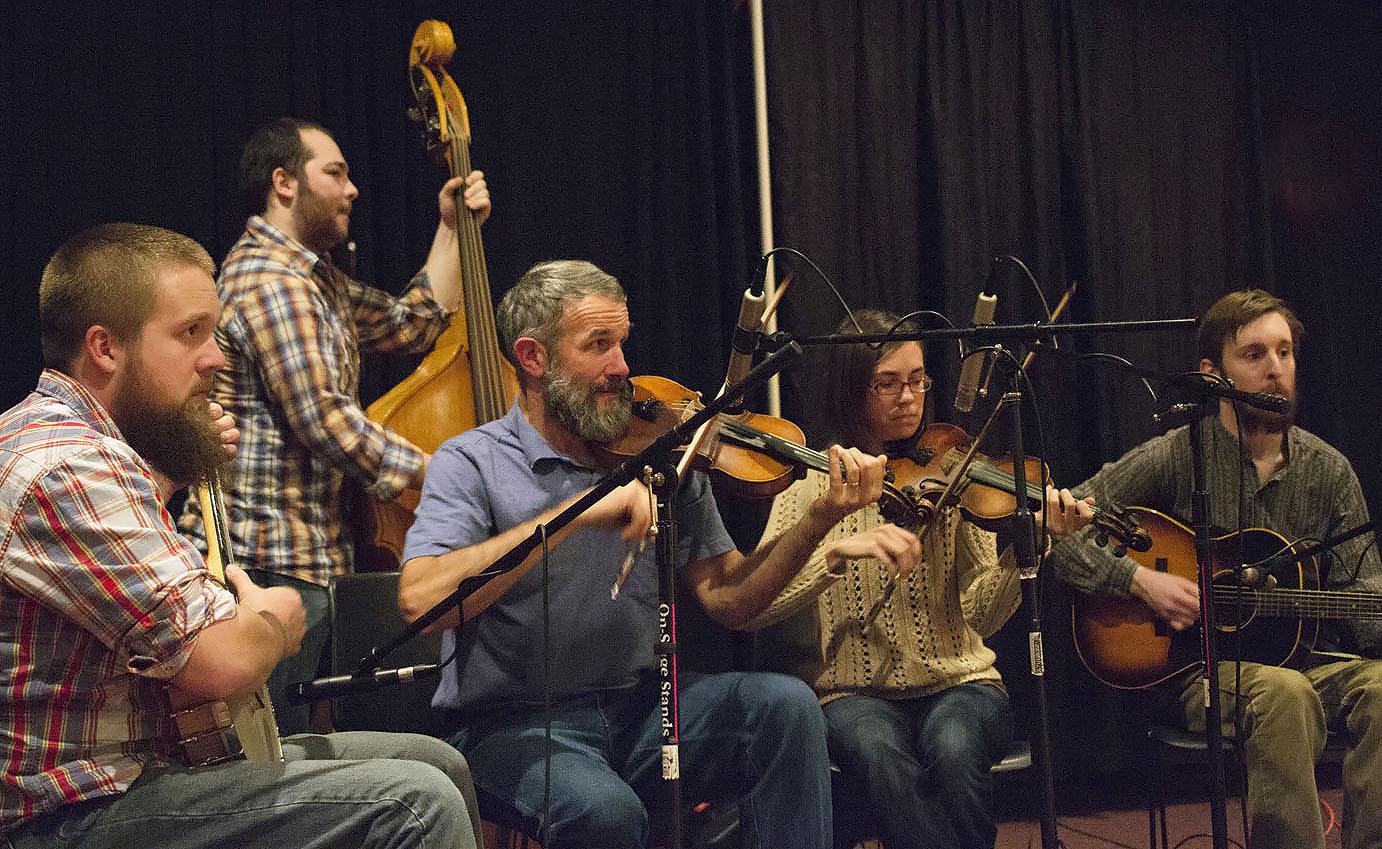 Old-time fiddlers, storytellers and square dancers joined Appalachian Studies Conference attendees, Appalachian State University students and members of the community in celebration of Appalachian music Friday and Saturday night at Legends.
The two events were held as part of the Appalachian Studies Association's annual conference, which the university hosted this weekend. Friday night kicked off the festivities with a jam session of local fiddlers.
Several more musicians and storytellers performed Saturday and then led the audience in a square dance toward the end of the night. Appalachian Popular Programming Society's Appalachian Heritage Council hosted both events.
"We wanted something that showed who we were," said Appalachian Heritage Council chairperson Josie Hoggard. "We really wanted to bring community, school and conference-goers together to do awesome things. It's been really cool."
The Appalachian Heritage Council often hosts similar dances and concerts, as well as workshops and the annual Old Time Fiddler's Convention, but Hoggard said Saturday's event was one of the largest due to the influx of people from the ASA conference.
The lineup for Saturday's concert began with Orville Hicks, a master storyteller who is "world-renowned" for his jack-tales, Hoggard said. Next, musician Rick Ward played banjo and sang for the audience.
"Aside from being the Chuck Norris of Appalachian, he [Ward] is one of the only people in the world who plays double-knock banjo," Hoggard said.
After Ward, musician Mary Greene sang and played dulcimer and guitar. Greene was one of the first people to ever graduate with a master's in Appalachian Studies from Appalachian State.
Following Greene's performance, legendary flatfoot dancer Robert Dotson took the stage. Dotson turns 90 years old in May.
There was an instructional square dancing event Saturday night. Phil Jamison and Rodney Sutton led around 50 participants in a few easy square dances, while Cecil Gurganus and the Laurel Creek String Band played music.
"If you know your left from your right and you can walk, you can do these dances," said Mark Freed, the music director for the conference.
Freed is an Appalachian Studies graduate student at the university. He moved to the area 10 years ago to pursue a degree in Appalachian Studies and to play banjo.
"The real reason was playing the banjo," Freed said. "The degree was auxiliary. A degree sounded like a better reason to tell my parents I was moving to North Carolina than 'to play the banjo.'"
Freed said that the turnout for the events was about one-third conference-goers, one-third community members and one-third students. He said the university's Appalachian Studies program and the campus' location within the central region of Appalachia is why the conference was such a success.
Appalachian is the only university that offers both an undergraduate and a master's degree in Appalachian Studies.
"People interested in Appalachian Studies are interested in places like Boone," Freed said.
This is the third time Appalachian has hosted the Appalachian Studies Conference, which is now in its 36th year.
Story: EMMA SPECKMAN, A&E Reporter
Photo: ANSLEY COHEN, Intern Photographer