Fifth biannual 'Boone in Blossom' benefit festival offers free workshops, live music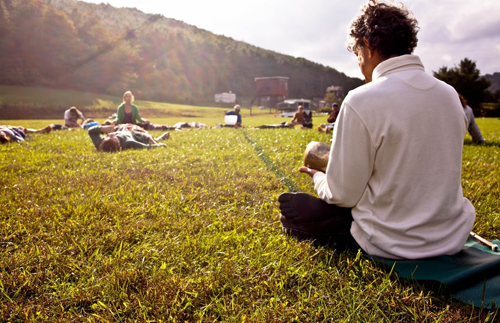 The fifth biannual Boone in Blossom festival will showcase local talent this weekend at the High Country Fairgrounds to benefit the Hunger Coalition.
The three-day event serves as an open, welcoming venue for area musicians and entertainers, as well as an opportunity for community members to share their personal skills with a network of like-minded individuals.
Admission and access to the 20 local musical acts and daylong workshops and classes can be paid for in cash, cans or volunteer hours. Cans and proceeds go directly to the Hunger Coalition.
The festival began as a simple personal community service project by local yoga instructor Jeremiah Brown while he was working to complete his yoga certification. The first event three years ago was small, but received such positive public response that Brown decided to hold it again.
The event quickly gained momentum, and the festival is now biannual and in its fifth iteration.
"It would totally not happen if not for all of the talented, amazing people in the community who offer their services for free," Brown said. "The driving force keeping it going has to be the talent of the community."
This is the second time the festival will take place over the course of three days. Attendees are invited to camp at the fairgrounds all weekend. Camping and parking are both free.
As attendance has grown, festival organizers hope that the demographics of people attending will expand to include more families and older locals. There are specific family camping areas for those with children in an effort to keep the event family-friendly and welcoming to all.
Ongoing yoga classes and workshops are some of the major festival attractions. Instructors will offer free daylong classes for six classifications of yoga. The studio where Brown teaches usually charges $14 for a single class.
"This year people just sort of came to us," said Anna Maynard, an event organizer. "We're close friends with a lot of the yoga teachers and people in the community who offer these workshops, so this is sort of an opportunity for us all to get together and offer that."
Brown said that as Boone in Blossom grows, it becomes more of what he originally envisioned.
"Everything is kicking into a new high gear with the production value and the organization," Brown said. "It's starting to become more of what I had hoped it would be in the beginning."
Other workshops include outdoor living and survival skills, tips for sustainable lifestyles and gardening, as well as dancing and performance arts such as improv comedy led by campus comedy troupe NouN.
"Anyone with something to offer is welcomed," Maynard said.
A unique aspect of the festival is what attendees take away from the workshops and classes: new skills.
"Some of the other festivals have all of the bling, the money, the production values, but they lack any kind of meaning," Brown said.
The festival takes place this Friday through Sunday at the High Country Fairgrounds. Admission is $20, 20 cans or volunteer work and is good for all workshops and performances.
For more information about the festival, visit gatiproductions.com or find the event on Facebook.
Story: LOVEY COOPER, Senior A&E Reporter
Photo Courtesy: ANNA MAYNARD