Filling leadership roles
Being a part of a team is a rewarding task that most athletes go through when they compete, but competing in a sport that does not have a team aspect means competing for individual recognition and building individual skills.
While it is common to either be in a team sport or individual sport, tennis has the distinct difference of transitioning from playing individually one's whole life to playing in a strong team environment in college.
One of the most difficult parts of the transition to college tennis is being put in a leadership role that has much different definition from being a leader in high school.
"High school was just more having fun and playing for yourself," said Jack Maddocks, a rising senior on the App State men's tennis team. "Now it is more serious and all about winning, being competitive and giving it your all for the team. It is a mental shift to prepare yourself and get ready to do the best you can."
Both App States men's and women's tennis teams are going through a transition with graduating seniors, leaving leadership roles up for grabs. In the 2014-15 season, the women's team had no graduating seniors and the men's team only lost one senior, leaving the current seniors in their leadership roles for two years.
"We haven't been in that position so it will kind of be us trying something new and there will be growing pains trying to take over that leadership role," said Trey Morris, a rising senior on the men's tennis team. "As long as we do our job, we should be good."
Becoming a leader is a new task for anybody, whether it is in a sports or work environment, but when playing a sport that is focused on individual accomplishments, it can be challenging to make sure personal issues don't affect the team's success.
"We need to learn a team aspect, which can be difficult because of personality clashes, but we have to help freshman learn that and not take it personally but just go out there and play," said Brianna Armellino, a graduating senior on the women's tennis team.
Men's tennis head coach, Bob Lake, has coached the Mountaineers for 16 years and has seen this transition many times throughout his career.
"It is always interesting because you just don't know how it is going to turnout," Lake said. "You have to wait until December and see how everyone gets along and then I will know what is going on. Once you come to a school, it is about the team but it is still individual."
Rising junior Scott Webster worked his way up to the No. 1 spot on the men's team this season, and Lake said that having a younger man become one of the top players on the team could sometimes be challenging. Luckily for Lake, the current team has adjusted and is willing to play in any spot in the lineup to help the team win.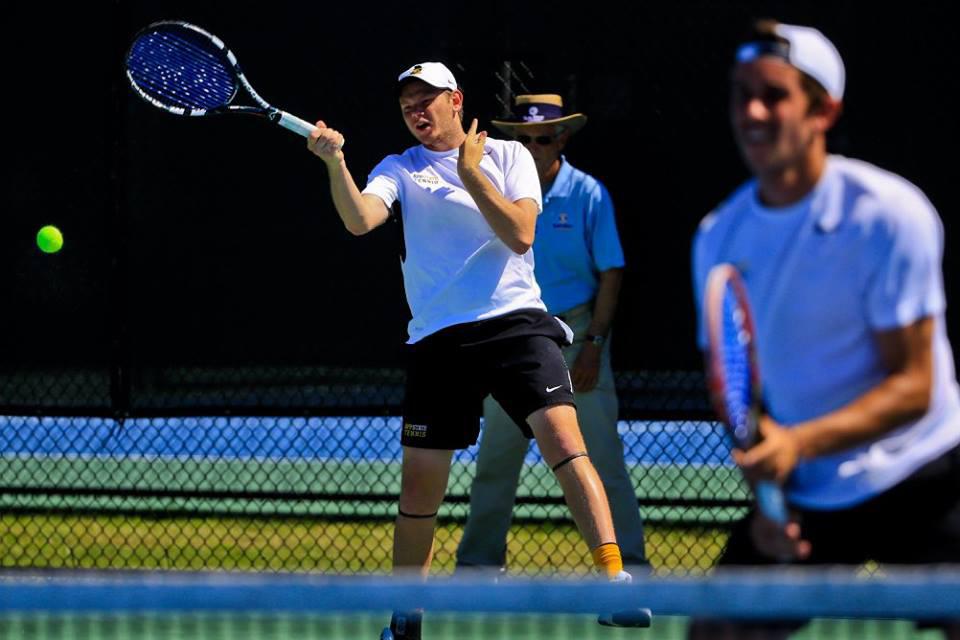 Many of the players on the women's team are rising sophomores who have had to rely on the graduating seniors' leadership and learn the team aspect.
"The younger girls need a lot of leadership, and it is really important for us to come together and rely on each other," graduating senior on the women's tennis team Mackenzie LaSure said.
The men's team was eliminated in the second round in the Sun Belt conference tournament this weekend. The hardest thing for the team going into the match was knowing that it could possibly be the seniors' last match.
"Those guys are so motivational and they just have a way to know how to motivate us," Morris said. "All of us were going to leave everything on the court for them."
Like every underclassman on the teams, the seniors have been in the same position adjusting to college and learning to join the team.
"I was always so nervous when I started because I felt the pressure of the team environment and didn't want to let the guys down," Maddocks said. "Getting adjusted to that is probably the biggest difference from high school to college."
Freshmen usually are recruited and come to college with others who are adjusting to college life and being an athlete to help ease the transition. Rising sophomore Heidi Swope said that it really helped her adjustment.
"It is a different kind of experience," Swope said. "I am not on my own since other girls are going through the same situation."
With the men's team losing four seniors and the women's losing three, stepping up to the leadership role in the 2016-17 season is anyone's for the taking and Lake said whoever shows they can handle it will earn it.
"It is always good to see who will be the leader of the team," Lake said. "We need two guys and whoever wants to take it on will take it on. We will see how it works out, but we also have four new guys coming in."
While it can be difficult to transition from an individual tennis player trying to accomplish personal goals, becoming part of a team can be a very rewarding and growing experience, Armellino said.
"The team will always be part of my heart and is a school that has given me a really good education over the last four years and I have made some of my best friends," Armellino said.
Story by: Jason Huber, Sports Editor
Photos courtesy of Derick E. Hingle of the Sun Belt Conference.