Establishing relationships and friendships and overcoming awkwardness is something that every first-year student at Appalachian State will experience. Under the direction of faculty members Trimella Chaney and Marianne Adams, the First Year Showcase was held this past weekend from Sept. 28 to Oct. 1. App State first-year students with a love for theater and dance performed a display of new first-year college relationships. Located in the small studio theater of I.G. Greer, the students had a packed house nearly every night for their display of completely student written and performed pieces that displayed the different types of college situations first years typically find themselves in.
"The First Year Showcase is a time for brand-new students to come in and dip their toes in the water and delve into the department head first," Jamie Brigman, a junior theater arts major, recently said in an interview on AppTV.  "There is a theater aspect and a dance aspect that are separate but merge together to form one big show."
Brigman said that the theme of this year's First Year Showcase was relationships, specifically those formed within the first year of college life. The theme was displayed heavily through different techniques of writing, acting and dance.
Shannon Patterson, a freshman dance major, participated in this year's showcase in a piece entitled "Finding Space." Patterson said that the opening and closing parts of the showcase set the tone for relationships throughout the entire performance.
"The opening of the show involves everyone in the cast on stage at one time. People are running around across the stage carrying phones, looking around confused and even holding maps trying to find their way around campus," Patterson said. "They ask other people where to go, run into each other and are overall just awkward in their first interactions of college. It's meant to show the audience the new environment that first-year students are thrown into."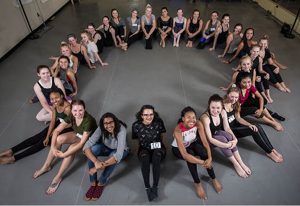 These awkward first-year relationships became more prevalent as the show progressed. One scene in particular had most of the audience crying toward the end. The scene started with a little girl hosting a tea party for her father and as each scene went on, the girl and father both grew older. As they journeyed through the struggles of life together, from angsty teen to homesick college kid, the father and daughter's love between them grew stronger with each emotional scene, showing the everyday struggle of homesickness that each college student will eventually face.
Other relationships and college trials were also portrayed through the scenes, such as roommate horror stories, the struggle of Tinder dating, finding out you have no money in your bank account, every college student's love for Netflix and sleep and the difficult decision of whether to get a pizza or salad for lunch.
The dance numbers also displayed some sort of relatable college situation or relationships. In one number entitled "Exchanged of Wealth," the dancers moved around stage exchanging coins and cash, which displayed the issue of every broke college kid. Fitting enough, the background music of the number continuously stated "the best things in life are free." In one number, "Finding Space," every dancer on stage was dressed in the same outfit performing the same movements. Throughout the intricate dance, some of them would break off to "find their space" but the others would follow closely behind.
One audience member, freshman international business major Mason Sayers, said that "Finding Space" was his favorite piece of the show.
"I think the piece held deeper meaning that you really have to think about in order to fully understand. When the dancer would break off from the crowd, the crowd would just rejoin them again and not leave them alone," Sayers said. "It shows the struggle that college kids have to face with wanting to fit into the crowd and blend in but also wanting to find their own space and become who they are meant to be. I think a lot of college kids go through this, especially in their first year where they overall are confused and lost."
Another aspect of the show that the audience seemed to enjoy was the fact that everything within the show was completely student written, acted and choreographed. Many patrons found it hard to believe that these were not professionally staged shows. The actors and dancers of the show overall had about 19 hours of practice and about five rehearsals to make the show as perfect as possible.
Samantha Hopkins, a freshman elementary education major, said, "When I found out that the scene were all student made, I was completely shocked. Every movement was planned and so well thought-out that I couldn't even tell they were by the students. It must be extremely difficult to be able to pull all that off."
Finally, the showcase came to an end with the closing performance, again featuring everyone in the performance on stage at once. At that point, the students knew each other and were at last comfortable in their college setting.
"The closing number is when the actors and dancers are working together to create something wonderful, symbolising the end of freshman year when people are a little bit more understanding of what college is supposed to be like," Patterson said.
Patterson also said that the First Year Showcase was a wonderful opportunity for her to get to know new people and make friends with people who hold the same interest of dance and theatre.
The Appalachian State Department of Theatre and Dance will be very active this entire year. With Movies by Movers and the First Year Showcase out of the way, the department will now be moving into performing full length shows.
"Radium Girls" by D.W. Gregory will be performed the week of Oct. 4-8 and William Shakespeare's "Much Ado About Nothing" will be opening on Oct. 25. Some of the dancers in the First Year Showcase will also be featured in the Fall Dance Ensemble, showing Nov. 15-19 in the Valborg Theatre.
Story By: Amber Grant, Intern A&E Reporter
Photos courtesy of Lynn Willis