The story originally stated the team had undergone the tough transition from a Division II team to a Division I team. The story has been updated to reflect the correct terms, FCS and FBS.
As the ball soared through the uprights on the final play of the Raycom Media Camellia Bowl, the Mountaineer sideline rushed onto the field. They jumped with joyous expressions on their faces as they stormed to the midfield logo, where senior kicker Zach Matics had run after throwing off his helmet, signaling for the crowd to be quiet.
It was a big win. One of the biggest wins in Appalachian State's football history, and that's saying a lot given their back-to-back-to-back championship runs in the mid-2000s. The team celebrated during the men's basketball team's 78-74 victory over Troy on Saturday, roughly two months after they hoisted the trophy for the first time. Winter weather postponed the original celebration, which was set for Jan. 23.
The players were excited not only because of that one victory, but because they knew it capped off a season that established the Mountaineers as a top contender in the Sun Belt and beyond for the coming years.
Seniors on the team had undergone the tough transition from an FCS team to an FBS team throughout their collegiate careers.
"Being able to end it on that game and win, it pretty much told the whole story of our whole class," former defensive back Doug Middleton said.
Going into the season, the Mountaineers had heard talk of making history, but they knew that would be the case whether or not they won the contest. They didn't want to be known as the team that lost the school's first ever bowl-bid.
"You've got to make awesome history and win," junior quarterback Taylor Lamb said.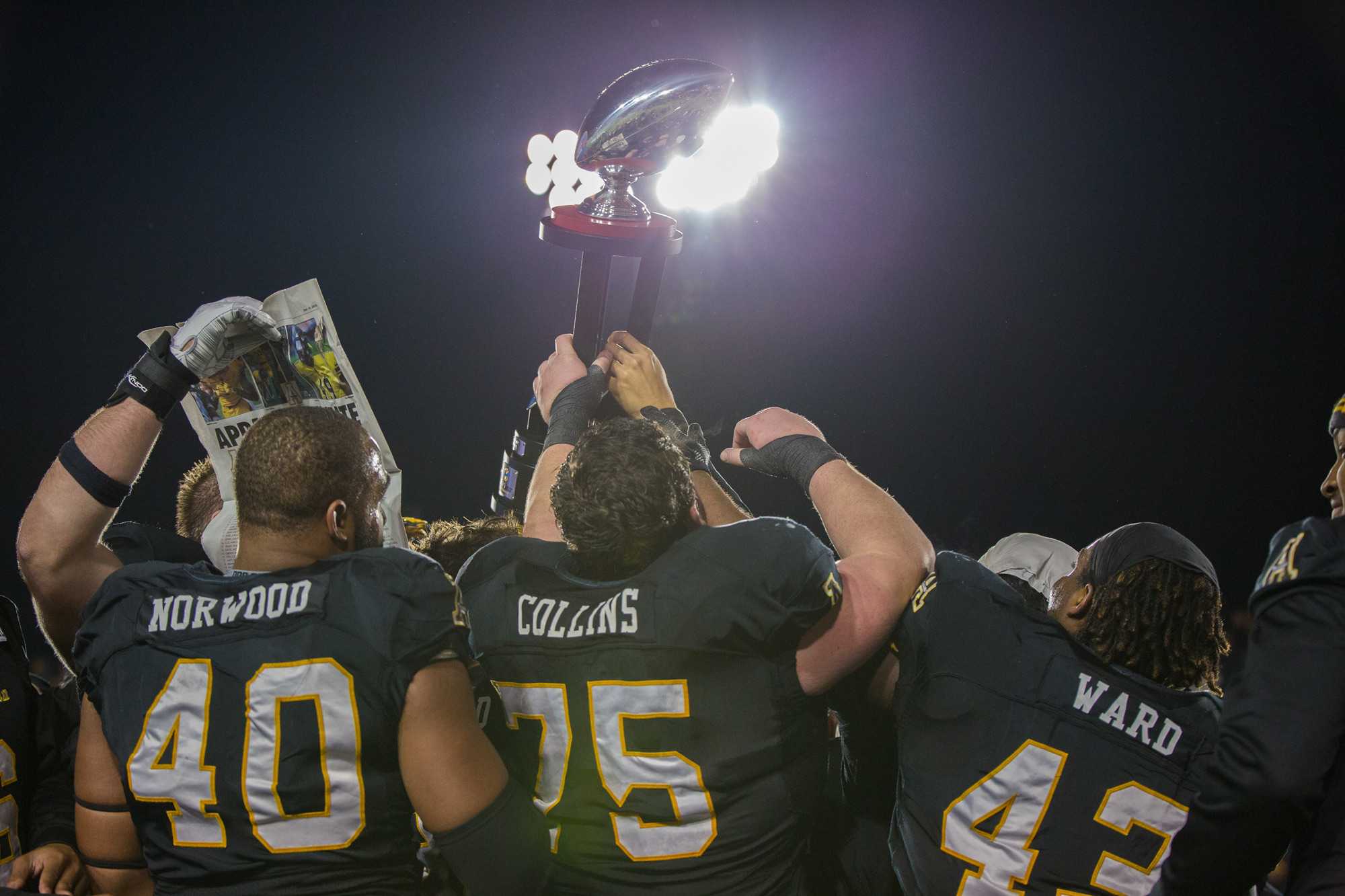 Senior running back Marcus Cox said that the team had some extra motivation all year.
"Our first [time] to be able to play for something," Cox said. "It meant a lot to us. The whole bowl experience."
Cox had an incredible season for the Mountaineers, leading the team with 1,423 rushing yards and adding nine rushing touchdowns. He also bumped his career total up to 22 100-yard games.
But Cox didn't do this alone. Then-sophomore running back Terrence Upshaw and then-freshman running back Jalin Moore each contributed to the running game all season long.
"They took a lot of the load off of me this year," Cox said. "No matter who's in the game, we have a back that is capable of doing big things."
Moore had one of the best games in App State history against Idaho. The freshman ran for 244 yards in the team's victory, breaking the record for rushing yards in a game, previously held by Cox.
"To be able to watch it in person, and to have somebody that I've helped along the way break my record feels better than if I didn't know the guy that did," Cox said. "That means a lot to me, knowing that I'm helping him grow as a running back and as a person here at App State."
Cox and Moore weren't the only players chasing and setting records this season. Lamb threw 31 touchdown passes this season, topping the previous record of 30 held by Mountaineer-great Armani Edwards.
Even though Lamb bested a record set by one of Appalachian State's greatest players in only his second season on the team, he isn't too concerned with individual achievements.
"11-2 stands out to me," Lamb said. "First bowl win stands out to me. I'm more of a team guy. It's cool to have your name up there, but it doesn't equal the 11-2 record. I could throw nine touchdowns and 20 picks, and, if somehow we're 11-2 after that, I'll be happy."
Lamb may have trouble living up to the standard he set this year as top targets Malachi Jones, Simms McElfresh and Bobo Beathard were all seniors and graduating. They amounted to 12 of Lamb's 31 touchdowns.
Lamb had a strong connection with those senior wide outs.
"We had our times where we were on the money, and I knew where they were gonna be and what they wanted to do," Lamb said.
Lamb knows it will take a while to establish the connection he had with the senior receivers, but also said that what the upcoming players lack in experience, they make up for in speed.
"We got a lot of guys that can take the top off the coverage," Lamb said.
The Mountaineers fared well defensively this year too. The defense was ranked in the top 10 in the nation for a good portion of the season, and a lot of that had to do with the leadership of players like now-senior linebacker John Law.
"This defense was special to me because it's the first defense I can say I was a major part of," Law said. "I had leadership responsibility. We faced a lot of adversity. There are gonna be some times where it's tough, but you gotta keep going. The mental toughness that it takes to be champions."
Former defensive lineman Ronald Blair attributed some of the success to the willingness of younger players to take advice.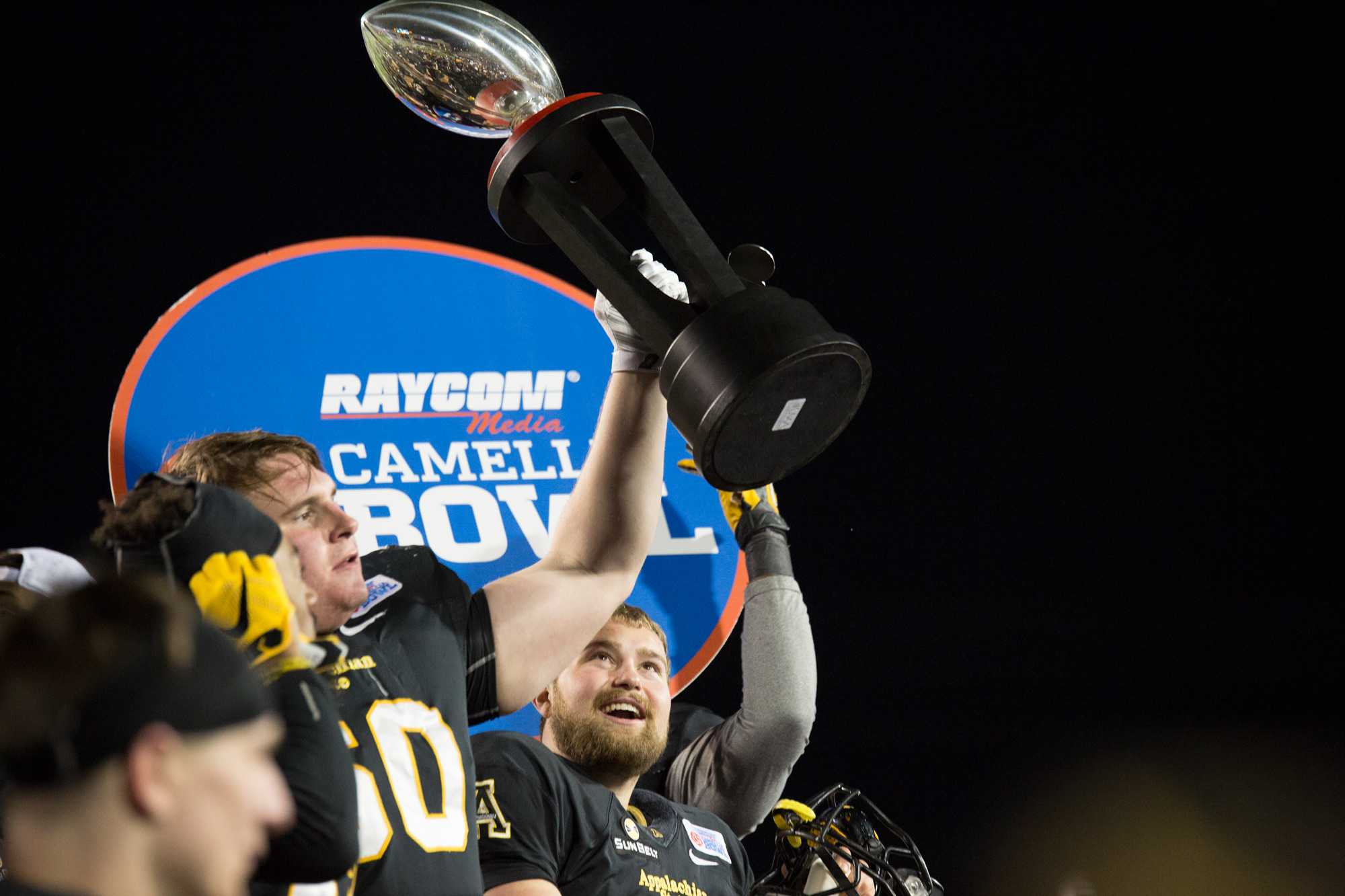 "It felt great with young guys coming up to ask for help and seeing them try to work on what needed to be worked on," Blair said. "It was a combination of everybody growing together."
For all of its success, the unit is losing some top performers, including Blair and Middleton, who have both graduated and are looking forward to possible careers in the NFL.
Middleton, who totaled 53 tackles on the season, played along with Matics and offensive lineman Davante Harris in the NFLPA Bowl after the season ended. Those weren't the only Mountaineers invited to All-Star games, as Beathard played in the Tropic Bowl and Blair was invited to the East-West Shrine Game but declined because of a possible leg injury.
Along with that, the players are training in different spots around the country to prepare for the NFL Scouting Combine, their pro day and the draft.
"I got a lot of exposure out there," Middleton said. "There were scouts from every team. I learned things I can take and continue to improve on for my pro day. I know what I got to work on, and I know I got time to do it."
Blair said he also feels confident about his draft day chances.
"I expect to do well at the combine," Blair said. "I'm training trying to make sure I'm at peak performance. I feel like I'm in the best shape of my life."
The team as a whole knows that they are going to have to step up to fill the shoes of the players that have moved on.
"We're losing great guys," Law said. "Not even great football players but great guys. They taught me so much. The preparation and the way that they attack things is a mentality we're gonna try to carry on."
Those that are leaving believe that the future could be even brighter for Appalachian State football.
"They've got some young leaders that have proven themselves," Blair said. "They'll have no problem taking the reins and making the team better."
Story by: Colin Tate, Sports Reporter 
Photos by: Chris Deverell, Photographer