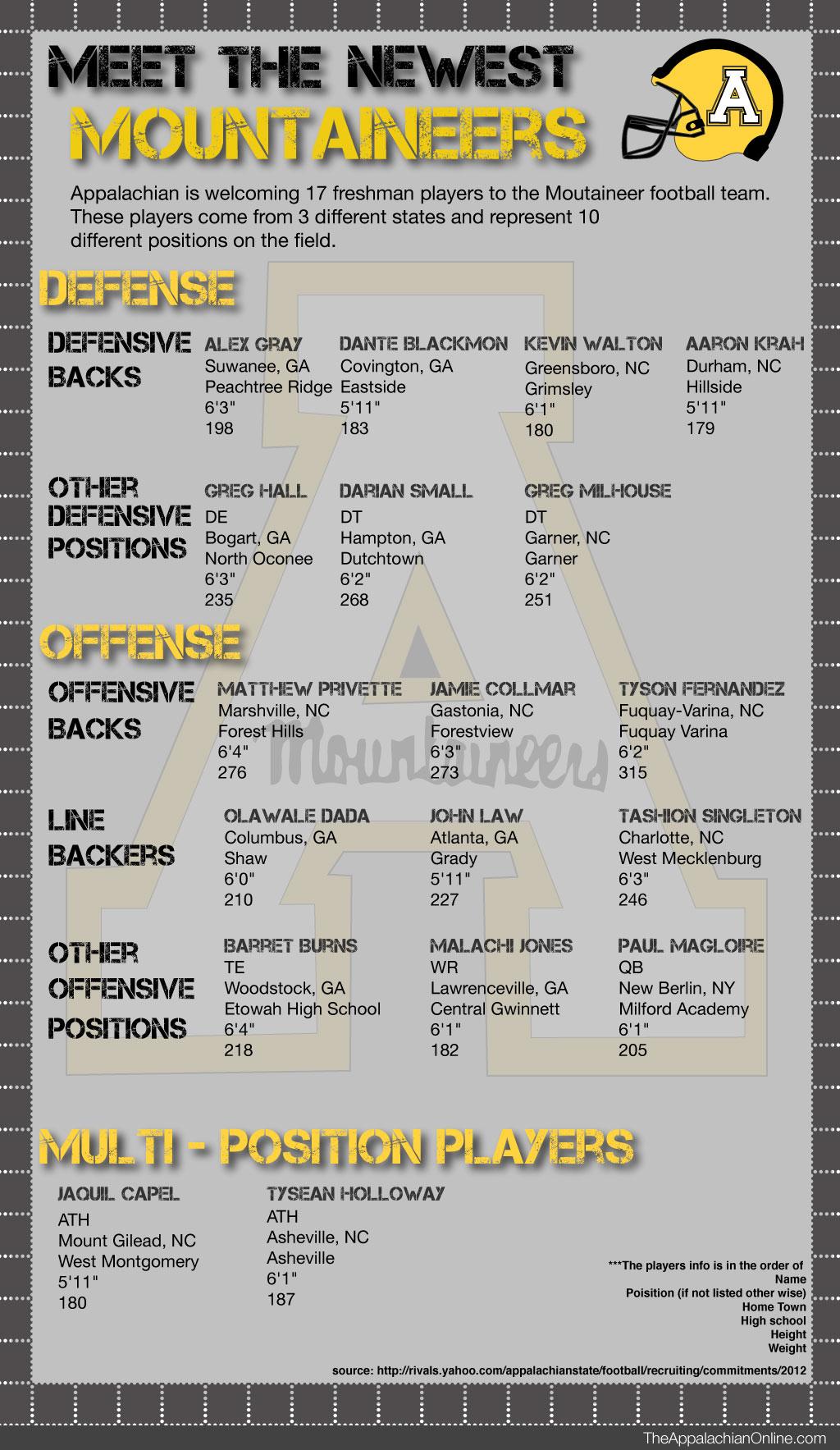 The Mountaineer football team signed 19 recruits Wednesday – the largest recruiting class in at least the last five years.
Coach Jerry Moore praised this class as possibly the best he's ever achieved.
It's been a tumultuous offseason – one that saw six of Appalachian's coaches leaving, four of them for rival Western Carolina. But Coach Moore was pleased with the way his staff handled the recruiting period and said the coaching turnover did little to affect Appalachian's results.
"What you have to do is evaluate your players and we had evaluated our players," Moore said. "We had them 1-2-3, like a pro draft, so we knew who we wanted."
The Mountaineers signed 10 defensive players and nine offensive, but another factor was more striking: the size of the linemen Appalachian State recruited.
In years past, the Mountaineers have opted to sign smaller linemen, usually in the 240-pound range, and progress them through their career.
This season, Coach Moore changed his strategy.
"Offensive linemen was a must," he said. "The smallest lineman we've recruited is 278 pounds. We didn't compromise this year."
Defensive back Dante Blackmon is the highest-rated recruit for Appalachian, based on rankings compiled by rivals.com.
Blackmon, a three-star recruit, is one of the most anticipated enrolling freshmen and the highlight of a deep class of defensive backs for the Mountaineers.
Recruiting Coordinator and Defensive Backs Coach Scot Sloan said the addition of new defensive backs will bolster an area of the defense that was suspect in last season's playoff defeat against Maine.
"It was one thing we identified," Sloan said. "There were games last year where we really needed to stay in our star package with five DBs on the field. It's something you have to address with the way college football is going."
Blackmon is one of 10 players recruited from Georgia, but ASU also pulled eight from North Carolina. One other state was represented by New York quarterback Paul Magloire.
The Mountaineers will now enter their final offseason preparations before beginning spring practices shortly following Appalachian's spring break.
The team is currently in the hiring process for an offensive line coach and an inside linebackers coach – two positions expected to be announced within the next two weeks.
Story: JAKE AMBERG, Sports Editor
Graphic: ALLISON HILL, Web Graphic Designer