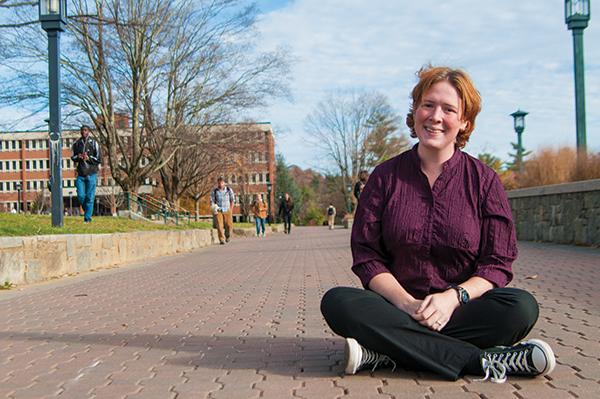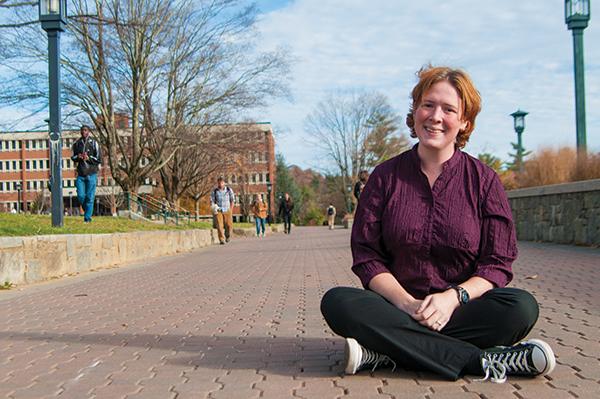 Sarah Magness doesn't think of herself as a victim.
She prefers to look at her time of being homeless as an adventure, and considers herself a survivor.
"I'm not gonna dwell on it," Magness said. "I see myself as a survivor and now I know, no matter how bad things get, I know I can make it through and I can be resourceful."
Magness, a college development graduate student at Appalachian State University, lived in her car from January to May in 2010 after completing her undergraduate degree.
Now, she's the graduate assistant for the LGBT Center on campus.
She wasn't always this optimistic, though. After graduating from Brenau Women's College in 2007 with a degree in studio art, she said her pride is what caused her to be homeless.
"I graduated in 2007 and that was before the whole stock market slump and all the financial stuff,"
Magness said. "So it was almost looked down on if you weren't utilizing your college degree. So I was like, 'I will do whatever it takes to stay away from going home.'"
Magness lived in her car with two dogs while working at a pizza store, which paid enough to cover her car payment.
Magness thought that since she was a college graduate, she shouldn't ask for help from anyone.
"They say pride comes before the fall," she said. "And I fell pretty hard."
She lived day-to-day, she said, constantly finding ways to keep surviving. She looked for ways to find cheap food, a place to shower, a place to park her car to sleep and a way to feed her dogs.
When it came to feeding her dogs, "sometimes they ate and I didn't," Magness said.
Throughout her entire experience, Magness said no one ever knew she was homeless.
"I still had all my clothes, so I could go to events and stuff and look presentable and no one had any idea," she said.
When Magness' grandmother broke her hip and needed help, Magness said it gave her a reason to move home.
She started taking care of her grandmother and began working at Wal-Mart – something she had previously promised herself she wouldn't do.
Going home was something Magness dreaded, she said. It made her feel like a failure.
"I felt like I let every single person in my family down," Magness said. "I let my friends down. I let every person in my community down. I felt like I let my [undergraduate] institution down, because I wasn't going forward and being successful like I was supposed to be. So, I didn't feel like myself. I was like 'I don't know who this person is, but this is not what I'm capable of doing, I'm capable of so much more.'"
After a year of being home working, Magness started thinking about the "bigger picture."
"I had to think about what I wanted to do for the rest of my life and what I could make money in and have things I needed that I hadn't even thought about – things like health insurance, life insurance, a 401 K," Magness said.
With the support of her family and Wal-Mart coworkers, she enrolled at a technical college and started taking prerequisites for graduate school.
She was accepted to Lenoir-Rhyne University for occupational therapy and worked as a residence director to pay her bills, she said.
While working there, she found her passion for student affairs and after falling in love with Appalachian, decided to transfer to pursue a college student development degree.
Magness met Jerry Yelton, a sophomore communications studies major, last year at the Walk for Awareness.
They became closer while Yelton worked as a desk shift volunteer at the LGBT Center, and when Yelton had to write a monologue for a class based on someone's life, he asked Magness.
Yelton said he didn't expect to hear the story he did.
"I [was] surprised at what I uncovered," he said. "Knowing just a few of her struggles has made my respect for her increase exponentially. To have gone through the sort of things she has dealt with and still be so positive and optimistic is astounding."
Yelton said Magness is one of the strongest people he knows.
"I don't believe there are many people who could have gone through Sarah's experiences and still be a bright light in someone's life," he said. "Her true strength in life comes from the way she impacts the lives of everyone around her with her infectious spirit."
Magness said she doesn't understand why she didn't ask for help.
"Pride was the biggest obstacle for me," Magness said. "And being able to acknowledge that sometimes you can reach out to people for help. Now my family's like, 'We wish you would have let us know that things weren't going right.'"
Magness now feels empowered and wants college students to know they can be whatever they want to be, despite their current circumstances.
"There are always going to be dark spots and always be challenges," Magness said. "But once you get past those, everything always seems brighter and more colorful."
Story: CHELSEY FISHER, Senior News Reporter
Photo: MOLLY COGBURN, Staff Photographer