Panorama 2018 was held Tuesday in the Parkway Ballroom of the Plemmons Student Union. The event was put on by AppSpeaks, an organization dedicated to promoting discussions about issues involving App State students.
Panorama is an annual event put on for students to promote their First Amendment right to freedom of speech, where students are allowed to discuss their passions in a safe space. AppSpeaks also hosts weekly discussions about current world issues during an event called the Socrates Cafe.
The Department of Student Engagement and Leadership was also involved in putting on the event. With an attendance of around 150 students and faculty, the Panorama speakers stood on stage to deliver their speeches, with most lasting around 15 minutes.
The students gave speeches about anything they were interested in and wanted to inform the audience about, ranging from discrimination, civil justice within refugee camps or even discussing the future of electric air racing.
The students had to audition in order to earn a spot to speak. During the auditions, the students were selected based on their public speaking abilities and interesting topics.
"The auditions were in October, and then there were two workshops before the event where students received feedback on how to improve their performances," freshman English major Anna Spradley said.
Spradley was one of the many volunteers involved with AppSpeaks who helped with the organization of Panorama. She helped pick up the catering, provided by Stick Boy Bread Company, and also swiped students' AppCards at the doors to the event.
The first speaker was Mikaela Thomas, a junior sustainable development major, who spoke about the civil justice system in refugee camps. During a visit to Fez, Morocco, she witnessed the established crime and consequence system in the camps, where the police were typically not called to handle crimes due to the camp residents' fear of being deported.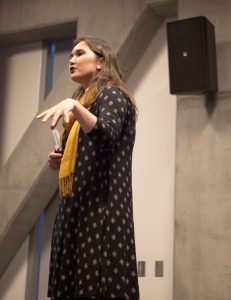 "As an American, I was shocked. In America, we have this set in stone law and anything outside of that law is considered anarchy," Thomas said. "But in other systems, they need to set up their own laws and punishments in order to have a society."
Korick Sisomphone, a graduate Appalachian studies major, performed a talk titled "Hip-Hop from the Hilltops: Perspectives on Place, Identity, and Resistance." He spoke about his own experiences living in Boone and the long history of musical resistance.
He related the struggles that the people of Appalachia have faced to the struggles that many hip-hop and rhythm and blues artists face today. Both genres of artists use music as a way to represent and talk about the places they come from in order to respect their own roots.
James Furr, a senior sustainable technology major, spoke about the future of electric air racing. Having been inspired by electric cars by being a member of the App State Solar Vehicle Team, Furr discussed the possibility for electric powered planes.
Using statistics and technological evidence, he showed the audience how electric powered planes could be used to combat global warming and air pollution caused by plane engines.
Robert Havelka, a senior sustainable development major, used his speech to take a look at economics through a political lens. He discussed the problems with American politics and economics, claiming that most American workers feel like pawns and no longer have a voice about how the government goes about certain economic issues.
Regarding the rate and hourly compensation and productivity not equalling each other out, he coined the phenomenon as "The Destiny's Child Effect."
"Destiny's Child moved forward as a team all together until Beyonce skyrocketed to the highest point of productivity," Havelka said. "Hourly compensation and productivity rates need to get back together again, just like Destiny's Child."
Mackenzie Bruckner, a senior communication studies major, gave a speech titled "Narrative Nostalgia." During her speech, she spoke about the natural cultural longing for nostalgia and how this longing is reflected in remaking old classic movies or TV shows.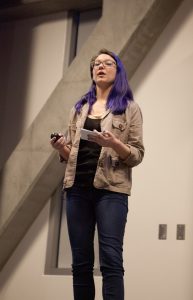 Bruckner also claims that by remaking shows like "Mad Men," we are blaming the societal issues displayed in certain shows on the fact that they are portraying older times, even if these social issues are still prevalent in today's society.
Logan Frazier, a junior English major, spoke about the established simulacrum of celebrities in Hollywood today. The simulacrum, Frazier explained, is an established facade created by anyone who tries to hide their true personalities from the outside world.
Many celebrities hide their true selves in the eye of the public. When even a bit of their true personality shows, they are perceived as being fake or two-faced.
"Their narrative is not their own," Frazier said. "Eventually, after hiding the original versions of themselves, their own personalities begin to fade away and instead they become a copy of themselves."
The final speaker of the night was Sophie Crist, a sophomore studio art major. Crist spoke of the discrimination and challenges she has had to face throughout her life struggling with achondroplasia.
Achondroplasia, out of the 300 forms of dwarfism, is the most common. Despite struggles she has faced throughout her life, Crist is still successful in the art field, having created several music videos for rap artists in the past. She moved to Boone to escape intolerance and study art. She also spoke about an event called Little Persons of America, where over 3,000 dwarfs meet annually and discuss their own stories living with dwarfism.
"Everyone has a thing to celebrate," Crist said. "And we celebrate dwarfism because we are proud of who we are. The only difference between you and me is that I am 4 feet tall. We celebrate because we do not see ourselves as a disability, we see ourselves as individuals."
After her presentation, Crist received a standing ovation from the crowd.
"Sophie's speech was incredibly moving," Spradley said. "It provided a new perspective from the discrimination little people face. It really made me think about her story, and it made me want to help others."
Any student hoping to participate in Panorama 2019 are encouraged to get involved with AppSpeaks.
Story by: Amber Grant, A&E Reporter
Photos by: Mickey Hutchings, Staff Photographer
Featured Photo Caption: "Hip-hop and Hilltops" presented by Korick Sisomphone. Sisomphone's talk was presented at Panorama March 20, a student-led lecture event held by AppSpeaks.