When it comes to the future of the App State men's soccer team, there is a lot to be excited about with their young core, but they have also found a bright future in the likes of two freshmen stars, both from North Carolina.
Camden Harrison, a 5-9 midfielder, out of Apex, and Graham Smalley, a 5-8 midfielder/forward out of Kill Devil Hills, have had to adjust quickly to the difference between college athletics and high school and academy play.
"Competing in college sports has a different intensity to it," Smalley said. "It takes more out of you and most of your preparation comes off the field unlike high school where I was more physically dominant."
Harrison, on the other hand, played for the U.S. Soccer Development Academy after playing soccer in high school, which he said was very different.
"The jump from the academy to App State was definitely harder than I thought and I wanted to just to bring my best every day on the field and off the field," Harrison said. "You want to come in and make an immediate impact but you know it is not going to work like that."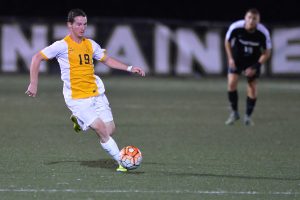 Smalley has started every match since Sept. 3 at ETSU, while Harrison has started every match except the most recent against Davidson on Sept. 24.
The culminating moment for the freshmen starters came when Smalley had his first collegiate goal against USC Upstate in the home opener for the season. It also happened to be the game-winning goal in the 3-1 victory for the Mountaineers.
Head coach Jason O'Keefe said that the main thing he wants from his freshmen is to be "mentally checked in."
"I know that being freshmen, their minds can wander off," O'Keefe said. "But if they are able to stay focus during the game, in the classroom, and in the film room then their upside is going to be good."
Harrison and Smalley have benefited from strong upperclassmen leaders on the team who help with their growth and adjustment to the speed of the college game.
"The older guys have definitely helped us whether it being showing us around campus or even just working on our game with us," Harrison said.
Despite having some success early on, both knew that they were not just going to come to Appalachian with a starting spot, they had to earn in, and battling upperclassmen in practice with hard work is the way to earn respect.
"It is just healthy competition [against the upperclassmen]," Harrison said. "I don't defer to the upperclassman but I like to measure my game compared to them. You come in and see them working hard so the competitive nature come in and makes me want to work harder than them."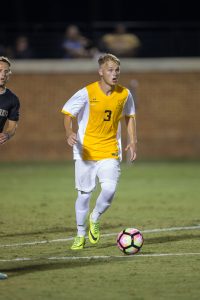 Even with strong work ethic and confidence, any freshman athlete has to learn and work on getting better on the spot. For these two, it's about film study.
"I would say watching film, I found myself not 100 percent focused on the task and I had to quickly get my attention back on track, I found out quickly that if I lost focus that I could miss out on the scouting of the other team and it could cost me in the game," Smalley said
To survive as a freshman, each game and practice has to be faced with a healthy amount of confidence in order to push through adversity. O'Keefe has been impressed with their confidence and their work ethic.
"I like the way Graham and Cam come into practice everyday and continue to get better," O'Keefe said. "Their work ethic has been amazing and as it should be as they are trying to make a statement in this new system."
Story By: Michael Pigg, Intern Sports Reporter