F/stop captures Appalachian State
On the first and third Monday of each month, dozens of commercial photography majors, minors and photography enthusiasts gather in Katherine Harper Room 121 for an F/stop meeting.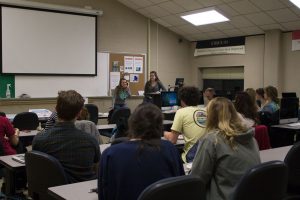 F/stop is a part of the commercial photography major, and is open to anyone interested in learning more about photography, regardless of their major.
"It's an extension of the commercial photo program," Kristen Brown, a sophomore commercial photography major, said. "It's open to majors, professionals, whatever level you're on. It's kind of like a learning experience and a way to get into knowing the business of photography."
Throughout the year, the club hosts and participates in a wide variety of activities ranging from listening to a guest speaker to taking photographs in a campus wide scavenger hunt.
"It's always different things," Sam Cooper, a senior commercial photography major, said. "We don't have a set activity that we do [or] the same thing every week. It's always changing."
F/stop is also commissioned to take pictures three times a year at campus  and town events. Members take headshots at CareerFest in Holmes Convocation Center and photograph kids in Halloween costumes and with the Easter bunny at Boone Mall.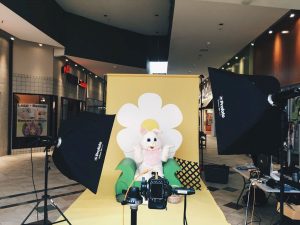 "At the bunny shoot at Easter, we go to the Boone Mall and one of us dresses up in the bunny costume and do the typical 'go to the mall and take your picture with the Easter bunny,'" Cooper said.
Brown and sophomore commercial photography major Abigail Wallis agreed that their favorite memory from the club thus far was seeing National Geographic photographer Steve McCurry's work at a gallery in Hickory last year.
"I loved Steven McCurry because I've never seen his stuff in person," Wallis said. "I've always loved his stuff, but seeing it in person is totally different and that was really cool."
Brown said she has always been a huge fan of McCurry's work and agreed that seeing it in person was a great experience.
"Getting to see his huge prints was awesome," Brown said. "We just went in two cars and it was so much fun getting to hang out and grab coffee."
Another event Brown, Cooper and Wallis enjoyed was going to the Greenway Trail one night and lighting it up using speed lights the club rented.
"I just thought it was fun that there were a bunch of these photography students running around like crazy taking pictures and just having fun in the middle of the night on the Greenway," Cooper said.
Although the club did not have many meetings last semester, they
hope to hold more this coming semester.
"Last semester we weren't able to do a lot of meetings or a lot of photo stuff," Wallis said. "I think this semester we are trying to plan a lot of fun things."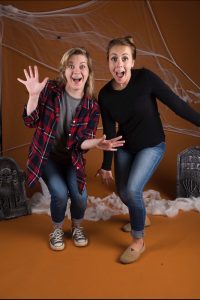 F/stop is focusing on working with astrophotography and drone photography this semester with the help of two professors in the commercial photography department.
Along with those two main events, F/stop is planning smaller activities for their other meetings.
They are going to create a bulletin board in Katherine Harper Hall with photographers who inspire them and watch short films that Appalachian State graduates have created. F/stop is also thinking about doing another gallery visit and getting another guest speaker to come talk to them.
"The club is changing this semester," Cooper said.
Brown and Wallis think that F/stop is a great place to learn different photography skills and practice.
"You have people there who are older than you, who have gone through more of the program and love photography too," Brown said. "You learn so much from going to the meetings and doing the activities. It's not the type of club where you have to go to every meeting to be involved. You can go to a few of the events a year and still learn so much."
Wallis has enjoyed being a part of F/stop because it has allowed her to learn new photography skills and practice even though she was unable to take any commercial photography classes this semester.
"Even though I don't get the chance to do stuff during class, this club gives me a way to shoot and get out there," Wallis said.
As a commercial photography major, Cooper said that she does not get to work on personal projects very much and that the club allows her to take pictures outside of assignments.
"I kind of feel like the club adds that fun aspect sometimes," Cooper said.
F/stop also provides a space for photography majors and enthusiasts to get to know each other.
"It's a good way to make friends within the program and not in the program and just in general I think," Cooper said.
F/stop costs $5 a semester to join and the club meets on the first and third Monday of every month in Katherine Harper Room 122 at 7 p.m.
Photos By: Olivia Lepard, Staff Photographer and courtesy of F/Stop