Get Rocked: Satterfield gets first home victory at The Rock, Mountaineers beat Eagles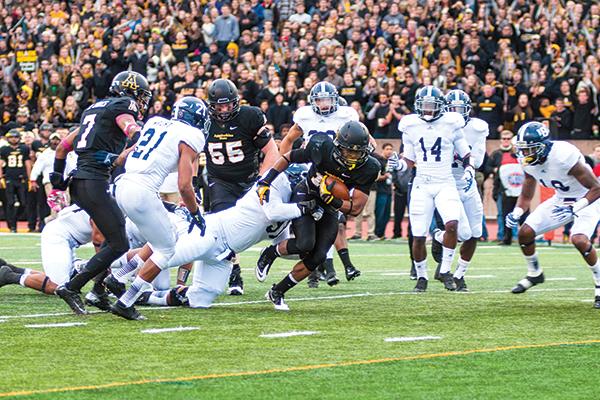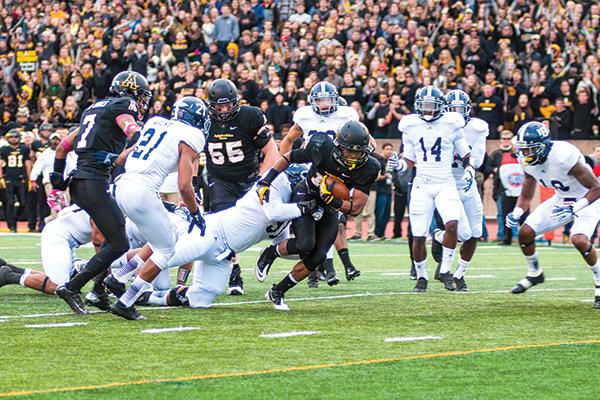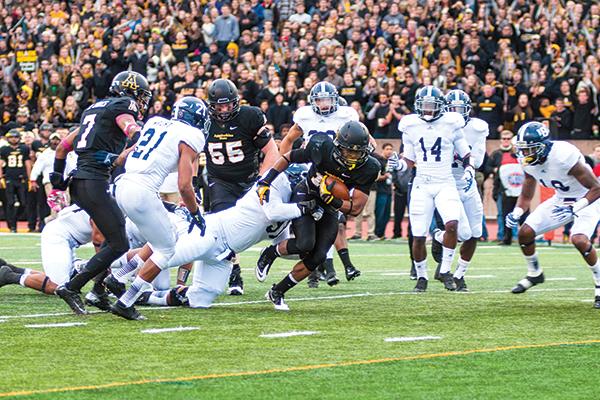 Both the offense and defense were firing on all cylinders this past Saturday at The Rock as the Mountaineer football team defeated rival Georgia Southern 38-14, ending a four-game losing streak.
The defense allowed a season-low 14 points against a Georgia Southern (4-3, 2-3 SoCon) offense that led the SoCon in many statistical categories, including points per game, rushing offense and passing efficiency. The 38 points was also a season-high for App State.
"There was something about our kids today," said head coach Scott Satterfield, who recorded his first victory at Kidd Brewer Stadium. "Our defense played well and got turnovers. Offensively Kam [Bryant] played well, and the receivers made big plays. Overall, it was a great team win."
Redshirt sophomore quarterback Kam Bryant had a career day behind center for an App State (2-6, 2-3) offense that relied on his performance. He ran for a career-high-tying two touchdowns, while throwing for two more and completing 27 of 33 passes for 381 yards, another career high.
Bryant, although acknowledging his career performance, deferred credit to his talented receiving corps.
"I've been saying it for a couple weeks, it was on my shoulders to get these guys the ball," he said. "These guys have been running the same routes all year, and it was up to me to get them the ball. [Tony Washington and Andrew Peacock] are our senior leaders and we just had to get the ball in their hands."
The two seniors led the team in receiving as Washington caught five passes for 129 yards and a touchdown, while Peacock recorded 10 catches for a career-high 127 yards.
"[As] wide receivers, we pride ourselves on being one of the biggest playmakers on the offense, and we haven't done that so far this year," Washington said. "And this week, we felt like we really had an opportunity with so much man-to-man defense that Georgia Southern played. We figured that our best versus their best, we would win every time."
Despite giving up two sacks for 12 yards and a slew of penalties that tripped up the offense's momentum, Peacock was extremely satisfied with both the offense and the play of the App State receivers.
"We eliminated a lot of mistakes today," Peacock said. "Route running, blocking, passing, everything was on key. When we are focused, this is what happens. I don't think it was just because we played Georgia Southern, but focus level, like I said, was where it needed to be."
On defense, it was a collective effort for a young group that has struggled facing the option over the course of the year, allowing 349 rushing yards to the previous two option teams. The only thing that the Mountaineer unit has struggled with more is sacking the quarterback and forcing turnovers.
App State recorded both a fumble recovery and an interception, but tallied only one sack.
"Coach [Nate] Woody makes it a thing in practice, if we don't get a certain amount of turnovers, we are going to run for it every day," defensive end Deuce Robinson said. "He puts it heavy on us that we have to get turnovers, and the more turnovers you get the easier it will be for you to win the game."
Although App State still sits near the bottom of its conference, beating Georgia Southern was something Washington hopes will help his team moving forward.
"To win this game, especially against Georgia Southern, it's just a good way to hopefully kick-start the rest of this season, and that momentum will hopefully go into the next season and enter the Sun Belt," he said. "For me as a senior, it feels great. Because you know, we've won three SoCon championships since I've been here. I want those young guys to know what it's like to win and win on a consistent basis."
Moving forward and preparing for the transition to the Sun Belt conference is something App State has no choice but to focus on. Though, the team cannot finish with above a .500 record.
"There's no question it's been a long season," Satterfield said. "This was a great team win for the program. We talked about how we have to finish this season strong and this was the first step in that direction, because people are going to remember how we finish this year."
Appalachian State will host Chattanooga (6-2, 4-1) Saturday for a second consecutive home game. Kickoff is scheduled for 3:30 p.m.
Story: NICK JOYNER, Sports Reporter
Photo: ANEISY CARDO, Staff Photographer