Highway 194, going toward Elk Knob State Park, is a winding road that takes the driver out of the town of Boone and deeper into the mountains, through woods and around sharp curves, alongside weathered homes and occasionally past old buildings that house local businesses.
One such business, nestled between a surveying company and a general store, sometimes causes drivers to do a double-take when they pass it. A 5-foot-tall Russian nesting doll sits on the sidewalk outside the door and a bright red banner hangs above with golden letters proclaiming the store's name: "Golden Cockerel: Russian Gifts Fit for a Czar."
"It does jump out at people as they drive by," Walton Conway, the store owner, said. "It's what you might call a hidden gem of the High Country."
It's surprising enough to come across this tiny shop specializing in Russian gifts deep in the mountains of North Carolina. What's even more surprising is learning that Golden Cockerel is one of the largest producers of nesting dolls in the world.
The business is a result of Conway's trip to Russia in 1991, where he lived and taught English for a few years, and a lifelong partnership he formed while there.
"I had the idea that I would go live in a distant part of the world and meet the people there, be an ambassador of American culture and try to build some links of friendship between the U.S. and Russia," Conway said. "Having grown up in the Cold War time, I kind of wanted to bust that border and see what was on the other side."
One of Conway's students in St. Petersburg, Roman Karkachev, helped Conway get through some tough winters when food was scarce, and the two developed a bond. They eventually decided to go into business together, turning to a traditional Russian craft: matryoshka dolls, or nesting dolls.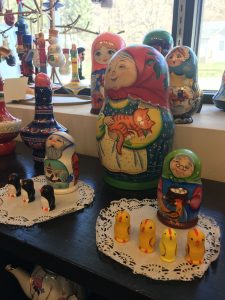 The business started small. In the early 90s, as the Soviet Union collapsed, the Russian economy was falling apart and there was a lot of unemployment, Conway said. Many jobless Russians began buying blank nesting dolls, or matryoshka dolls, and painting them to sell at flea markets. Conway would shop at the markets, and when he returned to the U.S. in 1993 to teach at Appalachian State University, he brought with him a suitcase full of nesting dolls and the goal of selling the souvenirs to help his friends in St. Petersburg.
Not having any business experience himself, Conway didn't have large expectations for the venture, at first going door-to-door peddling the nesting dolls. But as Conway realized there was more interest and demand for the product, he figured that it could actually be a viable business, so he set up shop and started filling orders. Eventually, he had to quit teaching as the business became a full-time job.
Realizing that buying the nesting dolls from flea markets was unreliable once large orders came in, Conway and Karkachev set up their own production. They put an ad in the paper looking for artists in St. Petersburg, Conway said, and there was a line of applicants out the door. After many interviews, they found a few people who had gone to art colleges and developed themselves as professional painters.
"Once you know a few good painters, then they have friends," Conway said. "So the team we have now has been with us for over a decade, and we have worked with them to develop a very specific production process utilizing their talents."
Now, Karkachev's main job is to oversee production in their St. Petersburg workshop, while Conway's primary role in the business is to get the products sold. Both partners collaborate on all aspects of Golden Cockerel, though, including product design.
"We perceive ourselves as toymakers," Conway said. "We are pushing the boundaries of what a nesting doll is or what it could be, and developing new types of nesting dolls."
Karkachev and the St. Petersburg team buy blank wooden dolls from independent carvers in Russian villages, which are sent to Golden Cockerel's workshop. About a dozen artists work there, specializing in different aspects of the production process from sanding the blank dolls to painting and lacquering them. How long production takes depends on the sizes and designs on the dolls, Conway said, but a batch of about 100 dolls is a few-week process with several people involved.
The Golden Cockerel gallery in Boone sells the products, but it is also somewhat of a museum of nesting dolls and how they are made, Conway said. Hundreds of dolls, ornaments, porcelain dishes and other products line the walls of the tiny shop. The matryoshka dolls come in a variety of sizes and designs, including the traditional Russian babushka designs, different animals and some sets painted as U.S. presidents.
Occasional curious passersby and tourists stop in the gallery to visit, as well as students learning about Russian culture. Boone local Christy McAlister said that she brought groups of homeschooled students into the shop over the years to hear from Conway in great detail about how nesting dolls are made. In addition, Appalachian State Russian language professor Irina Barclay hosted a Russian language summer camp, and her students would visit the gallery during their time at the camp.
"The mere presence of the shop in Boone is something we can all take a great deal of pride in," Barclay said.
Most of Golden Cockerel's business, however, is done through orders on their website. Boone is the mail-order headquarters of the business; the dolls are sent to the store from St. Petersburg after they are made, and are then shipped all over the world.
"Anywhere you travel, you'll be likely to find our nesting dolls in gift shops, be it Alaska or New York or Florida," Conway said. "We recently sold to a gift shop in Greenland, and Newfoundland, Australia, the Middle East, so we are supplying the world with nesting dolls and they all come right through Boone here."
One aspect of the business that has been a surprise, Conway said, is the number of orders from large corporations that Golden Cockerel receives. Companies such as Microsoft, John Deere and Cartoon Network have ordered customized nesting dolls, usually as gifts for employees. In addition, Golden Cockerel created several thousand nesting dolls as promotion for the 1999 film "Being John Malkovich."
"We didn't realize we'd be making nesting dolls for the big boys," Conway said.
Despite Golden Cockerel's huge success in the nesting doll business, times are more uncertain now due to the current political climate and U.S. attitudes toward Russia.
Politics have always affected some aspects of the business, Conway said. The giant nesting doll sitting outside the gallery's front door was originally requested by the U.S. Olympic Committee when the Winter Olympics were being held in Sochi, Russia, in 2014. Times Square in New York City had booths set up for the countries represented in the Olympics, and the nesting doll was meant to sit at Russia's booth. However, when tensions arose that year because of Russian involvement in Syria, the Olympic Committee was worried about a large Russian presence at the event, and canceled the order.
"It has been tougher ever since the political climate soured, especially in the corporate gifts," Conway said. "It has definitely been a challenging environment."
U.S. imports from Russia used to be duty-free, Conway said, but there is now a 10 to 20 percent duty on everything he imports. At the same time, the cost of living in Russia has gone up, which has put additional financial strain on the business. If the U.S. starts sanctioning all products coming out of Russia, Conway said, then the whole business shuts down.
Besides the hope that relations between the U.S. and Russia turn around, Conway plans to stay in business by rolling with the times, keeping up with the Internet market and innovating new products. Though the large success of Golden Cockerel has been somewhat of a surprise, there is another success that Conway is proud of: achieving his original goal of forming a lasting link between people in the U.S. and Russia.
"Karkachev is still involved, he is still my Russian business partner and that alone is very unique, I would think," Conway said. "The two of us have worked together as equal partners in the business for 20-some years now, and it has helped to connect Russian culture with Americans for many years."
Story by: Adrienne Fouts, Associate A&E Editor