Just over four years ago a two-star recruit running back by the name of Marcus Cox stepped onto the turf of Kidd-Brewer Stadium as the Appalachian State Mountaineers remained in the FCS for only one more season.
Transitioning to the Sun Belt from the Southern Conference wouldn't intimidate Cox, who continued his historic run into Appalachian State history. Now, Cox is Appalachian State's all-time leading rusher with his college career behind him and has accepted an invitation to the 92nd East-West Shrine Game on Jan. 21 in St. Petersburg, Florida at Tropicana Field in hopes of being drafted into the NFL.
The future was bright for Cox from the get-go, being a true freshman and rushing for 1,250 yards and 21 touchdowns, setting an Appalachian State freshman record.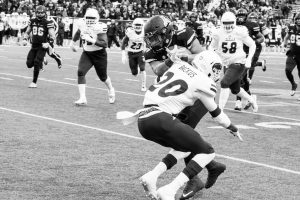 He then improved to 1,415 yards his sophomore season and led the Sun Belt in rushing touchdowns with 19 while sharing touches with running back Terrence Upshaw. Cox hit career high numbers his junior season for 1,423 yards and was named second team all-Sun Belt Conference.
Last season, Cox hit the 3,000 yard plateau during homecoming on the first play of the drive to just begin scratching the surface of App State record books.
"The play was supposed to head outside but the defense overflowed," Cox recalled. "They double-pursued it, there was a big open cutback lane, I cut back and after I broke that one-arm tackle, that was it."
After he found the open lane, Cox was off to the races for a 59-yard touchdown run becoming the sixth running back in school history to rush over 3,000 yards. His 178 yards that game against the Wyoming Cowboys was the seventh straight time he rushed for 100 yards.  Cox has rushed for 100 yards 29 times in 45 career games.
Cox was primed for a breakout 2016 season approaching the 5,000 yard mark and the Mountaineer all-time leading rusher.
On a historic day, the third game of the 2016 season against the Miami Hurricanes with Kidd Brewer rocking full of about 40,000 seats taken, Cox went down with quad injury, which would make him question his ability to become the all-time leading rusher.
Unable to play the next couple of games, there were times Cox didn't know if he would be able to reach some of the milestones that stood in front of him.
"Coming into my senior year I knew there were a lot of records to reach and milestones that I definitely wanted," he said.  "I started off the year great and then I get hurt and missed basically five games and it definitely crosses your mind [not reaching the milestones]."
Cox returned against Georgia Southern a few weeks later, and despite missing four games, Cox's numbers were on pace to crush former Mountaineer running back Kevin Richardson's 4,804 rushing yards and did so on a dreary day against UL-Monroe on November 19.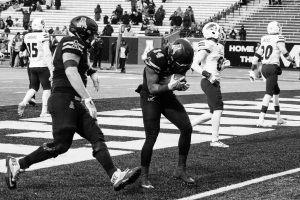 Head coach Scott Satterfield saw Richardson break the record and now he had the chance to watch Cox do it.
"I was calling the plays for Kevin Richardson when he broke it and it was awesome then," Satterfield said after the ULM game. "Records are meant to be broken and anytime we're in the position to break positive records like that, you love it because there's so much work that goes into it and there's so many things that have to happen in order to break records."
Cox wouldn't stop there, though. Cox had two more games to reach 5,000 rushing yards and during his final collegiate game in the Camellia Bowl against Toledo, Cox became the 22nd running back in NCAA history to rush over 5,000 yards.
"You definitely think about it before a game anytime you have a chance to make history and just being able to be apart of such an elite class of guys is just an honor and a blessing," Cox said after the bowl win.  "But at the end of the day, without my offensive line none of that would be possible be possible."
Five-thousand yards is a huge accomplishment, and as much as he was thinking about hitting that milestone he told himself to do what he's been doing since pop-warner football.
"I just told myself to go out there and have fun," he said.
Cox will leave the Mountaineers in good hands at tailback as Jalin Moore had a breakout season as the Sun Belt's leading rusher with 1,402 yards. Cox himself, while only appearing in nine games, rushed for 1,022 yards on 147 carries in his final collegiate season. .
For four years Cox would always tipped his hat to his strong offensive-line, led by another senior, Parker Collins for any of his success.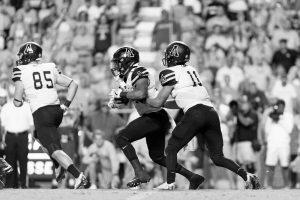 "Obviously the record will go down as "Cox: all time rushing leader" but it is so much more than that," Collins stated after the ULM game. "We [the offensive-line] are an intrinsic piece in that and you have someone like that who can run through tackles and juke people and we are a part of it too."
There is no doubt that Cox will humbly tip hit has to others in whatever success comes to him in the NFL. He said he wanted to leave his legacy at App. He did that and more.
"When you get here everyone wants to be the best, but you never really think it's going to happen until it happens," Cox said.
Story By: Matt Krombach, Sports Reporter