Hispanic population rejoices over culture celebration
App State has reached a 16 percent rate of racial diversity on campus. This was well shown and celebrated in the Hispanic Heritage Festival on Oct. 3 in the Blue Ridge Ballroom of the Plemmons Student Union.
The evening's guest speaker, Saul Flores, is a first-generation American and philanthropist and discussed his 5,328-mile journey across Latin America to relive the long and tumultuous journey numerous Hispanic and Latino immigrants take to reach the United States.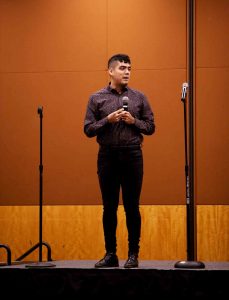 He used this journey to raise money for an elementary school in Atencingo, Mexico, the same school his mother attended. He spoke about the sacrifice a loved one has for another. As he watched his mother clean and babysit other children as a young child to provide food for the family made him realize the real love his mother had for him.
The food served at the festival was from Taqueria El Paso. It was rice, refried beans, grilled chicken and beef. The refreshments included horchata, a traditional Mexican drink. Much of the authentic food that was served tends to be inaccessible and unreachable within the limits of App state and Boone for the Hispanic population. It also gave a small glimpse of the variety of food that is within the Mexican and Hispanic culture.
"It feels great being able to finally eat some Hispanic food after not being home for a couple of months," junior psychology major Cielo Gomez said.
Rodrigo and Wendy Jimenez from Charlotte, North Carolina, gave salsa lessons, a dance that originated from Cuba. They have taught locally and abroad. They said their mission is to bring communities together with dance, music and culture.
The event gave students the opportunity to learn salsa even if they don't originate from a culture with that dance or who have always had the curiosity to learn it.
The Jimenezes showed the audience a salsa dance then made the audience form an outer and inner circle. They then showed the audience the same dance step by step for the outer circle to practice with the inner circle.
The audience members rotated and tried the salsa routine with different partners, reminding others that dance and music connect individuals.
The event showcased the culture and traditions that are within the Hispanic and Latino community while also shedding light on issues within their communities, such as the low waging jobs many Hispanic Americans take when they arrive to the United States and the disfunctional school and political system many Hispanics escape to not let their future generations relive what they suffered.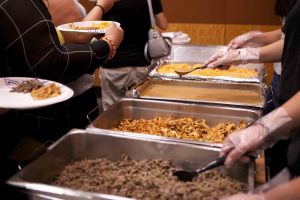 The congregation of Hispanic and Latino students and "explosion of Latin American culture intermingling with one another," allowed students to connect with peers who share customs and practices, freshman political science major Judith Espitia said
Flores asked the audience to think of someone who had sacrificed for them. The room filled with tears when thinking of that particular individual who had given up everything to give them a better life and a higher education.
"The plight of a migrant is courageous, compassionate and honorable. We should respect their journeys and recognize the incredible contributions that they make everyday," Saul Flores said.
Students were then asked to come up to the front and share their own personal stories.
Senior exercise science major Carol Ascencio, shared about how her mother died from pancreatic cancer and her father sacrificed to take in both her and her twin sister.
"I feel touched from hearing people's experiences and difficulties they go through so they can have a better life," Kevin Martinez, a freshman marketing major, said.
Story by Marbeth Salinas
Photos by Mickey Hutchings
Featured Photo Caption: Attendees of the Hispanic Heritage Festival learn dances from instructors Rodrigo and Wendy.