After 10-game losing streak, App State baseball gets back on track with a conference series win against ULM
Behind key pitching performances from two Mountaineer starting pitchers and a hitting outburst from junior shortstop Dillon Dobson, App State baseball (7-16, 2-7 Sun Belt) won two of three games against conference foe ULM at home and snapped a 10-game losing streak in the process.
The Mountaineers needed only four pitches over the three-game series as Dobson raised his batting average to a team second-best .337 after going 9-12 with five RBI, seven runs scored and two home runs.
Game 1: 7-0 win
In the Mountaineers' series opening 7-0 win, head coach Billy Jones decided to change up his weekend pitching rotation by promoting senior pitcher, Taylor Thurber (3-4) into the starting role. Thurber answered the call with a career performance, throwing a complete game shutout while scattering four hits and striking out seven.
The Friday night start was the first weekend start of Thurber's career as he has been mostly used in weekday games and in relief pitching roles in the past during his career.
"I knew we needed something big to pull us out of this rut we have been in and I figured if it's going to happen it's going to happen today and I have got to make it happen," Thurber said after the performance.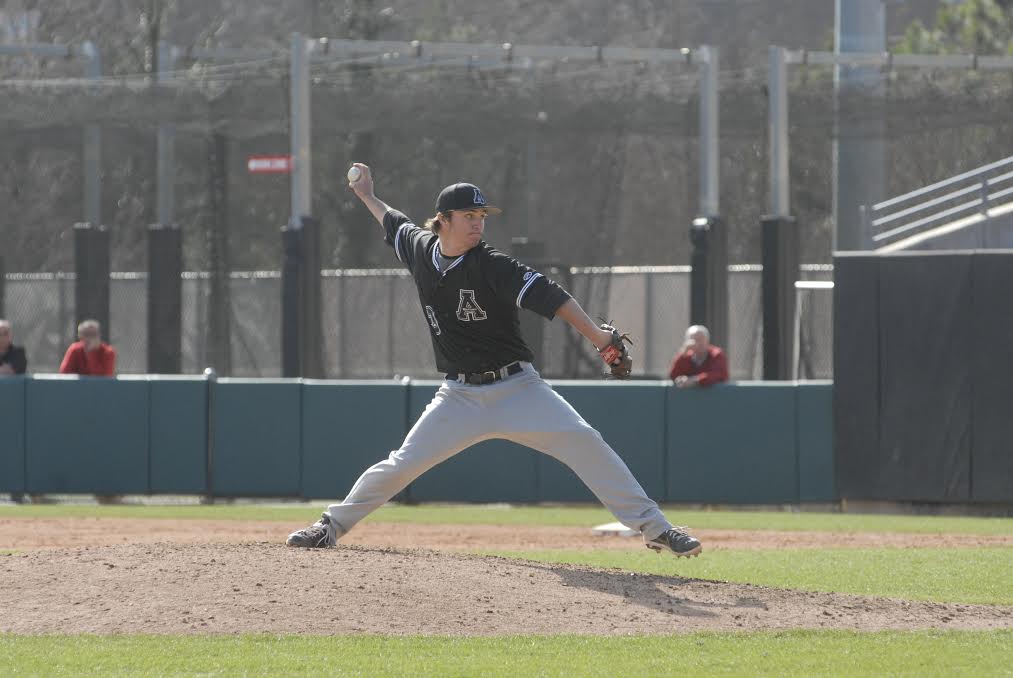 The Mountaineers got the bats working in the series opener too, plating more than five runs for the first time since their 9-7 win against No. 16 Maryland Feb. 28. Dobson led the way with a 3-4 performance, scoring three times and connecting for a solo home run in the bottom of the third inning. Freshman first baseman Conner Leonard (3-4, 2 RBI) broke the scoring open in the bottom of the first inning with a two-run double off the wall.
One of the most positive notes of Friday's game was the return of junior Alex Leach, who had been cleared for play nearly two weeks prior but had not seen any action so far this year. Leach entered the game in the bottom of the seventh inning as the designated hitter and proceeded to double to left field, scoring two and increasing the Mountaineers' lead to 7-0.
"I finally feel healthy and it's been awhile since I have been healthy," Leach said. "Coach called me in and said, 'Leach, here is your shot it's time to shine.' It feels good to be back to myself."
Game 2: 7-5 win
App State received its second consecutive quality pitching performance of the series on Saturday when senior pitcher Jeffrey Springs (1-1) logged a 139-pitch complete game in the 7-5 win. The back-to-back wins from the Mountaineers were the first consecutive wins since mid-February.
The performance was Springs' first complete game, allowing five runs on 10 hits while striking out 11 ULM batters. The southpaw leads the Mountaineers with 38 strikeouts in 34.1 innings pitched this season.
Springs was very effective for the first six innings of the game, holding the Warhawks to one run on four hits.
Reflecting on the high pitch count, Springs compared it to his days in high school where he "always seemed to throw about 125 pitches per game."
"I told our pitchers – our starters – that we would be looking to them and that we were needing them to be able to go about 100-125 pitches," Jones said.
Dobson's torrid weekend at the plate continued going 5-5 including two doubles, three RBI and three runs scored. The display was the first five-hit performance by a Mountaineer since 2012.
"Simplifying things these past couple weeks knowing that we've got a pretty good club so I don't have to do too much if I go up [to the plate] and do the little things right, good things will happen," Dobson said. "Not trying to do too much, just focusing on the little things in the box."
Game 3: 10-2 loss
ULM avoided the series sweep in the final game behind 13 hits, eight of which were doubles, as the Mountaineers struggled to stay locked in during the 10-2 loss.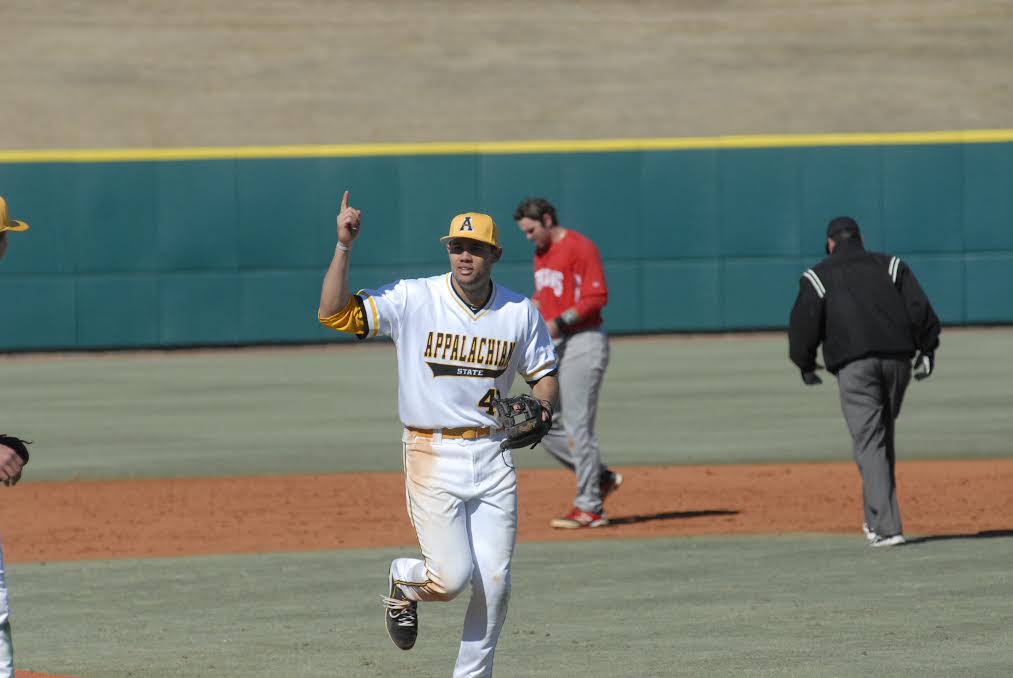 Warhawks shortstop Kodie Tidwell led the visiting team with a 4-5 performance, all of which were doubles. Leftfielder Justin Stawychny went 3-4 with two RBI as well.
Freshman pitcher Travis Holden made his fourth start on the mound for the Mountaineers and struggled early and often to keep the Warhawks at bay. He finished the day with four innings pitched with five runs given up on eight hits.
"We didn't come out locked in," Jones said after Game 3, "Holden wasn't very good, I thought he was up in the zone and [ULM] barrelled him up good. You've got to tip your cap to them."
Jones also voiced that the Mountaineer lineup was not disciplined at the plate on Sunday. ULM starting pitcher Trey Setzer, threw a career-high seven innings, scattering eight hits while striking out six App State batters. Jones called Setzer "effectively wild," while noting the Mountaineers consistently pulled off of the ball, especially from the right side of the plate.
The loss was not as lopsided as the score may reveal, after ULM plated five runs in the ninth inning against sophomore pitcher Dallas DeVrieze. DeVrieze looked strong for his first four innings pitched in relief, retiring all 12 batters he faced before the ninth.
Dobson was one of the minimal sources of offense, going 1-3 with a team-leading sixth home run, which came in the fourth inning.
"Playing in front of the home crowd, I think we got a bit of momentum going on Friday and Saturday," Dobson said. "Wish we could've played a little bit better today but it was a good weekend overall and key for us at this point in the season."
A missing cog in the App State lineup during the weekend series and the past week was junior outfielder Jaylin Davis, who has been dealing with a shoulder injury he sustained against Texas State.
"He's been starting for three years – he's a great player," Dobson said of Davis. "We're just going to have to pick it up. Everybody else is going to have to do a little more and focus and lock in a little bit more and pick up where he left us off."
The Mountaineers travel to face UNC-Chapel Hill in a 6 p.m. matchup today before hosting a second ACC foe, Wake Forest, at 5 p.m. on Wednesday in Boone. App State defeated Wake Forest 10-1 Feb. 25 in Winston-Salem.
Story: Gerrit Van Genderen, Managing Editor
Bryant Barbery, Sports Reporter
Lee Sanderlin, Intern Sports Reporter
Photos: Cory Spiers, Sports Editor