After every men and women's basketball games, The Appalachian will be breaking down the Mountaineers positions for grades
Game: App State women vs. Georgia Tech
Final Score: Georgia Tech 75 App State 41
GRADES: 
Guards: B-
The App State guards struggled against Georgia Tech's press defense, but the Mountaineers' guards have plenty of upsides. Freshman guard Tierra Wilson certainly did not look like a freshman as she took over the leadership role and she picked up the scoring with 15 points and four three-pointers made as senior guard Madi Story is out for the year due to a torn ACL. Shooting under 30 percent on the night and totaling only four assists, look for other guards on the team to step up scoring the ball as their confidence grows in the young season.
Forwards: C-
The Mountaineers' forwards struggled against the athletic Georgia Tech team. They were unable to consistently score and when the forwards were called to help break the press it usually ended up in a turnover. App State's forwards did not seem discouraged as they kept attacking the glass and trying to cause fouls and free throw opportunities. With the Mountaineers hoping to be a more guard driven team, sophomore Armani Hampton made her only shot attempt and shot seven free throws, but freshmen Maya Calder, Lainey Gosnell and Dominique Jeffery shot a combined 3/10 from the field. App State will not see teams like Georgia Tech all season, so look for these forwards to find ways to fill the box score.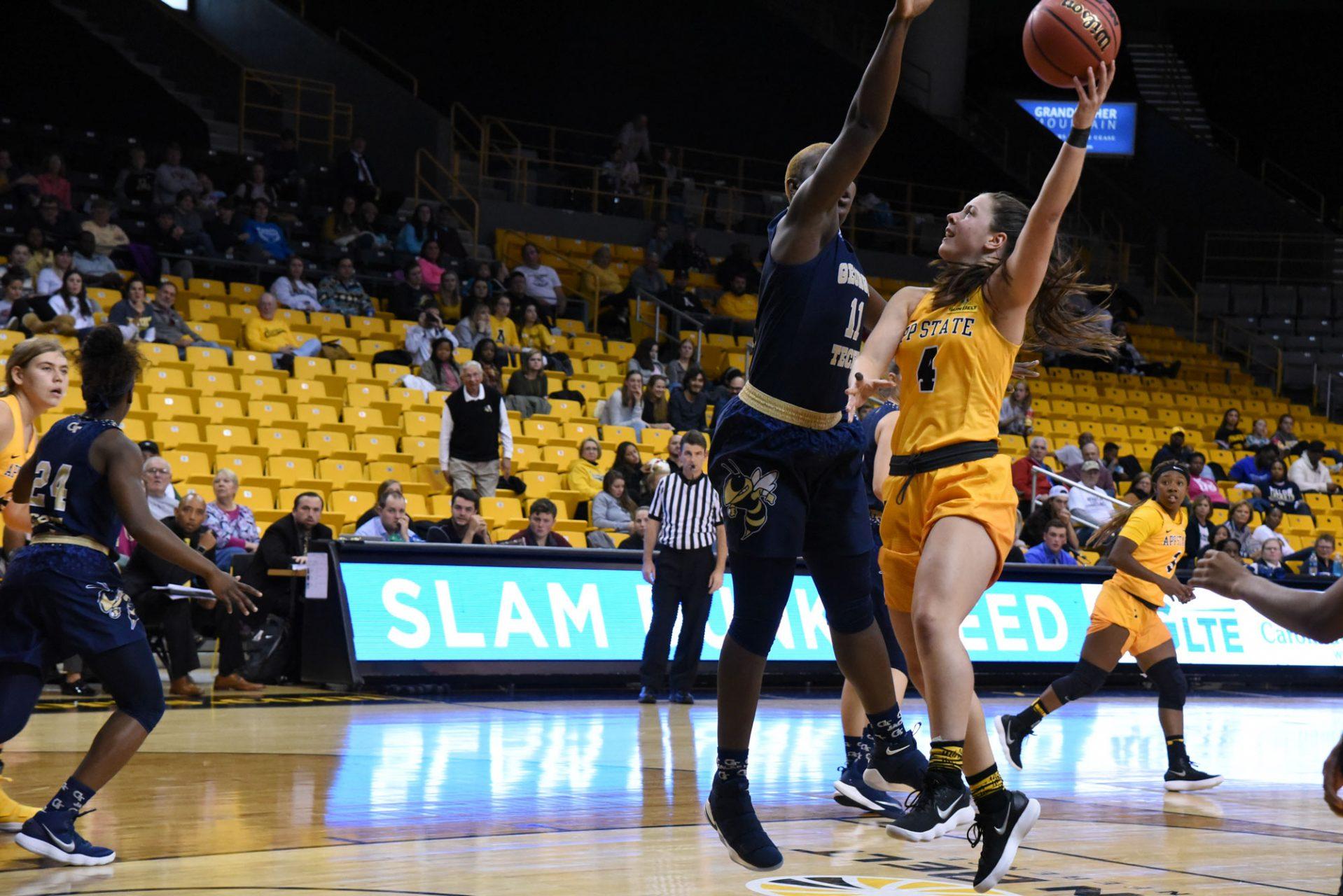 Centers: B
Sophomore Bayley Plummer had an excellent game rebounding the ball as she finished with 13 total. Plummer was able to control the glass and neutralize the height Georgia Tech had. Plummer was off when it came to the offensive end, missing some layup opportunities. In the first half she was unable to get good shots off, and in the second half, head coach Angel Elderkin said she was rushing her shots a bit and ultimately finished the game with only four points.
Player of the Game: Tierra Wilson
The future looks bright for Wilson as she played with controlled aggression. She did shy away from the moment of this being her first college game post game, but her play looked as if she used it as motivation. As the season goes on, other Mountaineers will pick up the scoring with Story being out for the year, but if Wilson can keep up this play up, she can be a reliable scorer for a young team.
Overall team grade: C
Appalachian simply did not have the better team on the court. They could not break the Yellow Jackets' press defense, and when they did get it passed halfcourt, they looked out of sorts. The good news for the Mountaineers is that they don't play teams like Georgia Tech often and they put on a strong second half defensively. App State must take care of the ball better as they had 26 turnovers all together, and that is not a recipe for success. The season is young for the Mountaineers, so these minor mistakes will be corrected.
Story By: Michael Pigg, Sports Reporter
Photos By: Halle Keighton, Photo Editor