This is the story of two dedicated members of The Appalachian and our quest to find the ultimate collection of the best beers featured at the seventh annual High Country Beer Fest.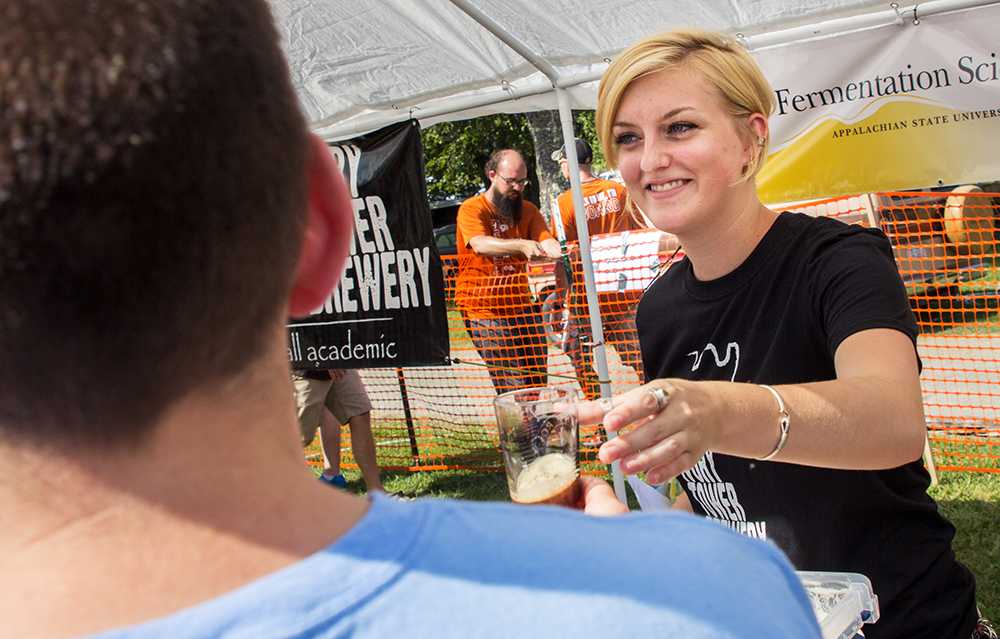 The festival took place Saturday at the High Country Fairgrounds and attracted 50 craft breweries from around the region and the country to celebrate the art of brewing and to raise money for Appalachian State University's fermentation sciences program.
It was a sunny Saturday afternoon and just before 3 p.m., a crowd was chomping at the bit for entry to begin their adventure into the unknown territory of craft beer debauchery.
The tasting started out easy. Four ounces of beer at a time? We can handle that, we thought.
Our first stop was Innovation Brewing, a new brewery hailing from Sylva, where they are usually serving our good friends at Western Carolina University. Their beers infused with fresh garden goodies made this tent a hotspot for candidates in our assemblage of favorites.
Granite Falls Brewing Company was next in line. The two-year-old, small-town brewery has revamped everything recently after buying out a retired brewery, sales representative Carly Mason told us. This was only our second beer, but it was already time for dessert once Mason offered us their infamous peanut butter ale.
About a dozen ounces later it was time for our first port-o-potty pit stop. The line was considerably short, with just a couple beer festers ahead of us. We had the optimistic hope that the wait would remain this short the rest of the evening, but we soon learned not to be so naive.
After consuming a few more drinks it was time for the scheduled beer and pizza tasting event sponsored by Mellow Mushroom. We rushed over to the designated tent only to find that the event had reached capacity. We frowned for a moment but then remembered how much more beer we had yet to try.
The Ivory Tower Brewery, which runs out of the basement of the Broyhill Inn and is operated by university professors, featured several brews at the festival. What caught our eye was a label that read 'Sout Float.' Sure enough, it was exactly what it sounded like – two of the greatest culinary creations coming together in a bitter yet savory combination, complete with a scoop of ice cream.
The festival was then at its halfway mark, and we needed some food to keep us going. We meandered over to the array of food trucks and found that the wait at the local pizza truck Farm to Flame was an hour. We had no time for that. We moved on to Feastie Boys, only to find that they had completely run out of food. Finally we settled in the grass among fellow beer festers with some tasty Stick Boy Kitchen barbeque.
By 6 p.m., we were feeling re-energized and ready to carry out the race. We had just one hour left to complete our mission, and not a single worthy beer was going to go untouched. Our only setback: the port-o-potty lines.
Together we helped each other scramble down the last row of brewery tents and use our best judgement to complete our quest. Among the most memorable in our last stops included Unknown Brewing Co. from Charlotte, Flat Top Brewing Company from Banner Elk and Highland Brewing Company from Asheville.
At exactly 7 p.m., the fun was over and the crowd began to make its way toward the designated drivers. With one last "cheers" and a good look around at what had been High Country Beer Fest 2014, we knew that this was a mission accomplished.
The Best Beers at High Country Beer Fest 2014 (according to us)
1. Innovation Brewing's beet-basil pale ale
2. Ivory Tower's stout float
3. Pumpkin ale from Samuel Adams
4. Flat Top's German blueberry sour ale
5. Blue Moon's horchata
6. Peanut butter ale from Granite Falls
Story: Meredith Warfield, A&E Editor & Paul Heckert, Columnist
Photo: Paul Heckert, Columnist