Incoming administration discusses future of SGA
The Appalachian sat down with the incoming Student Government Association president and vice president to talk about their goals for the upcoming year.
Sophomores Carson Rich, an advertising major, and Daniel Tassitino, an international business major, said they are humbled and excited following their election to the office. The Rich/Tassitino administration is already in the appointment process and have named Abby Hamrick, off-campus senator and sophomore social work major, their chief of staff.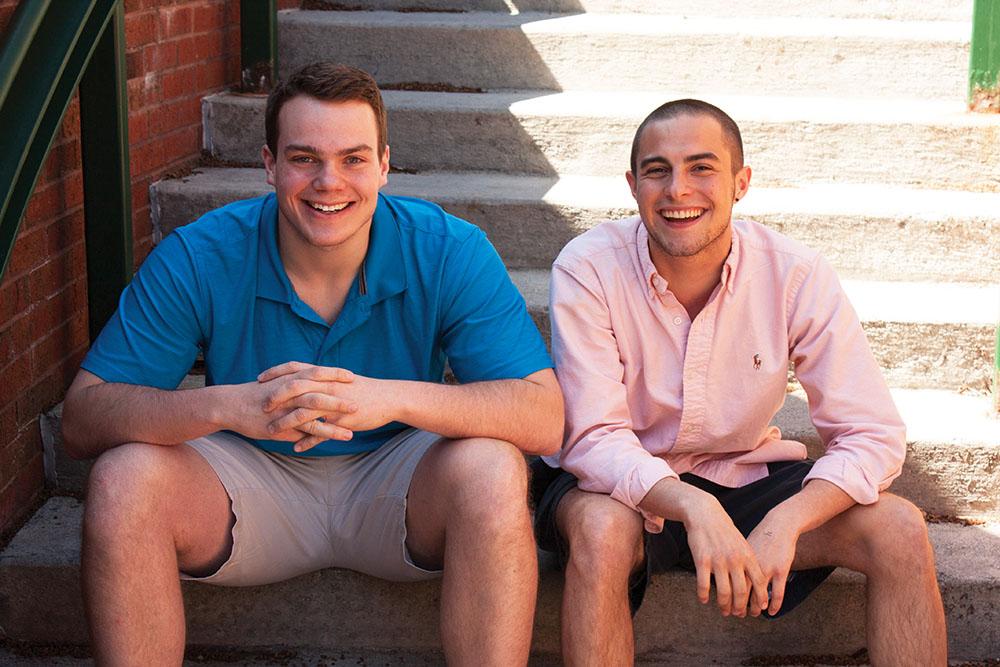 The Appalachian: Senate transparency is outlined in your platform, and vote counts are available on the SGA website. Can you discuss what you mean by transparency?

Carson Rich: Vote counts are available, but a lot of the time students don't know that. We want to integrate an actual monthly newsletter. In the past, SGA has done a semester newsletter, and in my opinion we need to report once a month, not every four months. In that report we want to show the bills that we've passed, what constituencies voted for what, not necessarily naming names, but stating what way Multicultural Affairs or Special Interests voted, just so that students know whether or not student government is reflecting what they really want.

Daniel Tassitino: Another thing that we're going to start next semester is having a bi-monthly contact table for students to come and talk to Carson and I about issues that they see on campus, as well as things that we have published in these newsletters. It's not just a newsletter so that people see that we're passing bills and we're not going to do anything about this or that, it's so that students know what's going to happen to a bill after it's been passed. If we bring a bill to administration, and they shut it down, we want students to know that, and we want them to be able to have their voices heard again. We want to be held accountable through these newsletters and contact tables, for our roles as president and vice president, which is to get the students' voice heard.
TA: Mayor Andy Ball has discussed the idea of appointing senators to the town council. Can you discuss that prospect? Have you already started the appointment process?

CR: We want to develop that relationship because, for instance, we're working on having a one-year probationary period in seeing how longboards are accepted on campus and in the Town of Boone. That's something that was possible because of our relationship with town council and with Andy Ball. That's something we want to pursue because App State is only here because of Boone. I think that's something we need to realize, because if not then we have two separate entities that represent one constituency.
TA: The Russell/Page administration has been extremely successful in acquiring external funding. In fact, the total money they've acquired, $20,950, is more than any other UNC system school delegation has ever acquired. How do you intend to acquire funding?

CR: One thing is that, typically, schools don't think about applying for grants. Last year when I was on SGA, we didn't raise nearly as much money because we didn't have the drive, and Dylan has done a wonderful job in conveying the point that this money is out here for us to harness, and to make these students' lives better. If we keep that at the forefront of our platform, we'll be able to raise more. Dylan Russell has done a phenomenal job, and we do have big shoes to fill, but we're going to try and wear a pair of our own.
TA: You've discussed the Social Justice Center as a huge component of your platform. Do you have any specifics on what that will entail?

DT: The SJC is something we're going start on as soon as we hire a cabinet and talk to our senate. That's definitely one of our long-term goals that we intend to have by the end of the year. It's not something that's going to come very easily, but there's been an overwhelming amount of students who have shown that they want and need a SJC, therefore we're going to take that and present that to the administration. We've also been working with Amanda Moore, the coordinator of the university's Social Justice Week, and she has a lot of logistics that she's gonna share with us. We have a lot of facts and evidence that this is what students need, especially clubs and organizations that deal with social justice.
TA: Appalachian has been denied an on-campus voting site. Is the fight over?

CR: The fight is not over, and I don't mean that abrasively. It's not going to be easy, but now that we're trying to develop those better relationships with town council and Andy Ball we're hoping that this process will come easier as the years go on.

Abby Hamrick: Instead of considering it to be a fight, consider it to be the student's right to have a voting site on campus. Students at Appalachian double the size of Boone, and it's important that we have easy access to voting. A lot of it right now is very political, and the reason we don't have a voting site is because of political agendas and that's not fair. It is our constitutional right to be able to vote. It will take a lot of lobbying in the local board of elections, and even the State Board of Elections, just to say, "Why are we not able to easily vote?"
Story: Kevin Patel, Intern News Reporter
Photo: Rachel Krauza, Senior Photographer