The students in Appalachian State's interior design program are tired of being compared to HGTV decorators.
In reality, the study and practice of interior design involves much more than simply choosing the colors and decor of a room.
"I honestly feel like what we do is interior architecture," Rebecca Ballard, a senior interior design major, said.
App State's interior design program is tucked away in Katherine Harper Hall, along with the other Department of Applied Design programs such as industrial design and apparel design. The program is relatively small, with about 20 to 25 students per graduating class, but according to interior design professor Alex Poorman, it is one of the greatest untold success stories of the university.
Students who choose to major in interior design go through a very structured four years: classes in the curriculum are built on one another and some are only offered one semester each year, so there is a very particular order in which students take interior design classes. Students are introduced to design classes their first semester of freshman year, with general education courses mixed in with the design classes throughout the four years.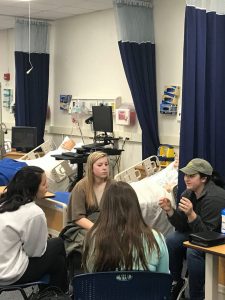 "The structure of the program gives us a very good way to build on each other and get more complex," Poorman said. "Then by the time you graduate, you're completely ready to go out and start in the business world."
Interior design as it is practiced today, Poorman said, is largely aligned with other professional building trades such as architecture and engineering. Interior designers and these other professionals often work together collaboratively to put a project together; interior design just happens to be focused specifically on the interior spaces of a building.
"It's largely not what people see on HGTV; it's not just flipping houses or picking the red chair in the corner," Poorman said. "It is an integrated approach to the design of a building. It's a much broader scope than people realize."
From the beginning, students learn that interior design is much more technical than the general misconception that interior designer equals interior decorator. During their first year in the program, students take classes on the principles and elements of design, learn how to use programs such as  Adobe Photoshop and InDesign, build hand-made models of interior spaces and learn how to communicate design ideas.
As students move into their upper-level classes, studio classes become specialized into particular kinds of buildings, such as residential design and commercial or office design. One studio class is a global studio, where students work on designing projects such as restaurants and hotels for other cultures. This class regularly Skypes with designers in other countries, Poorman said, so that the students and designers from other cultures can bounce ideas off each other.
"Our primary role in the profession is communicating our ideas with a client," Poorman said. "We've got to know how to tell our story, to tell the design ideas graphically as well as in writing, because we ultimately do both."
In addition to their classes, students gain real-life experience by going on field study trips to places such as High Point, North Carolina, and New York City, where they meet professional interior designers, visit design firms and see historic architecture. Faculty-led and other study abroad trips to London, Paris and Belgium have also offered students the opportunity to learn about different aspects of the design world. Between their junior and senior years, students in the program are also required to complete an internship.
By the time they reach senior year, students are ready to begin working on their final projects. They typically develop the project in the fall semester, doing all the necessary research, Poorman said.
"They go find the evidence to prove that there's a particular way in which to solve a design problem," Poorman said. "They're looking for facts that would drive the design to a particular solution; rather than just doing what they like or what they think looks good, it's based on a foundation of research."
Then, during their final semester, students execute the design from start to finish. They get to choose what kind of project they would like to do, with some guidelines and criteria from their professors. Senior interior design major Caroline Malak, for example, is working on designing a children's oncology center that would appeal to both young children and teenagers.
"Interior design is more technical; there's more science behind it, like the psychology of how people interact with a space," Malak said. "For example, in hospitals natural light is really good because it helps keep your circadian rhythm intact. There's more to it than just pillows and paint."
Finally, the seniors present their portfolios, which include work from all four years, to a jury of interior design professionals who have established relationships with App State's program.
"The professionals are typically not squeamish about giving their opinions and, usually, high praise because the students do a good job," Poorman said. "And part of that is bragging on our students, and part of that is because, professionally, they know what it takes to get the job done and they are able to deliver."
Every project the students produce has that level of professionalism, Poorman said, and that's what contributes to the success of App State's program. Measures of this success include a high job placement rate: about 85 percent of graduates are placed in the field within six months of graduating.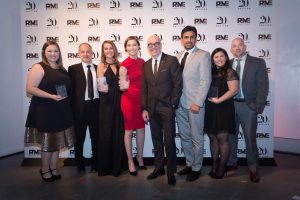 The professionalism and quality of the students' work has also led to them being highly successful in a number of international interior design competitions. In the fall semester of 2016, one studio class entered the PAVE Student Design Competition for store design and visual merchandising. Students were tasked with redesigning and rebranding the pharmacies in the grocery store Kroger, which was the competition's sponsor, so that the store could compete with pharmacies like CVS and Walgreens.
All semester, students worked on figuring out how to design the pharmacy, taking into account the layout and flow of the design, how consumers would navigate it, how merchandise is presented to a potential customer and the overall appeal and functionality of the space. Each student in the class submitted their own individual project to PAVE, and by the end of fall semester, App students had won first place in the store planning competition and first, second and third places in the visual merchandising competition.
"So we swept it," Poorman said. "That set us up on an international stage, and it's also a great draw for the program, once people know about us, that we're that caliber of a program."
Hundley, who won first place in store design for PAVE, said that she put in more hours working on the competition than she has on any other project. The professors and the studio class knew that they had a good shot of winning that year, she said, which made them all work especially hard to give their program a good name.
Ballard, who won third place for visual merchandising, said that despite all of the stress, time and effort put into the competition, she had a lot of fun working on the project. Since she focused on merchandising rather than store design, she got to do something different than usual by designing one small aspect rather than the entire store.
"It was also a very conceptual project, where we didn't have to specify exactly how it was built," Hundley said. "They wanted us to think big, so we just got to let our creative juices flow."
That creativity and ability to think outside the box is balanced with a lot of technical skills that the students learn throughout the program, such as lighting and construction classes, Hundley said, which makes the program very well-rounded.
"We have some professors who are very technical and some who are very conceptual thinkers, so I think that teaches us to be both, which is a very valuable asset in the workplace," Hundley said. "A lot of people are very creative and while that's fantastic, you also need to know how to build it, and I think I can say with confidence that all of us have both of those skills."
Despite all the long hours students spend in the studio, and despite all of the accomplishments that the program has achieved, there are still many misconceptions about what interior design students really do. Even many of the students in the program were unaware of what is involved when they began.
"The thing that's forgotten about all the time is the difference between interior designer and interior decorator," senior interior design major Sarah Dickert said. "People generally jump to the finishes and materials of things and that's truly maybe a tenth of what we do."
In supporting one another and spending so much time together in classes and working on projects, the senior class in the interior design program has grown into a tight-knit community.
"We joke that we need one of those ropes that kindergartners have to go from class to class, because we all have the same schedule," Hundley said.
"Some of my best friends in college are in this program. You can't really help it; you spend so much time in here that you naturally get close with everyone," Malak said. "Our professors are supportive of us. It's definitely a lot of work, but it's a good environment and a lot of fun."
Story by: Adrienne Fouts, A&E Associate Editor
Photos by: Adrienne Fouts, A&E Associate Editor and courtesies