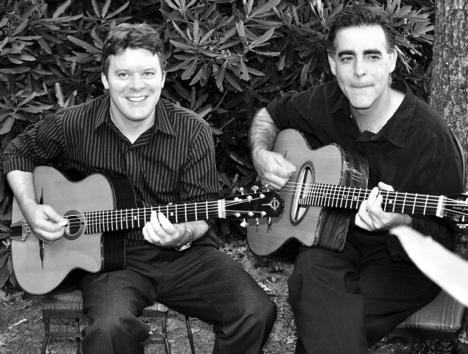 After traveling parts of the world, performing on cruise ships and journeying across the United States with a theater tour, the mountains drew Andy Page back to the High Country.
Page, an active local musician and a father of two, is a jazz guitar professor in the Hayes School of Music.
"Boone is a small town, but for the size of the town, it's got a lot going on," Page said. "And the university brings in people that are my heroes, like Derek Trucks."
Page earned a degree in music performance at UNC Wilmington and a master's degree at University of Tennessee in the jazz studies program.
Page said his main goal was to continue improving as a musician.
Page has made himself a well-known member of the Boone community and the Appalachian family by playing jazz several times a week in local restaurants and teaching at the university. He is also part of a band called Bafoodus, who played their seventh annual Halloween show at Boone Saloon last month.
Bafoodus plays an eccentric mix of spontaneous funk, pop and a little bit of jazz with influence from artists such as Stevie Wonder and The Police, according to its website.
Page also writes his own songs for Bafoodus.
"My lyrics are really twisted," he said. "I grew up reading a lot of horror novels."
The band's songs are often times embedded with darker meaning but presented in a silly, "tongue-in-cheek" kind of tone, Page said.
Being a musician and a professor is a big commitment, Page explained. When he's not spending time with his wife and two children, he's out supporting other bands or playing his own gig.
"It takes a lot of sacrifice," he said.
Bafoodus has played at Legends with acts including Victor Wooten and The Movement. Their next show is with The Broadcast at Boone Saloon in early December.
Page regularly showcases his flair for jazz at Joy Bistro, Casa Rustica and Blowing Rock's Canyons. He frequently plays alongside Todd Wright, a fellow professor and skilled saxophonist in the Hayes School of Music. The two have been playing together on a weekly basis for approximately 15 years.
Page makes appearances on campus often, including a past performance with guitarist James Schaller at Crossroads Coffee House in Plemmons Student Union that will consist of swing guitar and gypsy-style acoustic melodies.
Page said his position at Appalachian allows him to share and grow his love for music.
"When I'm teaching my guitar lessons, I get better, too," he said. "It's a mutual learning environment."
Andy guides his students to be whatever kind of musicians they want to be. He puts priority into each individual's musical interests and incorporates respective elements into all of his lessons, said junior music industry studies major Westin Gillis.
"He's a forgiving professor, but at the same time he's rigorous," Gillis said. "He's made me more well-rounded. I can play a lot of styles now."
Page said he takes pride in seeing his students improve and succeed.
Many of his students say they enjoy being able to see their professor play live, demonstrating the technique and dedication he teaches.
"He tells us that if we have an opportunity, then we've got to go out and get it," said freshman music industry studies major Matt Letchworth.
STORY: MEREDITH WARFIELD, Intern A&E Reporter
Photo courtesy of Andy Page