Former Appalachian State head football coach Jerry Moore was selected as one of five inductees into the 2014 Southern Conference Hall of Fame class in January.
He will be formally inducted into the SoCon Hall of Fame on March 10 at the U.S. Cellular Center in Asheville during the SoCon basketball tournament.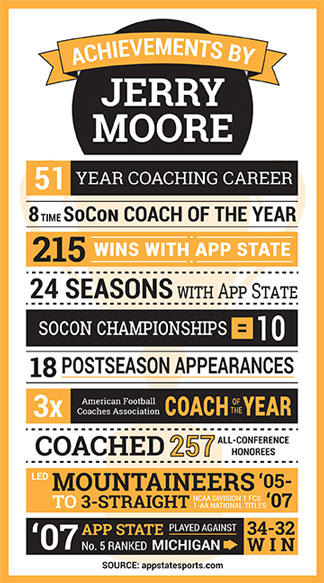 Moore is the winningest coach in Appalachian history as well as in the SoCon. He is also the 15th winningest coach in NCAA Division I football history.
Moore held a 215-87 record during his 24 seasons at App State, which included 10 SoCon championships, 18 postseason appearances and three-consecutive NCAA FCS national championships in 2005, 2006 and 2007.
He also coached App State when the Mountaineers handed a No. 5 University of Michigan team a 34-32 loss at "The Big House" in Ann Arbor, Mich.
"I have never really put a lot of credence into the number of wins and records," Moore said. "I am really excited about the honor. It's nice to be included with people you have great respect for and who have built great programs. I think we have a great program here."
Moore is included in an induction group that features Furman's Rushia Brown, a former WNBA standout, and Clint Dempsey, who plays for Fulham English Soccer club and is the captain of the United States Men's National team.
Duke's Eddie Cameron, who coached football and basketball, was also included. Wake Forest's Charlie Teague who was inducted into the National College Baseball Hall of Fame in 2010, also joined this induction group. Duke and Wake Forest were both members of the SoCon until 1953.
Moore began his football career playing at Bonham High School in Texas where he led the team to two state championships. He went on to play college ball at Baylor University from 1958-60 where he was the captain of the 1960 Gator Bowl team.
"My freshman year in high school we didn't win a single game, and my junior and senior year we won state championships and had an undefeated team," Moore said. "My father passed away during my junior year playing at Baylor, and my high school head coach was like a father to me."
Moore began his coaching career at Corsicana High School as an assistant and was part of the only undefeated team in Texas during that time. He also coached at SMU (1965-72) and Nebraska (1972-78) as an assistant.
Moore earned his first head coaching job at North Texas in 1979. After two seasons, he left North Texas to coach at Texas Tech, where he stayed for five seasons until 1985.
He then coached as an assistant at Arkansas for a year in 1988 before taking the head coach position at App State where he coached for the remaining 24 seasons of his career.
"I had gotten let go at Texas Tech and was looking into going into private business when the athletic director here contacted me about the coming to Appalachian after Sparky Woods left," Moore said. "I didn't even know where Boone was and couldn't even spell Appalachian. I told him I would come for a visit figuring it would be a short-term kind of thing."
Moore was won over by the nature and sights in Boone.
"When I came to visit Boone, it looked like a Christmas card with the snow," Moore said. "I loved it and told my wife all about it. John Thomas hired me and gave me a chance, which I was very appreciative of since I figured it would be my last chance at around 40 years old."
Moore coached two-time FCS National Player of the Year Armanti Edwards as well as two-time Defensive Player of the Year Dexter Coakley. In all, Moore coached 25 former or current NFL players while at App State.
"As you look back at the body of work it's pretty incredible for an individual to be at one place for so long and to have such a huge impact on the program," App State head coach Scott Satterfield said. "Taking the program from where it was before, to where it is now and where I am now is a direct correlation on the impact he has had."
Satterfield played quarterback for the Mountaineers under Moore from 1991-95.
"He believed in people, he believed in us as players and coaches," Satterfield said. "No matter if you were a walk-on or a highly touted recruit, he treated everyone the same."
App State recruiting coordinator Scot Sloan worked with Moore for three years.
"It was a true blessing and an unbelievable experience to be exposed to him on a daily basis," Sloan said. "He had a unique way of making everyone special. The way he handled the staff and the players, and the way he was around fans, students, other coaches was incredible."
Moore will be App State's fifth inductee and first former coach to be inducted into the SoCon hall of fame. Moore will join Melissa Morrison (women's track and field), Valorie Whiteside (women's basketball), Mary Jayne Harrelson (women's cross country/track and field) and Coakley.
"I have always wanted to be a coach since my sophomore year in high school," Moore said. "Every day was a fun day while coaching, and some of the toughest days turned out to be the best days."
Moore said he hopes the legacy he leaves behind is one of respect and caring as much as the winning tradition he helped build with Mountaineer football.
"I would like to be remembered that I cared about the players and our school," Moore said. "I hope those people would respect the way I tried to do things here and that we won a few ballgames of course."
Story: Bryant Barberry, Intern Sports Reporter
Graphic by Ashley Spencer, Senior Graphic Designer