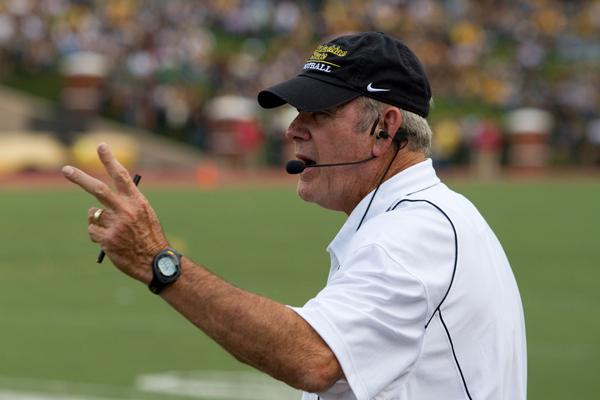 Updated: Dec. 6, 12:18 a.m.

Less than 24 hours after the Mountaineers' loss to Illinois State, the team gathered for a meeting Sunday.
It was then that head coach Jerry Moore announced the 2012 season was his last one as head football coach for Appalachian.
"It's been a long day today," Athletics Director Charlie Cobb said Sunday. "We obviously had to meet with the coaches and meet with Coach [Moore] and meet with the players. That's always an emotional time and a lot of angst in that meeting, and deservedly so."
The decision that the 2012 season would be Moore's last was made over the 2011 holiday season.
"Coach and I spent a lot of time over the Christmas holidays, talking about the vision for the future for Appalachian football," Cobb said. "Certainly others were involved in that discussion, including [Chancellor] Peacock, and really came to the decision that the 2012 season would be Coach's final season as head coach at Appalachian. I really feel like today's announcement was made in January."
But 11 months later, when it came time for the decision to be announced, it looked as if Moore had second thoughts.
Following Saturday's game, Moore was quoted in the Winston-Salem Journal that he hadn't "thought about anything but coming back."
But Cobb said he would not call Moore's departure a result of being fired.
"I really think a more accurate depiction… is the fact that we sat down and analyzed where we where and looking at a long-term vision of where we want the football program to go and felt like the proper thing to do for coach was give him the ability to go out a champion, and that's what he's done," Cobb said.
Chancellor Peacock released a statement Thursday morning saying he fully supported Cobb's decision.
"A year ago Mr. Cobb presented Coach Moore with a written communication telling him it was time to end his coaching career at Appalachian and offered him a three-year commitment in a different role at a six-figure salary," Peacock said in the statement. "In a subsequent memo to me dated December 31, 2011, Mr. Cobb indicated Coach Moore declined the offer and instead requested a final year as head coach for the 2012 season. Mr. Cobb recommended we honor Coach Moore's request, and I accepted his recommendation."
Moore was quoted in the Winston-Salem Journal saying he never told Cobb this was his last season.
"I don't won't to offend anybody. There's not any big, big issues. It was a communication thing between Charlie and I… and I don't want to cause any issues now," Moore said.
But in the same statement, Peacock said Moore had known this was coming.
"Additional confirmation that Coach Moore was aware of this decision in advance of last Sunday was relayed to me by Trustee Brad Adcock, a close personal friend of Coach Moore and long-time supporter of the program and Appalachian," Peacock said. "Mr. Adcock said he spoke to Coach Moore this past July out of admiration and a desire to appropriately recognize him in his retirement. Coach Moore asked him when he should announce his retirement—at the start or conclusion of the 2012 season. Mr. Adcock deferred to the university's administration."
The national search for a new head coach is underway, but in the meantime, former assistant head coach Scott Satterfield will serve as the interim head coach.
"It was clear with Scott that when he came back, we hoped he would be part of the long-term future at Appalachian," Cobb said. "He'll be a candidate for the job and certainly has as good a shot as anybody."
Satterfield was the quarterback for Appalachian from 1992 to 1995 and was coached by Moore during that time.
"I was fortunate enough to play for him and to coach for him," Satterfield said during Sunday's press conference.
Satterfield returned to coach this year at Appalachian, but said he did not know this would be Moore's final season.
But the coaches weren't the only people caught off guard by the announcement.
"It was a surprise," quarterback Jamal Jackson said during the press conference. "We didn't see it coming. He was a great coach…"
Moore is the winningest coach at Appalachian and in SoCon history.
He took over the football program in 1989, but it wasn't until the famous 34-32 win over the University of Michigan in 2007 that Appalachian's football program, and consequently the university, were put on the map.
During his time at Appalachian, Moore had a 215-87 record in his 24 seasons.
Among those wins, he achieved 10 SoCon championships, 18 postseason appearances and three straight NCAA Division I FCS/I-AA national titles from 2005 to 2007.
A few years ago, the university's Board of Trustees approved a contract to keep Moore until June 2013.
Cobb said the contract would be honored.
Story: ANNE BUIE, Managing Editor