The 2016-17 winners of the John Foster West and Marian Coe creative writing scholarships were announced by Appalachian State's English department on Jan 18.
The John Foster West Scholarship was named in honor of the founder of creative writing at Appalachian and is awarded annually to an App State student for submissions of poetry. This year, the scholarship winner was Alex Tanner, a senior psychology major.
The Marian Coe Scholarship was named in memory of esteemed fiction writer Marian Coe and is awarded annually as well, recognizing students' works in prose. This year's winner was junior English major Madelyn Kittle.
The two scholarship winners were announced to the public on Jan. 18 with commendations from English chair Carl Eby and commentary by Vivian Shipley, the final judge of both scholarships. Shipley is the Connecticut State University distinguished professor and has been esteemed with numerous awards, including being nominated for the Pulitzer prize.
John Foster West competition winner Tanner has been writing spoken word and poetry since high school, and was formerly the president of App's Spoken Word Club. Their journey has since, however, moved them away from spoken word and more into written poetry.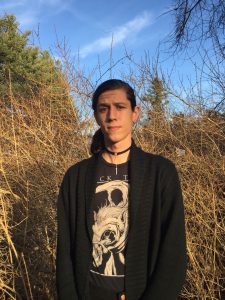 After periods of restlessness, Tanner left the "effusive nature" of their works as a spoken word writer in favor of modern and "less acceptable" poetry before finally settling into writing poems which they now feel "weren't as much of a puzzle but were still satisfying and enjoyable."
Although Tanner's poetic style has changed, their writing has become and remained secondhand for them.
"If it were just a hobby or something I was doing for myself, I would drop it immediately," Tanner said. "But it doesn't feel like a choice really, there isn't much of a 'why' really, it just is an established fact at this point."
Since beginning writing, Tanner has used writing workshops and reading circles to develop some of their closest friendships on campus and to develop their own voice and perspective. They hope to carry their experiences with writing into human rights work and freelance journalism, though they are sure that poetry will carry on somewhere throughout their future.
Tanner said writing "forces you to exercise your understanding in places where you're weak."
"It helps me to grow in that sense," Tanner said. "Finding things I do empathize with well enough to not have to push it and things I don't understand and being able to dive into those places in a comfortable, secluded space."
The writer work shopped their submissions for the John Foster West scholarships in a creative writing class, led by professor Joseph Bathanti, which they actually shared with the two runner ups for the award, Sarah Jeter and Austin Berry, both seniors majoring in English at Appalachian. Among other students, the three winners work shopped their poetry together before submitting for the scholarship.
Tanner was surprised to know that three students from their class had all won the award, but was happy to see some "concrete affirmation of the fact that we had been doing something together."
Tanner attributed some of the success of their submissions as well as their growth as a writer to the opportunity to workshop in such settings.
"If you're writing and read what you've written, you see all of the resonance that has within your own head," Tanner said. "So it's very easy to not pick up on the fact that you haven't actually written some part of that. If you've written something of your own and see all the places where it connects that haven't necessarily been written down, then you haven't written a poem yet."
Tanner said they felt work shopping poetry with other people allows for broader insight and uncovers areas that deserve to be divulged into further.
Their poems are described by judge Vivian Shipley as "compelling because they are so physical and involve all of the senses" in her final commentary, released with the winners' public announcement.
"Tanner manages to achieve an impressive sense of the solitude of the speaker and, yet, a sense of yearning to connect in an emotionally intimate way is present in every line," Shipley wrote. "Tanner's poems cannot be sailed out into the night. They will return to you again and again like a boomerang."
Kittle felt her recognition with the scholarship symbolized acceptance upon transferring to Appalachian.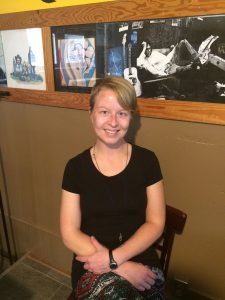 "I'm 27 and a transfer student. Last semester was my first semester here at App," Kittle said. "So it really felt like validation because I was out of school for a really long time and then I finally got myself back into school, so I've been working towards this for a really long time, this goal of being a published author eventually."
Kittle has been writing stories for as long as she can remember. Growing up, Kittle didn't have a television. She relied on her mother's weekly library trips to stock up on new books and magazines, which led her to American Girl magazine and the many writing contests it held.
"I would always try to write for those but I'd never end up submitting," she said.
In fact, she only completed her in a writing class at Caldwell Community College, where she was asked to write a short story of one or two pages. Kittle went well beyond the requirements.
"There had been a period in my life where I had just let everything go downhill," Kittle said. "It was a period in my life where I didn't really care about anything, where I didn't care about anything that was of worth. So when I finally got myself back into college, I had that assignment where I took something that I had started writing in high school and completed it. It [ended up being] about 16 pages long."
She has continued to overachieve, not having stopped writing since.
The short story Kittle submitted for the scholarship, "Chasing Ghosts," is a now 45 page novella about the drug overdose of Kittle's cousin.
"It's about struggling: the struggle of who you are when you're addicted, when you have addictions, and the struggle to survive and to stay alive," Kittle said. "It's about learning to accept people for who they are and what they do."
Much of Kittle's writing is at least semi-nonfictional, as Kittle said she often uses her writing to process things that happen in her actual life. Writing about her cousin's death, and her uncle's within the same story, helped Kittle to grieve the loss of her loved ones and turn her pain into a positive message to future readers.
"In showing why a character gives in to the need for a needle that stings, for the high that bring a vision of a dead grandmother or father, she accepts humanity as it is and at times find reason to embrace and celebrate moments of communion," Shipley wrote about "Chasing Ghosts."
Only 25 pages at the time she submitted it, Kittle has continued working on the piece since winning the award, now at 45 pages and turning into a novella. Kittle wants to continue the piece both to find catharsis after her cousin's death and to help others cope with addiction and loss through her experiences.
"The best thing about being a writer is having your work draw an emotional response from another human being," Kittle said. "Whether its laughter or tears, having the ability to create an emotional response in someone else, it really is so rewarding."