Every Thursday night, musicians of all ages travel to the Jones House Community Center on King Street to play music together. The Jones House provides a space for anyone to come observe and join in on keeping the traditions of old time music alive. Lessons for musicians begin at 4 p.m. and free for all jam sessions are from 7:30-11 p.m.
Mark Freed, the Town of Boone cultural resources coordinator, created the Jones House Jams because there was nowhere else for musicians to go and play old time music.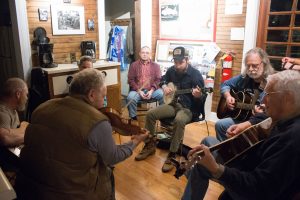 "Without any money, I could start a jam session here. All I had to do was open the door and turn the lights on and people could come to play music," Freed said.
Before the Jones House Jam Sessions, there was an old time jam at the Todd General Store, but none in Boone, and when the Todd General Store was sold, the jam sessions stopped.
"The store got bought and the jam started changing," Freed said. "All these people that were out there playing old time music were feeling alienated, and they didn't really have a place to play. People started hiring bands to play instead, and the scene changed."
Freed started the Thursday night jam sessions because a new place was needed for an old time jam.
"There were several places you could go to play bluegrass music, but there weren't really places that you could go to play and listen to old time music," Freed said. "It's sort of a different branch of the string band tradition."
In old time music, the fiddlers take the lead role, with the other instruments providing support. This differs from bluegrass music, where all the instruments pass around breaks and solos, often with vocals in addition to the instruments.
"Bluegrass is more of a performance style of music, and this is more functional music," Freed said. "This was made for dancing."
Old time dance music was played all over the United States in the 18th and 19th centuries, whereas bluegrass began in the 1940s and was much more localized.
"It's not just mountain music, it was all over the place," Freed said. "There were fiddlers in Iowa and the Ozarks that contributed to it. It was more of a rural American thing and it just happened that more of the mountains were rural than other places."
This kind of music traces back to early settlers and has been present in America since.
"There wasn't really a label for it, it was just music at one point," Freed said. "The fiddle was introduced by Anglo-Americans, and the banjo was brought over from Africa, and those instruments and their repertoires combined to make that style of music."
Freed likened the music to jazz, where there is a common repertoire of tunes, that people learn from other musicians, without sheet music.
"People were talented, you had to be," Freed said. "If you wanted to entertain yourself, you had to have somebody around that told stories or played music. If you wanted to have a dance, you had to make the music. It was before radios, before phonographs, when this music was being developed."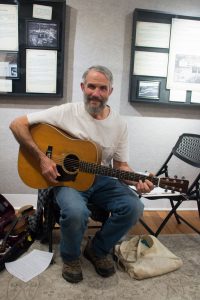 Cecil Gurganus, a string instrument teacher for the Jones House, stresses the importance of learning old time music traditionally, without the aid of sheet music.
"The people that learn the music tablature or music seem to be tied to reading it off that paper," Gurganus said. "But if they learn it by ear and get it, they really retain it quicker and they can remember it better."
Gurganus also said that learning a tune by ear gives old time music its character, because each musician plays the tune differently.
"It's all the same tune, but there's different nuances in the bowing and the way that person hears it comes out," Gurganus said. "If you try to take that and write it down, someone will become locked into the notes written on the page and not have the creativity of someone who learned by ear. Learning by ear means that all the variations of the same tune that make it special to each musician can be heard."
Gurganus teaches string lessons to children of all ages, and now teaches an adult beginner fiddle class as well.
"I had a woman come in here that played violin in high school way back, but wanted to learn how to play fiddle and old time music," Gurganus said. "This originally started as a kid's after school teaching program, but we have adult fiddle classes now too because there's demand for them."
Gurganus said that there was not a difference between the violin and fiddle, it is only played in a different style.
"A lot of people say that a violin has strings and a fiddle has strangs," Gurganus said.
Gurganus has also formed an old time band with some of his students called Strictly Strings, which plays gigs all over North Carolina to keep the tradition of old time music going.
Strictly Strings plays in Boone regularly at Lost Province and other bars, and makes appearances annually at Merlefest. The members, apart from Gurganus, are all part of the Junior Appalachian Musicians.
"We all got started here with the classes, and now we all teach here too," Strictly Strings band member Willow Dillon said. "I've been coming here for about five years now.
Dillon's primary instrument is fiddle, but she also plays banjo and ukelele. She has been teaching at the Jones House for two years.
"I think it's really important to keep this style of music alive because not a lot of younger people enjoy it and play it," Dillon said. "It's traditional music passed down through musicians, and if we let it die out there will be nothing left."
Story by: Steven Caughran, A&E reporter
Photos by: Olivia Bowyer, Staff Photographer