Language Out Loud event celebrates languages from around the world
Students and faculty came together at Language Out Loud event on Monday, the first day on International Education Week, in celebration of languages from all over the world.
Students read poems and songs out loud to an audience in a variety of foreign languages, such as French, Spanish, Russian, Chinese, Japanese, German, Arabic, and Romanian.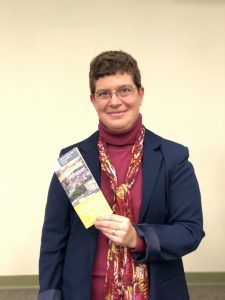 "Every year, I'm amazed at what our students can do. It's just great to see people enthusiastic about it," Alexandra Hellenbrand, event coordinator and professor of German and global studies, said.
Hellenbrand got the idea for Language Out Loud from a colleague who was doing a similar event at the University of Oregon.
Hellenbrand said the event is meant to spread appreciation of all languages in a communal setting.
"Languages are meant to be spoken. They're meant to be celebrated. They're meant to be enjoyed in a communal environment," Hellenbrand said.
Lynn McNeil, French professor, said Language Out Loud is her favorite part of International Education Week.
"It's just so much fun to hear Arabic, and Russian, and Chinese, all in one place," McNeil said. "I think that especially for the students, seeing each other speaking other languages is very inspiring when you're a language learner because you see all the different levels of students."
Hellenbrand said the most rewarding part of the event is seeing students willing to get up and speak in front of large audiences.
"I would hope that a wider impact might be that this shows people how much our students who are learning languages like them," Hellenbrand said. "We're learning languages because we like them, and we love what we hear. We don't learn a language just to use it. It's a living thing. It's also beautiful. It's also musical."
Story by Cameron Stuart
Photo by Cameron Stuart