Law School
Disobeying the Law is never easy. Especially when it comes to stopping preseason Sun Belt Defensive Player of the Year senior inside linebacker John Law.
Returning to a defense that ranked 14th in the country last season, Law enters his fifth and final season leading a strong Mountaineer defensive line alongside All-Conference candidate junior inside linebacker Eric Boggs to form arguably one of the best linebacker duos in the country.
Despite missing the Camellia Bowl last season due to a lower body injury, Law had a breakout season in 2015 registering 72 tackles, 9.0 tackles for loss and 4.0 sacks a game and was named to Sun Belt all-first team.
Unable to play in the Camellia Bowl, the motivation is higher than ever for Law.
"That was a game I really wanted to play, it being the first bowl game in school history," Law said. "It is a game I had sacrificed a lot for in the season injury wise so it means a lot to me to be healthy this season, train this offseason and be 100 percent. I feel good and ready to go."
Injuries are nothing to new to Law. After appearing in only three games his freshman year, Law suffered a freak accident and had to apply for a medical redshirt.
Coming in as a redshirt freshman in 2013, Law played in all 12 games, but he was only able to start in three due to nagging injuries.
"It is crazy looking back at the time I missed but that has made me the player I am today and mentally I am stronger," Law said.
Law is now the anchor of a defense that lost Sun Belt defensive player of the year, defensive-end Ronald Blair being drafted by the San Francisco 49ers and he hopes to step up into the void that Blair left.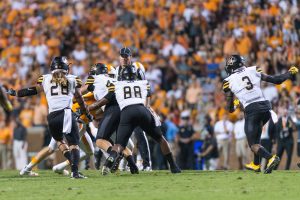 "I want to be a guy who can have that motivational mentality the whole time and keep everybody fired up," Law said. "In order to be good we have to be consistent. If I see somebody in the same class as me struggling, I have to get on them and vice versa, we have to hold each other accountable."
Talking about working hard and being a leader is one thing, but taking action is another. Even being on the sidelines at times as an underclassman, defensive-line coach Mark Ivey never doubted Law's work ethic.
"Nothing has changed as far as work ethic, training in the weight room, things in the classroom and going out there and getting after it and preparing for the next opponent," Ivey said. "Win or lose, his preparation and his work ethic are an example of those things for younger and older players, and is what propels us from an average team to having an undefeated season."
Looking at the stats, you would think Law had some type of breakout moment from when he first arrived in Boone, but not being very superstitious, Law says he just had great moments that became more and more consistent.
"I don't like to necessarily say I had a breakout," Law said. "There were certain games where I made more plays, but it wasn't like a light bulb came on, it just would happen to be my day and I was able to capitalize on things and my teammates would help me be more free in certain games. I have just had moments where everything came together and I started to realize the scheme of things and I just became more aware of how things were going."
Also being named preseason Sun Belt All-Conference first team alongside Law, Boggs credits a lot his own personal success to Law.
"John is a great leader and when I came in on day one, he has helped me and showed me the ropes of the defense and helped me get comfortable and gain confidence in myself," Boggs said. "I look up to these leaders to be more like them and have the leadership that it takes to leads a team like they have."
His play and stats have improved since he arrived at App State from Grady High School in Georgia, but had it not been for the strong and confident mindset, he would not be the player he is today.
"As far as him having composure and a strong mental attitude, he has always been so steady and so good, but as far as the game course, he has worked hard and gained knowledge," Ivey said. "He continues to get better everyday, and as far as good attitude, it has been there since day one."
Story By: Jason Huber, Sports Editor
Photos By: Halle Keighton and Dallas Linger, Photo Editor