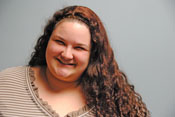 Dear Chancellor Peacock,
I'm writing this letter to say one thing: thank you.
That may sound like an odd beginning to an opinion article. But I read another op-ed today, in another college newspaper, about a remote and aloof college president in another state.
The writer said it point-blank: he didn't care about his students. He'd seen his university's president once the entire time he'd been a student. Most students had never seen him in passing, much less had a conversation with him.
All I could think was, "That's one thing we have never had to worry about at Appalachian."
So, like I said, I wanted to express my thanks.
Thank you for all the times you've loped through the student union, waving at students as they pass, stopping for small talk in the elevator.
Thank you for all the urban legends I heard as a prospective student: "No, Chancellor Peacock just walks around with both of the national championship trophies. He does! I'm serious!" (Is it true, by the way?)
Thank you for inviting students into your home, and for attending football games and letting us try on the championship rings. Dig through the Facebook profile of almost any student here, and you'll see it: the grinning shot of two or three freshmen who ran into you on game day.
Thank you for one of the most popular photos we've ever run in The Appalachian: you doing crowd-surf push-ups in the student section.
Thank you for donning that bright-yellow "Gay? Fine by Me" T-shirt and posing for a photo.
Thank you for stepping behind a video camera last spring and telling thousands of students that it gets better, and can get better at Appalachian. Those simple actions meant so much to so many of us.
Thank you for calling my cellphone last year in the middle of class, when I needed to speak with you for an interview and hadn't gotten past your secretary. My professor let me leave early, the only time I'd ever seen her make that exception.
And all my classmates were disappointed: they'd wanted me to put the phone on speaker and let them say hi, too.
I know I'm rambling, but I'm doing so because if I was respected so much at my institution, I'd want to know. And I hope you do know.
I hope you know you're appreciated. I don't think any of us doubt that you care immensely about the students at this university – the students whose well-being you are, in a way, tasked with.
That interview a year ago was about the 10-year anniversary of Sept. 11. So I asked you what you were doing that day, what it was like to watch the world slow and grind to a halt from the safe perch of this small mountain town.
Back then, you were the dean of the College of Business. You told me that you and some colleagues were in a meeting at the Broyhill, but as soon as you heard what happened and saw the towers falling onscreen, you walked down the hill to Raley.
You wanted, you told me, to be with your students.
That's what this letter is about, really. Thank you for not being that other guy at that other school, who stays locked away in his office and rarely shows his face. Thank you for caring about Appalachian and for caring about us.
Thank you for walking down the hill.
Respectfully,
Meghan Frick
Frick, a senior public relations major from Columbia, S.C., is the social media manager.