Story by Anna Muckenfuss, News Reporter
On Monday, Catherine E. Harnois, a professor in the Department of Sociology and a faculty member in the Women's, Gender, and Sexuality Studies Department at Wake Forest University came to campus to lecture on intersectionality and everyday discrimination. Her research on multiracial feminist theories of intersectionality has appeared in many academic journals, such as the National Women's Studies Association Journal. Harnois' work received the 2012 Outstanding Contribution to Scholarship Article Award from the American Sociological Association section on Race, Gender, and Class.
"Discrimination is a social justice issue," Harnois said during her presentation. "Everyday discrimination is repetitive and has the potential to undermine the well-being of life. Groups who suffer from more discrimination are more likely to have health problems."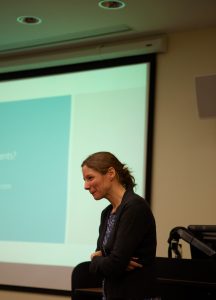 Discrimination can be measured by the Everyday Discrimination Scale. This mistreatment can be defined as harassment, being shown less courtesy, being followed around in a grocery store, etc. Discrimination is also a social stressor, a social hazard and a public health issue, Harnois said.
Harnois also focused heavily on intersectionality while giving her lecture. Intersectionality relates directly to discrimination because individuals may be discriminated against for more than one reason. 
"Intersectionality happens when multiple systems of inequality organize the social world at multiple levels of society, such as identities, interactions and institutions," Harnois said. "These systems of inequality work with and through one another. All people hold social statuses and multiple identities."
Harnois' research and statistics that were presented during her lecture came from a survey she conducted to collect socio-demographic information. Cognitive interviews were performed to provide insight into how the respondents to the survey perceived the questions asked.
"Thirty-nine people were interviewed overall," Harnois said. "Seventeen of those people were black, four were Hispanic, three were Asian, and 15 were white. Twenty-one out of the 39 respondents were women, and 18 respondents remaining were men. Four of the respondents identified as belonging to the LGBT community, while 35 identified as hetero. The ages of the respondents ranged from 21-74."
Before the survey was conducted, Harnois and her team of researchers asked the question, "To what extent do exposing tools for assessing discrimination reflect the experiences of multiple and intersectional discrimination?" To answer this question, Harnois presented the hypothesis that "respondents will have difficulty identifying the reason for mistreatment."
"It was concluded from our research that racial-ethnic minority respondents decided that the main reason they were discriminated against was because of multiple reasons," Harnois said. "We also concluded that our results may underestimate discrimination with specific characteristics, such as race, gender, weight, etc."
Laney Mercer, a junior sociology major who attended the lecture said that Harnois' passion and interest in the topic showed through her presentation of her findings.
"Discussion about discrimination is important because it is something that has always existed," Mercer said. "If there's any hope in diminishing it at all, it needs to be talked about. Solid research, like the research Dr. Harnois presented, helps to show people that it does happen and it exists."
Photos by: Mickey Hutchings, Staff Photographer