Malachi back in the High Country
Malachi Jones' walks through campus are much different now than they were a little over year ago. Walking around last year, Jones was a starting wide receiver for the App State Mountaineers football team, a top target for quarterback Taylor Lamb and a Camellia Bowl victor to finish his career.
Flash forward 14 months and Jones is back in Boone as a High Country Grizzly prepping to play for the Grizzlies inaugural indoor football season in the High Country.
"Boone is like a second home to me," Jones said. "It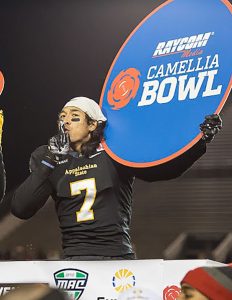 always has been and always will be. I love the people, love the town itself and the people around town have been so welcoming and so supportive of my decision to come back."
After finishing his final season at Appalachian with a victory over Ohio in the Camellia Bowl, Jones left Appalachian a semester early to begin preparing for a future in the NFL.
Needing hernia surgery after leaving App, Jones was slowed, but undeterred. Jones received offers from the Oakland Raiders and the Atlanta Falcons after going through the 2016 draft without being selected. Jones chose to stay at home in Georgia and sign with the Falcons, joining a deep receiving corps headlined by Julio Jones and Mohamed Sanu.
"They needed receivers, guys to back up Julio Jones and Mohamed Sanu," Jones said. "When I heard that, you know it's a great opportunity right here in my home state. I think the facility was not even 45 minutes away from my house."
However, a few weeks later, Jones found himself without a team when he was released after the team's rookie minicamp. The Falcons were looking for a different type of player, and Jones didn't fit their desired mold for playing out of the slot.
Graduating early, Jones had previously promised his mother to one day go back to college and get his degree, and he would have received it had he not needed surgery before leaving. Without a team to play for, he decided to plan for a spring return to Appalachian State and finish his degree in graphic arts and imaging technology, the same major that former Mountaineer Armanti Edwards had.
"The first offseason I had, whether I was on an NFL, CFL team or wherever, I was going to come back here and finish up my degree," Jones said. "If it weren't for the surgery and the extensive rehab, I would have stayed up in Boone and gotten my degree."
As it turned out, his timing for returning couldn't have been better.
In Boone, the High Country Grizzlies were becoming part of a brand new arena football league called the National Arena League, a developmental league for football players.
The Grizzlies had a connection to Boone and Appalachian State not just by location, but by the people who were building the team themselves. One of the two owners, Bryan Bouboulis, is currently a professor of business at Appalachian. Working alongside him is general manager and director of football operations, William Thompson, who was brought in personally by legendary Mountaineer head coach Jerry Moore.
Thompson described that his vision for the Grizzlies began and ended with high-quality players on and off the field, as well as improvement in both facets.
"We want the best football athlete that we can find," Thompson said. "Guys who have integrity, want to change his life, and are willing to do the steps to change his life and win football games to get back to that paycheck in the NFL."
For Bouboulis and the rest of the front office, it was a no-brainer to try and get Jones to come back to Boone.
"We know he has the talent; we just want to groom him and we were like, 'Come back, let us take care of you. Understand that we have your best interest at heart and we want you to get back into the NFL,'" Bouboulis said.
Jones officially signed with the Grizzlies on Oct. 31, 2016. He was later joined by another former standout Mountaineer, Dexter Jackson, who had spent time in the NFL with the Tampa Bay Buccaneers, Carolina Panthers and New York Jets.
Jones sees the opportunity to play arena football with the Grizzlies as not just a way to play football but a way to get better. He described the beginning of the transition as "a complete 180" and admitted that it was rocky but he adjusted well.
"If you're playing, you're getting better, whether it's arena football, semi-pro, CFL, NFL, it can be anything," Jones said. "You're always learning new things and it can always be applied. It's a challenge, so once you dominate it and overcome it, it's just going to make you that much better of a player."
Jones' return to Boone, and to his football career is yet to be completed. There's no telling what will happen to him, his career, or the Grizzlies, but Jones has confidence in his future and compares himself to two former NFL players.
"I definitely want to write my own story. I think every story is unique, but Kurt Warner, he comes to mind," Jones said. "Delvin Breaux, he didn't even play college football. But he started in arena, played four or five games, the CFL called him up, he did his rookie-minimum two years, and next thing you know he's the starting cornerback for the Saints."
Jones has confidence that through hard work and patience, he'll follow in the footsteps of guys like Warner and Wake. Like them, the road map of his career is a winding one, filled with stops no one expected, and Jones is not letting anything stop him or his career.
Story By: Ian Taylor, Sports Reporter
Photo By: Chris Deverell, Photographer