Men's basketball benefits from transfers
Every offseason, transfers are becoming more and more common in college basketball. Players often attend a school right out of high school and quickly realize that they may not fit into a program, so they begin to explore their options in new destinations. Appalachian State has become the home of several players who previously attended other schools, and while their pathways are all different, they all share a common destination.
Of the 16 players listed on the Mountaineers' roster, seven of them played college basketball somewhere else before making the transition to Boone. Not only have they quickly blended in with their teammates and coaches off the court, but several of them have also made immediate impacts on the court.
"I think the biggest factor is if they fit into our program. Program meaning academically, and does he fit in with our guys in our locker room and what we're doing in the community," assistant coach Bryan Lentz said. "We don't just look for super talented players to take if they don't fit in with our program."
The NCAA requires all undergraduate transfer athletes to sit out for a season if they are transferring into a Division I school, but some players take different routes which results in them being immediately eligible. Athletes that attend junior colleges are eligible to play right away after transferring.
Sophomore guard O'Showen Williams is one of these players and is currently relishing in his new role at Appalachian State. He attended South Georgia State College for a year before making the switch and both he and the team are benefitting from him being here.
Williams is averaging 7.7 points and 2.3 assists coming off the bench and is also one of the better 3-point shooters on the team, shooting an impressive 39 percent from behind the line. He brings a high level of intensity and toughness on the defensive end and can step up and lead the team when they need him most. He has shown this multiple times this season, including a victory against the University of Texas at El-Paso, where he scored 19 points against Sun Belt conference opponent Coastal Carolina University where he posted a career-high 20 points.
"Playing at a JUCO (junior college) was kind of challenging because you don't always have the same things you have at a regular college. It taught me how to be on my own after coming from my family's house and living at a school by myself," Williams said. "At a junior college, if you don't have any offers after you leave the school, you're done. So everyone was competing with one another and some people might get jealous because you may have certain offers and they aren't getting looked at by anyone at the moment."
Redshirt senior forward Craig Hinton and redshirt sophomore forward Hunter Seacat had somewhat different experiences compared to Williams'. Hinton, who is a transfer from the Virginia Military Institute, has turned into a do-it-all player for the Mountaineers. The athletic forward, who once participated in the American Family Insurance National Slam Dunk Contest, brings a strong defensive and rebounding presence along with the ability to knock down late game shots in tight situations.
"There was an adjustment of course, but my teammates and coaches did a good job of welcoming me with open arms, and they tried to make it as easy as possible for me," Hinton said.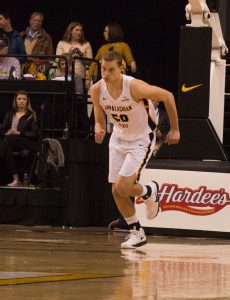 Seacat was a mid-season transfer last year which allowed him to play in about half of the team's games this season, and the team has benefitted from his presence on the court as well. Even though his sample size is small, he makes the most of his time on the court, shooting 63 percent from the floor. The North Carolina native originally attended the College of William & Mary before transferring to Appalachian State.
"It helped having Trey Ford (his former high school teammate), and everyone on the team made it really easy for me, including the coaches," Seacat said. "From the very beginning I wanted to go as a far away as I could, and when I transferred I definitely wanted to find a place closer to home. Every school has a lot to adjust to, but I really felt like it was an easy transition and it was like I've been here the whole time."
This is not the only season where transfer players will play a role on the team. Next year sophomore guards Joseph Battle, who previously attended University of Tulsa, and Michael Bibby Jr., who played one season at the University of South Florida, will be eligible to see court time and add to the Mountaineers' backcourt, which is already deep.
The coaching staff has done well at not only recruiting talented players out of high school, but also creating environments where players with previous college experience feel welcome enough to make the decision to leave their current school and come to Boone, which has become a key factor in the team's ongoing success.
Story By: Zack Antrum, Sports Reporter
Photos By: Lynette Files, Intern Photographer