In basketball, the point guard is expected to run the team's offense, making sure that the ball gets to the right players at the right time.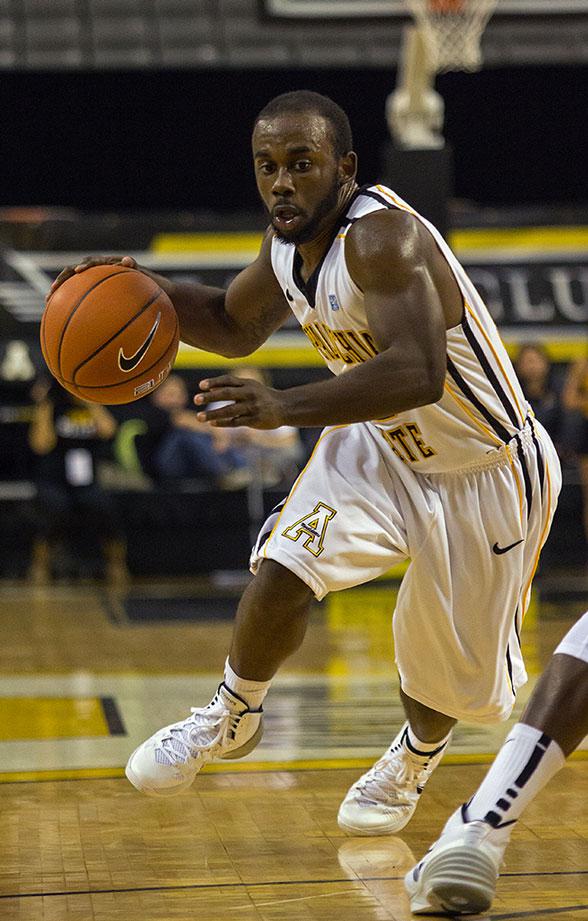 Despite standing just 5 feet 8 inches tall, App State sophomore point guard Chris Burgess knows how to help his teammates shine and get the ball in their hands at the most opportune moments.
"When I run the team, everyone gets good shots and we're a really hard team to stop," Burgess said. "I need to get everyone involved. That's my job."
But lately Burgess, who is second on the team in assists with 59 this season, has also found a way to shine as he had his best scoring game of the season Saturday afternoon against Elon.
Burgess scored 13 of his career-best 19 points in the second half, going 7 of 10 from the field overall, which included two 3-pointers in the Mountaineers' loss.
One of the things that Burgess said sets him apart from other players on the team is his size, or lack thereof, which he credits for some of his success.
"I need to see things a lot quicker just because of my size," Burgess said. "I need to use my quickness to my advantage. There is usually a bigger guard that's not as quick as me."
App State has seen consistent development in Burgess' game in his sophomore season.
So far this season, Burgess leads the team in free throw percentages, making 28 of 34. He is also third among App State players in scoring with 182 points this season.
Despite his own personal successes, Burgess is focused on his teammates and helping them be the best they can be.
His close relationship with fellow sophomore guard Frank Eaves allows him to grow in his abilities while helping Eaves grow as well.
"We don't only make plays for ourselves, we make plays for each other to be sure that if our man draws another man we can kick it to him," Eaves said. "We've been doing a good job of that recently and if we continue to do that, we'll be a good team down the line."
Head coach Jason Capel has also noticed the hard work and effort that Burgess puts in every practice.
"The biggest thing about [Burgess] is that he wants to be coached," Capel said. "I think he genuinely wants to get better every day.
In regard to Burgess' role on the team this season, it is clear that the sophomore has worked hard to improve, Capel said.
"He's understanding how to run a team his sophomore year," Capel said. "When he plays with energy on the defensive end, I think we're pretty tough to beat because the point of attack is pretty good."
Most games, Burgess can be seen sporting a big smile.
"You got to have fun with this game" Burgess said. "It's a game I love. I come out here and it's not like work to me. It's having fun."
Story: Kaitlyn Thruston, Senior sports reporter
Photo: Paul Heckert, Photo editor