Men's golf preps for spring
With fall semester tournaments in the books, the Appalachian State men's golf team is ready to gear up for the spring's challenges that await them.
The Mountaineers had four tournaments in the fall, with a highlight second place finish coming at Mimosa Hills in Morganton, North Carolina. While they were able to place in the top 10 in three of their four tournaments, Mimosa Hills would be the only time they finished in the top half of the groups attending.
Building on the four fall tournaments, sophomore Alex Burris attributed some of the slow start to inexperience.
"We played at least two freshmen this last tournament so they'll get better just from experience," Burris said. "It's definitely harder. The courses are harder, the players are better and it's a lot more golf."
Of the 10-man roster, the golf team has three freshmen, meaning that they'll look to get a few more tournaments in each before the end of the calendar year.
One member of the team looking to build on gaining experience is sophomore Thomas Hodges, who compares himself to the freshmen experience-wise.
"I'm a sophomore, and I got to start three tournaments this semester, and it's a completely new experience because I only got one start last year," Hodges said. "For me, I think I'm where the freshmen are, I just need to get more comfortable in the pressure situations."
Head coach Bill Dicus was quick to point out that if the team is to succeed in the spring, they as a whole will need to be more consistent.
"One thing I've taken from this fall is that we've had a little bit of a different leader each week, we've had someone else really shine," Dicus said. "If we can get those things lined up where everyone is having a good week at the same time, that's when you start winning golf tournaments."
Dicus singled out Burris, junior Chance Watson and senior Patrick Moriarty as guys who all had good tournaments, but added that one player-per-tournament wasn't enough to start winning.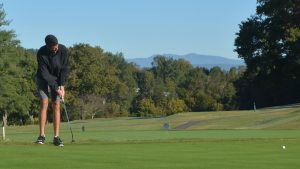 For the players this upcoming semester, it'll be important to block out the bigger picture in order to do well on the smaller details, something Burris said was imperative to him and his game.
"I tend to focus just on the tournament I'm in, specifically the round I'm in and the shot I'm on," Burris said. "We play 10 or 11 tournaments a year, and if I try to focus on all of that at once, my mind's just going to explode. I try to think about as little as possible."
Hodges said the tournament can scare a player.
"You think about how hundreds of golf holes you play and that's a hundred and some mistakes you can make," Hodges said. "I try to focus on what I can do right here, right now so that I can be the best I can be."
Looking to the spring tournaments, the Mountaineers will get to stay relatively close to home for most of the semester. They will only have to leave the Carolinas twice, heading down to Florida for two of the team's six scheduled events.
No matter where they go or who they have to face, the Mountaineers know to take the whole season shot by shot.
Story By: Ian Taylor, Sports Reporter