Men's XC seniors make final strides
When the App State men's cross country team opened up this season, it was the last time for five runners to leave their mark on the Mountaineer program.
Featuring five seniors, this senior class for the Black and Gold is the last class that was still here before the Apps transitioned to the Sun Belt Conference during the 2014-15 season.
Seniors Chris Anderson, Michael Ellis, Evan Laratta, Jacob Sears and Andrew Vandenberg have all contributed toward the immense success the App State cross country program has seen over the past few years, and each of them have different stories for how they ended up in Boone years ago.
Starting his college career at the University of Charlotte, Anderson did not consider App State at first, but after only one semester he decided that he wanted to get a change of scenery.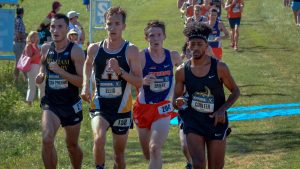 "I actually didn't look at App when I first came out of high school, and I just hated the cold," Anderson said. "After my freshman year, I looked into a school where I could make a difference, so I looked into App then and the people and academics made me feel like I could fit right in and make a difference."
Bringing a different story to the table, Ellis decided on App State in large part because his high school coach was a former Mountaineer runner of his own. After some encouragement from his coach to take a visit, Ellis thought that the App State program was the right one for him.
"[My coach] pushed me to look at App and when I came on my visit I just loved being up here in the mountains and loved the trails," Ellis said. "The group of guys here at the time were great as well."
Head coach Michael Curcio has also been directly involved in forming this core of five seniors. Curcio was teammates with Vandenberg's father when they both were running for the Apps back in the 1980s.
Coaching cross country and also the distance team for track at App State for 22 years, Curcio has seen the App State program grow and change over the years.
Excelling as a distance runner for the Mountaineers, Curcio tallied three all-SoCon honors in track. In all the years he has been around this program, he sees that this core of five runners are as talented as he has seen.
"They have risen to the level of competition we are seeing these days in the southeast, and I'd say these seniors stack up with any group that has come before them," Curcio said. "It's a long tradition that goes back even before I was an athlete here, and they have helped keep that tradition alive and now the underclassmen will have that responsibility to keep it moving forward."
While their time on the course or on the track has been marked by achievement, more strides have also been outside of just running for the Mountaineers.
"Running just can't be the only priority, you have to make it also about school because we are student athletes," Anderson said. "The friends you make on the team stick with you forever, and guys on the team that have graduated three or four years ago still talk to us, so it is good for us to have some connections."
Through it all, these five seniors have helped the Mountaineers finish in the top four in conference championship meets each of the past four seasons, including two Sun Belt runner-up finishes the two previous seasons.
Setting the pace for the final time in a conference championship race, four seniors finished inside the top 20, including top 15 finishes by Ellis in 11th and Anderson in 14th.
Although the fourth place finish was lower than what this senior class wanted to achieve, there are still high hopes the Apps can leave their mark in a highly competitive southeast region.
"Looking ahead to next week, we would like to crack back into the top 15 in the region," Curcio said. "We lost to a few teams in the regular season like George Mason and UNC Charlotte, and we would certainly like to get a little revenge and even up the season score."
The NCAA Division I Southeast Regionals will be held on Friday at 11 a.m. in Earlysville, Virginia.
Story by: Tyler Hotz, Sports Reporter