Students and faculty join Mizzou solidarity rally
Thursday, rally participants showed solidarity with the recent protests at the University of Missouri.
"Black lives at Mizzou, just for being of color on a predominately white campus, are being threatened and harmed," said Victor Moore, senior graphic design major and one of the students who organized the walk. "Students of color on this campus receive some of the same treatment."
Chants of "Black Lives Matter" and "It is our duty to fight for our freedom. It is our duty to win. We must love each other and protect one another. We have nothing to lose but our chains" echoed throughout the bookstore, the Plemmons Student Union, Roess Dining Hall and finally on Sanford Mall.
"I think it's of critical importance that things like this happen at ASU," said Thomas Kaplan, head of the Center for Judaic, Holocaust, and Peace Studies. "I mean there are obviously issues of racism that are unfolding and going on on this campus, fortunately not as gruesome as the ones occurring in other parts of the country, but certainly Appalachia and ASU are not resistant to what is occurring."
The walk included over 50 students and some faculty members who not only walked out in solidarity with Mizzou, but also demanded justice at Appalachian.
"I feel like it's really important for the minority population on App State's campus to stand together because even though it's not happening on our campus at this instance, other college campuses are taking the stand for what they believe in," Keliyah Weaver, freshman psychology major, said. "So especially being such a low minority population we should definitely contribute and speak out on this."
The walkout was organized by seven students including Moore who began the walk by going through the timeline of the recent events.
He said that it all started on Sept. 11 when a group of people from a truck yelled out the "N-word" at the student body president, Payton Head, which later went viral but did not receive administrative action along with a series of other future incidents.
Jonathan Butler, student at MU, announced he was going on a hunger strike on Nov. 2 in demand of President Tim Wolfe's resignation. The university received national attention when the football team threatening to go on strike led to the resignation of Wolfe along with Chancellor R. Bowen Loftin on Nov. 9.
Moore said things started to heat up on Nov. 10, when anonymous threats were made on Yik Yak to kill black people. He went on to explain a number of other incidents that continued after that.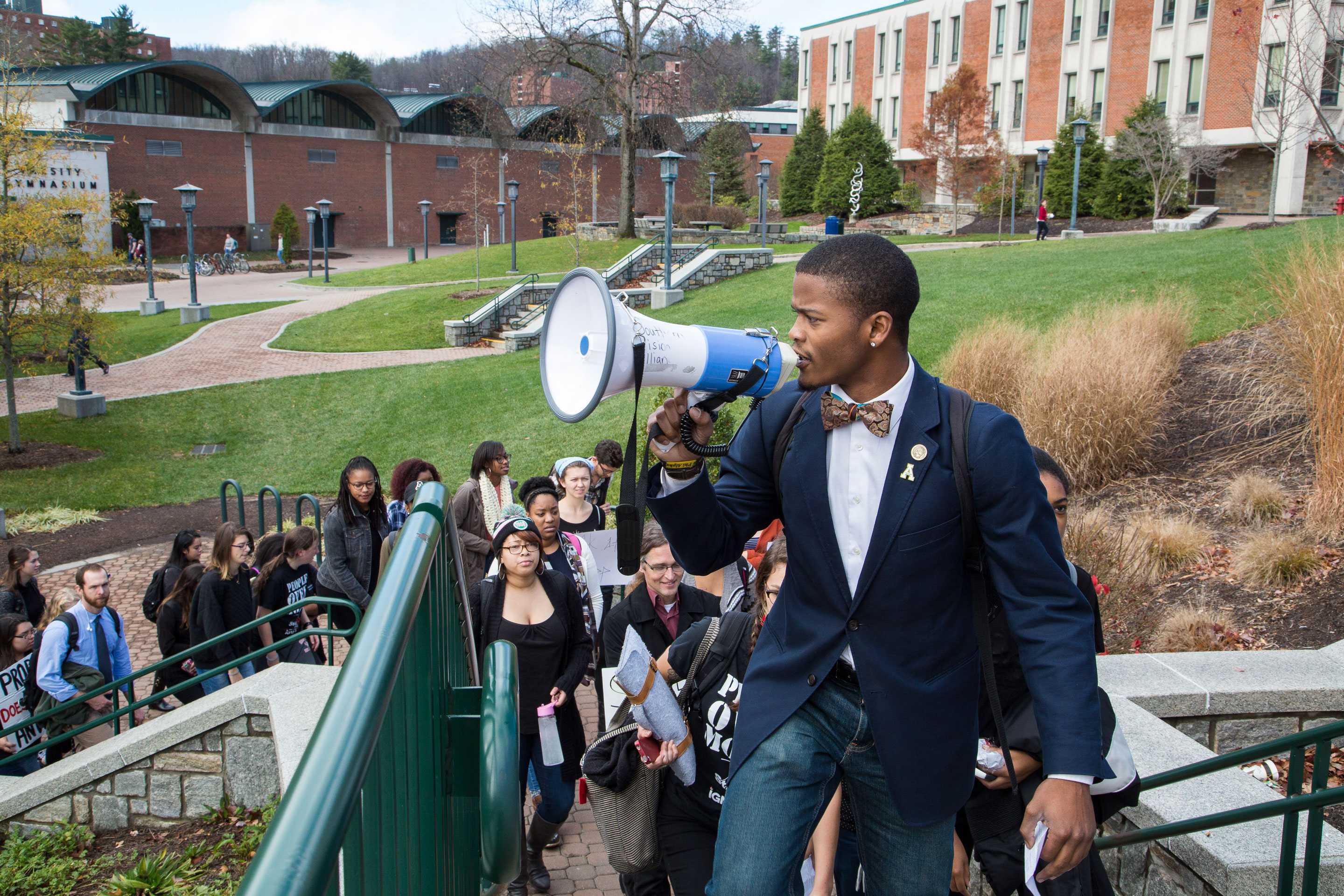 "Some people are probably wondering what that has to do with App State's campus," Moore said. "Some of the same things go on here. People use Yik Yak and other forms like it to basically shut down and belittle students of color on this campus. There was a time last semester where black students were receiving threats on campus."
Out on Sanford Mall, Moore and a couple of other students expressed their personal experiences and frustrations on Appalachian's campus.
Students spoke out about being frustrated over ignorant comments from students and professors and also of the stereotypes that people not of color assume of minority students, especially black students on campus. Some emotions were stirred and tears were shed as students recounted their testimonies.
"It's just a crazy thing to think about the injustices done here on this campus because it's all a frame of mindset," Matthew Helton, senior chemistry major, said. "I think the hardest part about changing your mindset is not changing your mindset in a situation, but it's actually living out the decision to be more inclusive."
He said that in order to bring about social justice it will require some people to lose friends and to call people out on ignorant remarks and explain why those comments are wrong and offensive.
Other students recounted their frustrations over not having more faculty of color that they can go to and receive advice as one person of color to the other.
Still, Moore expressed his frustration over the marketing that is used to promote Appalachian's campus as a sort of "safe haven" for students of color in an attempt to attract more students of color when in reality minorities still make up a very small portion of the student population.
The walkout ended with a group picture with the hashtag "AppStateStandsWithMizzou."
"This is just a start," Moore said. "We have to demand justice in other ways and we will continue to do that to try to make sure we change things on this campus. We're just standing in solidarity with Mizzou right now."