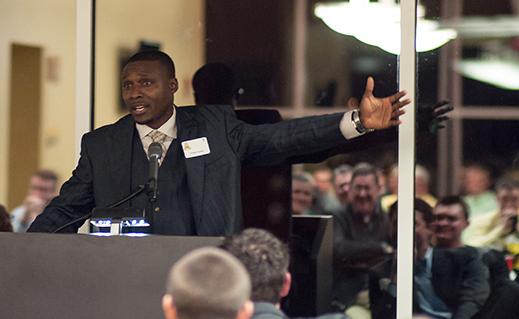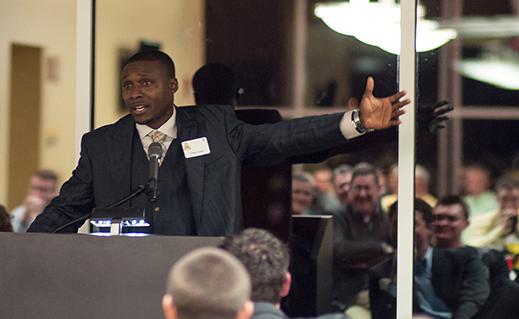 The Appalachian State University baseball team's second annual Hot Stove First Pitch Banquet at the Athletics Center included first-year head coach Billy Jones and Major League Baseball veteran Orlando Hudson speaking about the year to come.
Hudson, a four-time Gold Glove Award winner and two-time MLB all-star, spoke about the importance of never giving up on dreams and making the right decisions on and off the field.
"I only live three hours away, so [when Appalachian asked] I was like, 'I'll come up and give a speech and talk to the team,'" Hudson said.
He also said his agent and Jones went way back.
Hudson said that when he attended Spartanburg Methodist College, they had events like the Hot Stove First Pitch banquet, but not as many as they do today.
"Now, with sports marketing having grown so much for every sport, it's much bigger and it's going to get even bigger," Hudson said. "These kids now are coming in and having so many things. When kids are recruited and they come in and have a fundraiser, [it] is great."
Hudson shook hands and took pictures with many of the attendees following the event.
"It's been awesome, and I also wanted to see the campus because I've heard some great things about it," he said. "And it is a beautiful campus."
Many of the 2013 Mountaineers team was in attendance and watched attentively as Hudson spoke about the ups and downs of making it to the major leagues.
"It's great," said senior second baseman Hector Crespo. "[Hudson] has been one of my favorite players growing up. He plays the same position as me, so I watch his videos all the time. He's a great guy and I can't wait to meet him."
Crespo said the banquet helps raise awareness about Appalachian's baseball program.
"Football gets a lot of the hype here, but we have a great baseball team and this event gets everyone ready for baseball season," he said. "We're excited to have it and to share the excitement with everybody."
Jones said the banquet was a celebration of the players.
"I think it's a chance for everybody to meet each other and families to meet each other," Jones said. "It's one of those things that, when you have a baseball program and you have close to 35 guys and you're with them everyday, it's good to see their families be here and come together in celebration of what they do."
Story: ANDREW CLAUSEN, Sports Editor; KAITLYN THRUSTON, Senior Sports Reporter
Photo: JUSTIN PERRY, Staff Photographer