After losing senior standout running back Marcus Cox in week three vs. Miami, redshirt sophomore Jalin Moore has emerged on the scene to keep the Mountaineer run game as its most effective weapon.
With the ground game being a key component of the App State offense and Cox being the number two active rusher in the FBS, it was essential for someone to fill the running back slot effectively and keep the run game strong. Moore has done just that.
"We hate that Marcus is out, but obviously when a guy is out at any position the next man up has to step up and Jalin has definitely done that," running backs coach Stu Holt said. "I would say that we are surprised, but we have seen him every day for a while now and we know what he can do. He's done a great job."
In the final four games of his freshman season, Moore rushed for 528 yards including a breakout game against Idaho where he rushed for 244 yards filling in for Cox, after having only 32 carries in his first nine games. His strong finish earned him a spot on the Sun Belt All-Freshman team.
Moore had his breakout game this season in the first start of his career against Akron, rushing for a total of 257 yards, the most of any running back in the Sun-Belt this season. The standout performance earned him the honor of Sun Belt player of the week.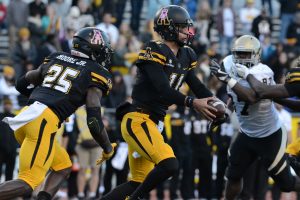 "It's been a great process so far. Throughout the season I'm still picking things up and hopefully I can do greater things in the future," Moore said. "I need to keep improving on my game, I'm still lacking in a few areas I'd like to improve on."
Moore has already made his mark in Mountaineer football history as his 257-yard performance against Akron ranks sixth in school single game rushing history, surpassing his performance against Idaho last season that ranked ninth.
Already scoring six touchdowns and running for 774 yards on 147 attempts just seven games into the season with four starts, Moore sits second in the Sun-Belt and 22nd in the nation in total rushing yards.
Only gaining 59 yards in his first two games of the season, his 715 yards gained in the past five meetings have astonishing numbers for a "backup" running back. Moore credits his success to the ones who don't have a chance to fill up the stat sheet: the offensive linemen.
"I love them to death," Moore said. "I thank God for giving me the ability and my offensive line for opening up those holes."
There is something unique about the relationship between members of the backfield and offensive lineman. The relationship between Moore and senior lineman Parker Collins is nothing short of that. Moore makes it a priority to show some love to the guys up front working hard to make his success possible.
"We talk everyday about how we can't wait grind together and be the best we can for each other," Collins said. "The other day at practice he came over and gave each of us a hug for about a minute a piece. It's a very special relationship."
Coming into the 2016 season, profootballfocus.com ranked the App State offensive line number three in the country behind Stanford and Notre Dame. During the 2015 season, the Mountaineers had the highest run-blocking rating of any team in the FBS.
Moore has rushed for 100 plus yards in each of his previous four games and scored all six of his touchdowns on the season in that four-game stretch.
Moore and the Mountaineer offense look to continue their dominance throughout the rest of the season even with the likely return of Cox this week, with hopes of reaching their second bowl game in back to back years.
Story By: John Robertson, Sports Reporter