Mountaineers defeat Jaguars in overtime
App State (7-18, 5-9 Sun Belt) hosted the Jaguars of the University of South Alabama (15-9, 8-5 Sun Belt) at Holmes Convocation Center in an overtime thriller that gave the Mountaineers a much-needed win at home.  
App State led for three periods before South Alabama took over late. Thanks to an impressive defensive stand by the Mountaineers and a clutch 3-pointer from freshman guard LaPresha Stanley, the excitement stretched on for an extra five-minute overtime period.
Stanley went 3-7 from inside the arc and drained her only 3-pointer of the night. She was key to App State's victory, scoring 10 points from the free-throw line and providing the Mountaineers with some much-needed playmaking ability.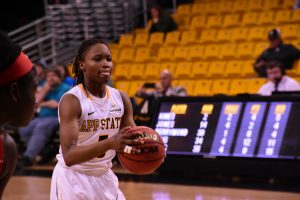 "You have to think about your team," Stanley said. "When you're playing for the team, you don't have time to worry about selfish things like how tired you are. You have to keep going for them."
Sophomore center Bayley Plummer, who has become a crucial piece of head coach Angel Elderkin's basketball team, had 43 minutes of total playing time where she managed to score seven points for the Mountaineers while pulling down 17 total rebounds.
Plummer, who has received national attention for her defensive presence and rebounding ability, paired up against another nationally recognized center in South Alabama senior Chyna Ellis. Ellis scored 12 points and earned 11 rebounds for the Jaguars.
"We knew coming into this game we needed to box out and get the ball back on offense," Plummer said. "We can't win the game without the ball, so it was really important to our game plan to get the ball back on offense as much as possible."
Sophomore guard Nicola Mathews led the Mountaineers in scoring with four field goals and a 3-pointer, followed by freshman forward Lainey Gosnell who had a tough night scoring. She managed to score nine total points after shooting 3-15 from the field and 2-7 from behind the arc.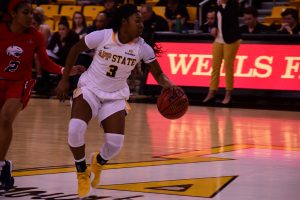 With a lack of age and experience and an even smaller bench, App State has struggled most of this season. Despite the mounting circumstances, Coach Elderkin never lost faith in her team.
"I told these guys before the game that we were owed one," Elderkin said. "We played these guys in Alabama, lead for 35 minutes, then had our hearts ripped out. We weren't going to let that happen again."
App State will play again on Saturday against Troy University. With little depth on the bench and underclassmen at many key positions, the Mountaineers will hope to take the momentum of this win and use it to get a late season win at home.
Story By: Garrett Wold, Sports Reporter
Photos By: Christian Bocchino, Staff Photographer