App State, coming off its first ever Sun Belt Conference victory at Troy by a score of 53-14, had Saturday off during the team's final bye week.
This week, the Mountaineers (2-5, 1-2 Sun Belt) host Georgia State (1-7, 0-5 Sun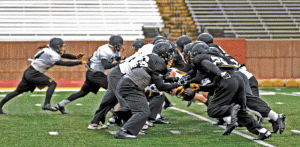 Belt), who are in the midst of a seven-game losing streak. Although the last-place Panthers are on deck, App State used its open date to get some extra rest and focus more on the fundamentals of the game.
"You can spend a little more time on some technique things and not have to be pushing to get a gameplan in," defensive backs coach and recruiting coordinator Scott Sloan said. "We have been able to get a little bit of a jumpstart on Georgia State this week. The timing of it works kind of works out a little bit, we had those four or five games and get to kind of catch our breath, then finish out after this open date."
Junior wide receiver Malachi Jones said the bye week allowed all of the different position groups of the team to really hone in on the fundamentals of their positions. As a receiver, Jones said route running was a point of emphasis throughout practice all week.
"The bye week is basically a chance for us to look back over the past games we have played and focus on the smaller things," Jones said. "For receivers, we focus a lot on routes this week. It might be a little more intense than a normal week's practice."
Co-offensive coordinator and quarterbacks coach Frank Ponce emphasized prior to the Troy game last week that airing the ball out more would be important for the Mountaineers.
Moving opposing safeties back by throwing the ball down the field is a crucial part in opening up the run game. After rushing for 441 yards in the victory at Troy, the run game has clearly been progressing.
"Our guys up front have done a phenomenal job the last couple weeks," Ponce said in reference to the offensive line. "Our five guys up front work their butts off, and they've done a great job to develop and establish the run game. Obviously you've got to stop the run game, so defenses are going to start loading up and putting our guys in man-to-man coverage."
Ponce also said that the receivers have progressed in terms of running better routes and finding open spots in opposing defenses.
"Our receivers have done a great job of getting down the field and stretching the defense, and our quarterback has done a great job of hitting them while they're open," Ponce said. "Earlier in the season, we were missing some of our shots down the field, but we kept working at it and we spent a lot of time on getting that timing down and it has paid dividends."
The down-time is good for players to work even harder in practice, but allows for some stress-relief, too.
"For me, I might go back home for a little bit," Jones said. "If not, I am going straight to my bed and laying down for a little bit."
Story: Nick Joyner, Senior Sports Reporter
Photo: Morgan Cook, Photo Editor