App State football wrapped up recruiting season on the Feb. 1. National Signing Day, inking 18 recruits for the fall.
The Mountaineers filled the spots of those lost seamlessly by 15 graduating seniors, bringing in guys to fill needs at every position.
Signing Day started and ended early, as the signees showed no hesitation, all signing before 9 a.m.
"It's probably the earliest that we've had everybody. Now it's different because you can take a picture and text it to us, you don't have to fax, so it's a little bit different," head coach Scott Satterfield said. "A lot of these guys have been committed for six months so they've been itching to get their papers in for a long time."
The Mountaineers showed yet another sign of character, pulling in the highest academic class in the program's history, with a collective GPA of 3.47.
Six recruits are from South Carolina, four each from Georgia and Florida, and three from North Carolina. Defensive backs take up four of those spots, followed by three spots each at the linebacker position and wide receiver position, two running backs, and two signees for both the quarterback and defensive line spots.
Filling spots was a necessity, as App State looked to fill spots at all three positions. Wide receiver may have been the biggest spot to fill this year, as the receiving corp will follow this year up by losing a few more guys after this season.
App State's class included two early-enrollees in defensive back D'Andre Hicks and defensive end Jermaine McDaniel Jr., both of which were in the building Wednesday evening as the events of the day began took place.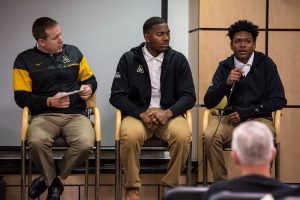 Both are already in the swing of things, working out with the team, and beginning classes, as they prepare for their first camp this summer.
"I think it certainly helps them, to come in early. I think it certainly give them a leg-up," Satterfield said.
Hicks and McDaniel are a part of another highly-graded class, as the Mountaineers continue to make the transition to the FBS level. Now allowed to hand out 85 scholarships has changed the way recruits look at App, and most importantly, the number of players that can be signed.
Satterfield spoke on some of the strategy of recruiting now in comparison to at the FCS level.
"We as a coaching staff talked about, when we went 7-5 first year in the Sun Belt, that as a program 'we have to make the next jump, we have to make it to a bowl game and win a bowl game, in order to erase the FCS model from our program' because that's how everybody saw us," Satterfield said. "We finally did that, we won that first bowl game, we won eleven games."
Becoming a consistent winner leaders to a changed perception for players.
"The perception has changed now," Satterfield said. "We're FBS and we're winning a lot of games. So it has opened up the eyes of a lot of the guys that we are recruiting."
Recruiting coordinator Scot Sloan discussed another aspect of the dayin having to wait to sign the recruits.
Coaches across the country have discussed moving the signing day up to an ideal Dec. 1. This day would help lock down recruits to their school earlier. It has been suggested as it has become clear that most athletes are making their decisions earlier than in past years.
"We had 15 commitments before we started training camp in August, and we signed 14 of those 15," Sloan said. "Those guys could've easily been signed in December, and taken off the table,"
But Sloan is still optimistic about moving the Signing Day in the future.
"I'm a big fan of it," Sloan said. They would've all signed in December just like they would've signed today."
Despite losing five recruits who decommitted, App State football is happy with their new class and will be back on the field on Feb. 6.
Story By: Jay Boyd, Sports Reporter