Mountaineers return home to take on Bucs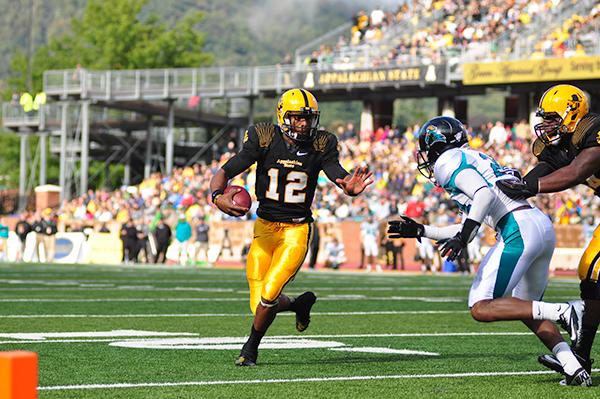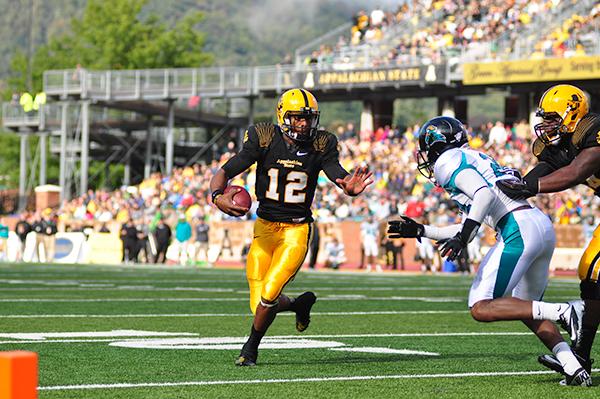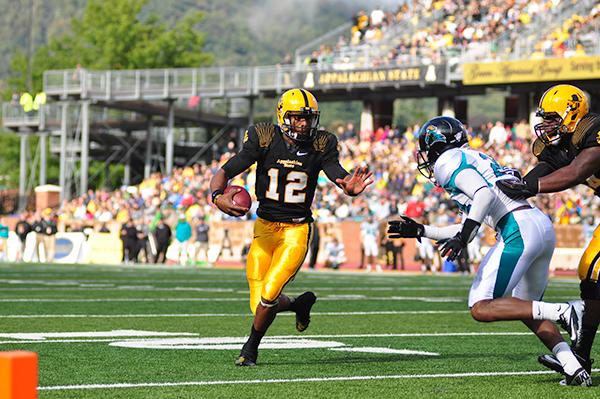 After a strong performance from the Appalachian State football team in a 31-21 road win at Elon, the Mountaineers return home this Saturday to face Charleston Southern for the first time ever.
The Buccaneers (4-0, 0-0 Big South) have already won three road games this season, so App State must maintain focus to win.
"They're a talented group," quarterback Jamal Londry-Jackson said. "They run a bunch of coverages and like to switch it up on you; a much improved team from the previous year."
Londry-Jackson and sophomore quarterback Kameron Bryant have been splitting time behind center this season, possibly due to the off-season knee surgery Londry-Jackson underwent.
"I knew it was going to be a little bit of adversity in the beginning," he said. "I look at the guys in front of me, like [Washington Redskins quarterback Robert Griffin III], he's going through the same thing. I just had to stay strong, stay confident and I knew it was going to come back."
App State (1-2, 1-0 SoCon) welcomed back sophomore receiver Sean Price last week after missing the first two games due to suspension. Price led the team last year in receiving yards with 1,196 and touchdowns with eight.
"He's a big target that can stretch the field," Londry-Jackson said. "He blows the top off coverages."
The receiver caught a 41-yard touchdown pass from Bryant in his return last week, and big passing plays like that is something the team lacked in both losses to Montana and N.C. A&T.
Two freshmen also played a crucial role in the Mountaineer's first victory last week and were honored for their play.
Running back Marcus Cox took home the SoCon Freshman of the Week and The Sporting News' National Co-Freshman of the Week awards, while linebacker John Law received SoCon Defensive Player of the Week.
"I joke with Marcus, I tell him we're competing for freshman of the week, every week," Law said. "And every week he tries to beat me out."
Cox, who ran for 159 yards and accounted for three touchdowns, said he felt honored but knew he couldn't have won the award alone.
"It feels good, but I have to give thanks to my offensive line, my teammates," Cox said. "Without them, none of this would be possible. It feels great to accomplish that in my first start."
The focus now switches to the undefeated Buccaneers, who are averaging 206 rushing yards per game, according to csusports.com. Charleston Southern runs an option-run offense and head coach Scott Satterfield knows defending that will be crucial to his team's success.
"We have to hold our integrity in our gaps and not get out of position," he said. "That's the main thing. They have a very athletic quarterback who can do a lot of things with his feet."
Buccaneer's senior quarterback Malcolm Dixon has gone 28-58 for 470 yards through the air with five touchdowns and only one interception this year.
A home win against Charleston Southern would put App State's record at 2-2 before traveling to face their second SoCon opponent, the Citadel, on Oct. 5.
Story: NICK JOYNER, Sports Reporter
Photo: JUSTIN PERRY, Photo Editor