Mountaineers show promise during Saturday's scrimmage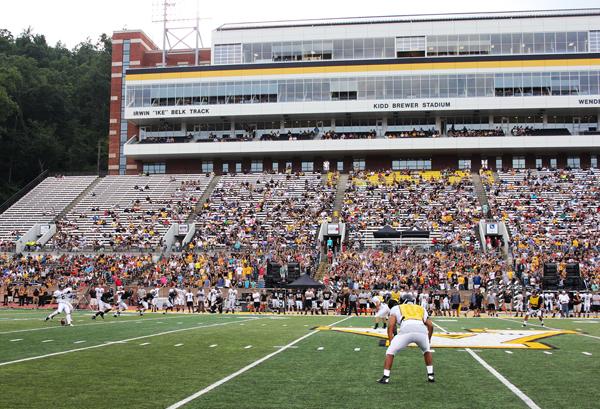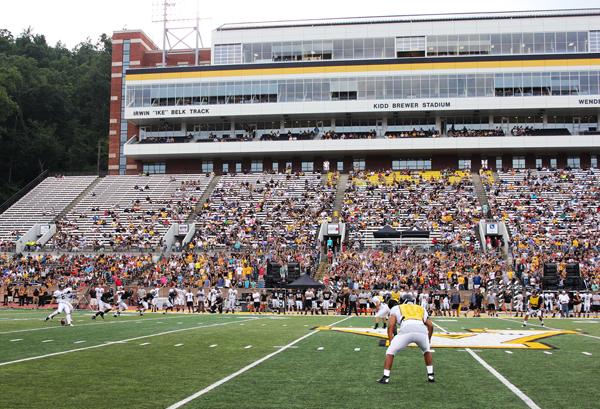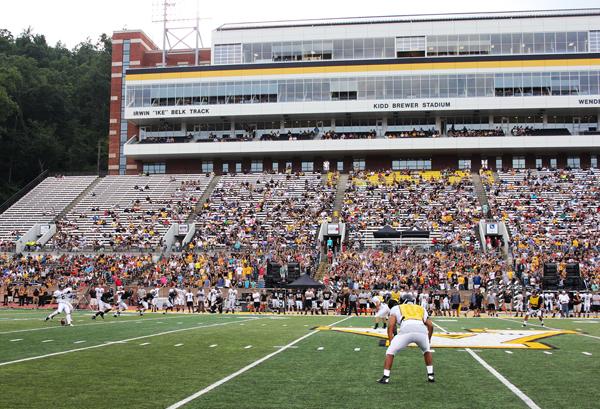 One week before their game against East Carolina University, the football team competed in a scrimmage at Kidd-Brewer Stadium Saturday.
Both teams were able to make some big plays, and looked evenly matched. The offense scored six touchdowns, including a 75-yard touchdown throw from junior Jamal Jackson to red shirt freshman Sean Price on the first play of the scrimmage.
Jackson will enter the year as the starting quarterback for the first time.
"I always prepared myself as if I would start," said Jackson. "Now it's a different leadership role but I train myself by watching previous quarterbacks before me, and I'm ready to get going."
As the one of the team's leader, Jackson tries to build the team's confidence.
"We have to take it one day at a time," said Jackson. "But we want to win every game, starting September first. Our plan is to win the Southern Conference then work our way to the national championship."
Despite Jackson's solid passes, the defense continued to hold strong. The defense forced the offense into 5 3-and-outs, causing three turnovers, highlighted by sophomore linebacker Brandon McGowan's 20 yard fumble recovery for a touchdown.
Overall, the team is strong but notable additions to the team include two red-shirt freshman, running back Ricky Fergerson and wide receiver Tacoi Sumler, both of whom stepped up during training camp.
Fergerson walked on at camp over the summer, but he has been consistently climbing the depth chart.
Sumler came to App this year after transferring from the University of Oregon where he was recruited in 2011 as an ESPN top 100 high school prospect.
"I just want to be what I can be," Sumler said. "I want to help this team get to where we want to be. If they say they want to win a national championship, I'm just going to be that piece of the puzzle to plug myself in and do whatever I can."
Sumler could be a key part of a wide receiving core looking to replace the production of Brian Quick, the St. Louis Ram's second round pick in last year's NFL draft.
Head Coach Jerry Moore said he is pleased with what he's seen over the summer.
"We've got some work to do, but I think we've improved everyday," Moore said. "We're having some players surface that two weeks ago we didn't know their role, and now we can decide their place."
The Mountaineers will begin the journey toward their goal in the season opener at East Carolina University Sept. 1.
Story: JORDAN DAVIS, Intern Sports Reporter
Photo: PAUL HECKERT, Senior Photographer