The Mountaineers men's soccer team got off to a slow start Tuesday night against UNC Asheville. As the game got going, more opportunities arose for the men to score, but they could not capitalize. The Bull Dogs (1-12, 0-4 Big South) stuck around and challenged App State to the very end before the Mountaineers' (4-5-3, 0-0-1 Sun Belt) senior defender John Walrath scored with under a minute remaining in the first extra time period to give the Mountaineers the victory 1-0.
"You have to give Asheville credit, they made things very difficult," head coach Jason O'Keefe  said. "I'm elated for our team because we have been working so hard."
Both teams came into the match struggling to find any attacking opportunities. Before the game, App State had only scored eight goals in their first 12 games. That trend continued for the first 90 minutes against a UNC Asheville team that has been struggling all year, conceding nearly three goals a game. The Mountaineers created several opportunities, but could not find the back of the net. That changed when in overtime, senior John Walrath scored the game-winning goal.
"The last time I scored was sophomore year," Walrath said. "We knew it was going to be a dogfight, but we had the confidence to pull it out."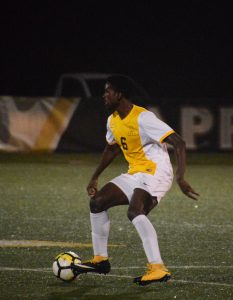 The result was exciting for the team, as they finally pulled off a win in a game that went into extra time. The effort was there for the team all match, but heading into their third straight overtime match, it could have been easy for the Mountaineers to not find the resilience that gave them the victory.
"We left a few easier chances out there," O'Keefe said. "I thought we broke them down enough to score, but you need to put it in the back of the net. UNC Asheville is well coached."
"We came in focused and ready to redeem ourselves from this last weekend and I thought we did that," senior defender Ian Bennett said. "We created more chances for ourselves than we have all season."
The Mountaineers had 14 shots on goal on Tuesday night. They peppered the Bulldogs goal all night long, but could not find a breakthrough. UNC Asheville gave App State a lot of opportunities and looked desperate defensively.
In the end, the Mountaineers came out with a win and with their confidence regained, they will look to continue their good form as the season goes on. App State looks to add another win to their record when they take on Hartwick at home on Saturday at 7 p.m.
Story By: Eric Jackson, Sports Reporter
Photos By: Christian Bocchino, Intern Photographer