Saturday morning was a celebration for undefeated James Madison as Harrisonburg hosted College GameDay, but those celebrations came to a close by nightfall as App State upset the Dukes 26-23 in an overtime thriller. 
"I hope Boone, North Carolina is rocking tonight," said head coach Shawn Clark.
The Mountaineers received the opening kick-off, but quickly punted the ball to the Dukes as junior wide receiver Christan Horn dropped junior quarterback Joey Aguilar's third-down pass. 
Starting near midfield, James Madison picked up a first down, but was quickly stopped as redshirt junior defensive end Michael Fletcher sacked Dukes' quarterback Jordan McCloud on third down.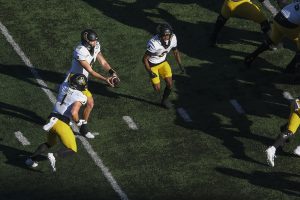 After the key third down stop, Aguilar took a deep shot downfield and completed a 39-yard pass to redshirt junior wide receiver Kaedin Robinson. With the ball in Dukes territory, James Madison pumped the brakes on the Black and Gold offense as they gained one yard in the next three plays and were forced to punt. 
With App State playing the field position game, the Dukes' drive started near their goal line. The Mountaineers took advantage and forced the JMU offense into a three-and-out. 
After the Dukes' punt, the Black and Gold began their drive at the JMU 47-yard line. A 15-yard facemask penalty on first down moved the Mountaineers further into James Madison territory. A second facemask penalty from the Dukes' defense set up the App State offense in a goal-to-go situation. James Madison held off the Black and Gold as they settled for a 22-yard field goal from junior kicker Michael Hughes for the game's first points. 
The Dukes drove down the field to end the first quarter and began the second quarter with a 20-yard completion. After a 10-play, 61-yard drive, JMU settled for a game-tying 35-yard field goal. 
After an App State three-and-out, back-to-back completions of 20-plus yards from McCloud set the Dukes up in scoring territory. A holding penalty and sack-fumble from redshirt sophomore defensive end Kevin Abrams-Verwayne pushed James Madison out of field goal range. 
With the Mountaineers backed up at the goal line, Aguilar's third-down pass was penalized for intentional grounding as his pass had no intended receiver. Since his pass was thrown in the end zone, the penalty resulted in a safety for the Dukes, giving JMU a 5-3 lead.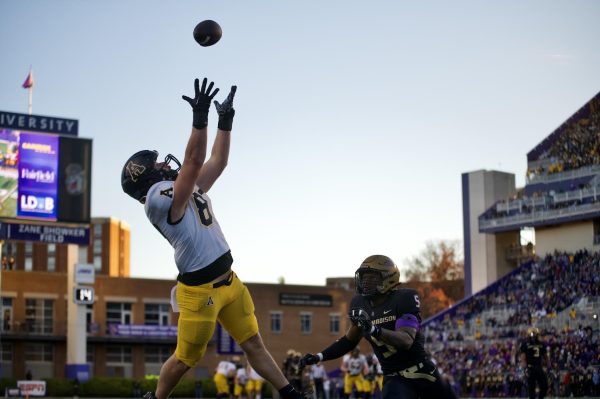 A forced fumble by redshirt sophomore outside linebacker Thomas Davis, and recovery by senior safety Nick Ross set up the Black and Gold for a quick turnaround after the safety. On the first play, Aguilar completed a 27-yard pass to junior tight end Eli Wilson. Aguilar then found Robinson for an 8-yard receiving touchdown to take a 10-5 lead.   
After Davis forced the game-changing fumble, he was ejected for targeting on a 16-yard rush from James Madison. Later in the drive on third down, McCloud's pass was tipped by his receiver and intercepted by sophomore cornerback Ethan Johnson. 
Coming into the game, we knew we had to stay on top," Ethan Johnson said. "It really started with the d-line, doing a great job of getting pressure."
App State took their 10-5 lead into halftime as they were outgained in total yards, 165-123, but forced two turnovers. 
The Mountaineers' defense continued to hold the Dukes' offense and forced back-to-back three-and-outs to begin the second half. 
The first big play of the second half came on a 16-yard reception from sophomore wide receiver Makai Jackson. On third down, a pass completed to redshirt senior tight end Miller Gibbs was fumbled and recovered by the James Madison defense. 
The Dukes took advantage of the turnover and drove to the red zone, but a third-down sack from freshman outside linebacker Nate Johnson stopped JMU's offense. They settled for a 38-yard field goal, but missed wide left, leaving the score 10-5.
After the pivotal missed field goal, App State drove down the field for a 13-play, 80-yard drive that was capped off by an Aguilar touchdown pass to Wilson for 16 yards, giving the Black and Gold a 17-5 lead.
James Madison responded with a touchdown drive of their own as McCloud rushed for a 6-yard touchdown. The 16-play, 75-yard drive brought the Dukes within one-score, 17-12. 
With eight minutes left in the game, the Mountaineers went into their four-minute offense to waste time as they held the lead. On 2nd and long, Aguilar completed a 20-yard pass to redshirt junior wide receiver Milan Tucker for a new set of downs. With the run game being ineffective, App State kept the ball in the air as redshirt sophomore wide receiver Dalton Stroman caught a 19-yard pass. 
With the offense still driving on a critical 3rd and 12, Aguilar found Wilson for a 13-yard first-down completion. Faced with another third down, Aguilar's pass fell incomplete in the endzone as it was intended for Stroman. On fourth down, Hughes converted a 30-yard field goal to give App State a 20-12 lead with less than four minutes remaining.
In needing eight points, the Dukes drove to midfield, but faced a 4th and 18. McCloud's fourth-down pass was caught at the 10-yard line on a heavily contested pass. On the next play, McCloud threw for an 11-yard touchdown. In needing to tie the game, James Madison converted a two-point attempt to tie the game at 20.
With less than a minute remaining, junior running back Anderson Castle touched the ball on four straight plays and totaled 22 yards. Following that, Robinson caught a 13-yard pass from Aguilar with 17 seconds left. On the next play, Aguilar was rushed and threw a deep pass that the Dukes intercepted. 
James Madison kneeled to end regulation tied at 20 and force overtime. 
The Dukes began overtime with the ball and started with an 18-yard completion. The Mountaineers' defense held strong and forced a 25-yard field goal to give JMU the lead 23-20.
Aguilar hit Stroman for a 17-yard reception on App State's first overtime possession. On third down, Aguilar passed short to Robinson and he fought through the Dukes' defense to cross the goal line and score the game-winning touchdown. 
"I knew it was third down and had to make a play," Robinson said. "My name got called and I stepped up."
Robinson's touchdown cemented the Mountaineers 26-23 upset against No. 18 James Madison and improved App State to 7-4.
Aguilar totaled 318 yards and three passing touchdowns as Robinson caught touchdowns and 68 yards on four receptions. 
The Mountaineers' defense limited the Dukes to 350 total yards and only 61 rushing yards, forcing two turnovers.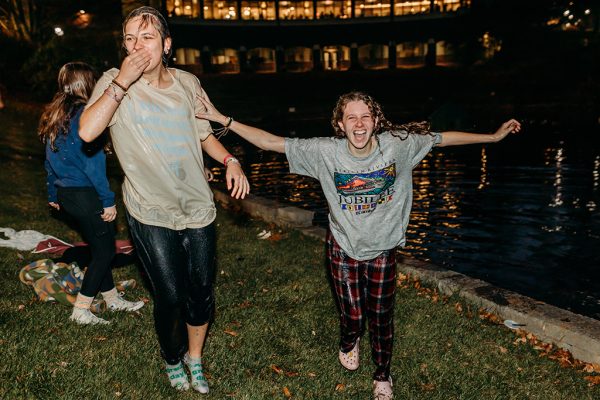 While the visiting Mountaineer fans celebrated with the players in Harrisonburg, students in Boone rushed to the duck pond and King Street to celebrate the victory.
This victory leaves the Black and Gold with a clear pathway to the Sun Belt Championship, as it'll require a victory next week against Georgia Southern and for James Madison to defeat Coastal Carolina.
App State welcomes Georgia Southern to Kidd Brewer Stadium Nov. 25 at 3:30 p.m. for Senior Day and the jersey retirement of Armanti Edwards. The game will be televised on ESPNU.