Music Fraternities at App State
What do the fraternities Sigma Alpha Iota, Phi Mu Alpha Sinfonia and Kappa Kappa Psi have in common? They are all fraternities housed by the Hayes School of Music, each with very specific jobs and identities around campus.
SAI is the all-female music fraternity. Although people might assume that sorority would be the proper title, SAI is a national organization that has been around longer than the term "sorority" has been used. Therefore, this organization is actually considered a fraternity.
"SAI does a lot of the community things," Avery Gray, a sophomore music education major, said.
The group's major responsibility within the music school is hosting receptions for students and faculty after concerts and recitals. They are also responsible for holding "Faculty Breakfast" for the Hayes School of Music's faculty before their staff meetings on Fridays.
"Our stuff is super organic, very new and we do a lot of new things every semester," senior saxophone performance major Rachel Whitman said.
Whitman, a member of SAI since the spring of 2015, is president of the group.
"When I went out for SAI in the spring, I had a pledge class of 16 people, including myself, of all different majors within the music building and outside of it," Whitman said.
In fact, the Appalachian State chapter of SAI, Sigma Alpha Iota-Epsilon Theta, is holding their 50th anniversary next semester.
PMA, the all-male music fraternity, just recently celebrated their chapter's 50th anniversary as well.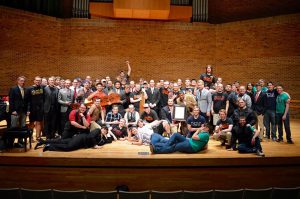 PMA is most known by the student body as the brains behind the Appalachian State Marching Band Festival that is held every fall.
"Our big fundraiser is the marching band festival every fall, which is where we host around 30 marching bands from all across North Carolina and sometimes South Carolina, Tennessee or Virginia," senior music industry major Nathan Hanner said.
This large event features the Appalachian State University Marching Mountaineers in exhibition performance as well and allows high school students to begin exploring band after high school.
"It takes up the entire day," Hanner said. "My sophomore year when we did it, I was awake for 22 hours straight with just nonstop work. It was exhausting, but it was such a productive and positive thing."
The group also does more of the business-related events around the Hayes School of Music, including bringing in composers from around the country to work with the school's bands for a week or two.
These feats are done with not only hard work, but also with a strong alumni connection.
"Phi Mu Alpha has somewhere on their Facebook page this super long, really old family line where you can track back who your great-great-times-a-million grandbig is," Whitman said.
What also helps PMA with their ability to organize these events are the types of majors the students have that are involved within the fraternity.
"They're much more business-focused because a lot of them are industry majors and have business minors," Whitman said.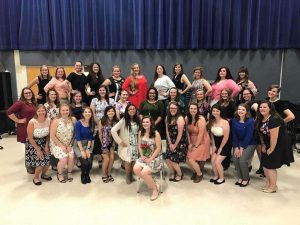 Kappa Kappa Psi, the co-ed fraternity, is quite different from the other two fraternities in that it is specifically a band fraternity, meaning that only students involved in a band at the Hayes School of Music are allowed to join. Those that are vocal or orchestra students may not join.
This organization has band-focused responsibilities such as setting up the stage for concerts.
"A lot of the things we do for the band program are things that it wouldn't be able to function without," Gray said.
The other large difference between this fraternity and the others is the size.
"From what I know in this year and this school, KKP is a lot smaller than the other fraternities," junior music industry major Angel Vega-Juarez said. "There's close to 50 brothers in PMA versus about 20 in KKP."
Although all three of these fraternities are quite different, there are a lot of similarities when it comes to the amount of work required of the members.
"We're always there really early in the morning and really late at night just trying to make sure we're really dedicated to all of our classwork and, in addition, trying to help out our fraternities," Gray said.
The standard that each member must meet is also something that goes across the board.
"Being in these music fraternities, I feel like I have a standard to uphold, especially when it comes to auditioning," Vega-Juarez said. "I have to set an example. I have to be good at my instrument and be willing to talk to everybody and anybody."
Because of these common interests, the fraternities will also work together.
"Each fraternity has their one big project they have to do, but we have to garner support from the other membership if it's a big enough project that just the chapter can't do it," Hanner said.
They also meet up in the spring for a tri-fraternal formal that all of the members can attend.
"All three of us come together and just have a good time," Gray said.
So what is in the future for these organizations?
"Everything about the fraternities is very band-focused right now, which is kind of sad, and I think that's a big reason why we don't have more string people involved," Whitman said.
Whitman explained that both PMA and SAI have been working to find ways to better incorporate the rest of the Hayes School of Music in their adventures.
Overall, the members of these fraternities said they feel that it not only encourages comraderie, but also helps their college experiences overall.
"If you love music, if you love friendship, if you love fraternity, check it out,"  Vega-Juarez said.
Story by: Mariah Reneau, Senior A&E Reporter
Photos courtesy of Michelle Jaluvka and Zachary Gutierrez
Featured Photo Caption: Sigma Alpha Iota (SAI) is the all-female music fraternity on campus that organizes receptions for faculty and students as well as breakfasts for staff at the Hayes School of Music.